Books

Featured Books

design007 Magazine

Latest Issues

Current Issue

Simplification

On the subject of simplification, our expert contributors explain how to design PCBs without making them complex and over-constrained—whatever the level of technology. In addition, we discuss the effect your decisions and tradeoffs have on design complexity.

The Standards of Design

Our expert contributors discuss how PCB designers can utilize standards to save time and money, not to mention frustration. We also spotlight the newly updated version of the IPC Checklist, a handy guide that illustrates which standards cover which topics, from front-end design through assembly.

Rigid-flex: Designing in 3D

In this month's issue, our expert contributors share their best tips, tricks and techniques for designing rigid-flex circuits. If you're a rigid board designer considering moving into the 3D world of rigid-flex, this issue is just what the doctor ordered!

Columns

Latest Columns

||| MENU
Altium Prepares for Munich Show as Growth Continues
January 17, 2019 | Andy Shaughnessy, Design007 Magazine
Estimated reading time: 2 minutes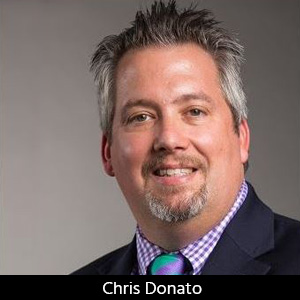 It's been just two months since the AltiumLive event drew several hundred designers to San Diego, California, and Altium is already gearing up for the next show in Munich, Germany (January 15–17, 2019). I recently spoke with Chris Donato, VP of global sales for Altium, about the upcoming AltiumLive show as well as the company's growth over the past few years.
Andy Shaughnessy: Chris, welcome. Why don't you start by telling us a little about January's AltiumLive event in Munich? What can attendees expect at your sophomore event?
Chris Donato: Thanks, Andy. AltiumLive is quickly becoming one of the largest educational events that focuses exclusively on PCB design. Attendees in Munich can expect four fantastic keynote presenters: Thomas Wischnack of Porsche Engineering, Dan Beeker of NXP Semiconductors, Alun Morgan of Ventec, and Max Seeley of 3M.
We also have a full-day high-speed class taught by Lee Ritchey on the front end. That class runs in parallel with our University Day, which features a variety of different Altium Designer courses. In addition to that, 12 presentations from Altium Designer users and supply chain experts are scheduled, and six professional development courses are available on topics like multi-board, advanced design rules, and constraints and documentation. That's 30 sessions in total, and they're all filled with some amazing education opportunities not only for our users but for us as well.
Lastly, we'll host two sessions to present Altium Designer 19, and finally, Altium 365—a cloud-based platform that allows for unprecedented collaboration between all stakeholders in the design-to-realization process. It's certainly an exciting time to be a part of Altium.
Shaughnessy: Now, let's segue a little. How are things going at Altium? I understand you've had some real growth lately.
Donato: First, thank you for giving me this opportunity. I've been here for close to 15 years, and I've never felt as excited as I am now. We've really set our sights high. Since 2014, we've had over 7,100 new customers come on board, which has been quite amazing. That comes out to more than 10,000 new licensed users of Altium Designer.
Shaughnessy: So, that's from FY 2014 to 2019, basically.
Donato: Yes, almost five years coming up here shortly. During that time, the company has doubled our revenue from $70 million to over $140 million, closing in on our goal of $200 million by 2020. Our subscription tools, which are the number of active licenses that we have, have grown from 26,000 to 40,000. It's been exciting to see this continued growth.
Shaughnessy: A couple of years ago, you were just excited to hit the $100-million mark, and now you're at $140 million.
Donato: Our fiscal year ends this coming June. Then, the year after that, we plan to be at $200 million. By 2020, we are aiming to have doubled our revenue again. I can map these growth years with our continued innovation that our R&D team has shown every year. Last year, we had this easy, powerful, modern update of the Altium Designer product—Altium Designer 18. That brought on a whole new world of opportunity with its 64-bit capability, and here we are on the precipice of yet another release shortly.
To read this entire interview, which appeared in the December 2018 issue of Design007 Magazine, click here.
Visit I-007eBooks to download your copy of Altium micro eBook today:
The Printed Circuit Designer's Guide to...Design for Manufacturing (DFM)
---
Suggested Items
12/07/2023 | Matt Stevenson -- Column: Connect the Dots
It makes sense to optimize your board using design for manufacturability (DFM) techniques. But applying DFM best practices can be confusing without formal training. The results are designs that are often incomplete, poorly designed, or too complex. When these issues arise, your PCB manufacturing partner rejecting the design can be considered a best-case scenario because it means they have your back. If your design is simply dropped into an automated queue without concern for manufacturability, the output can be a batch of unusable boards.
12/07/2023 | Siemens
Siemens Digital Industries Software announces availability of a new process design kit (PDK) from Samsung Foundry that helps mutual customers boost the reliability, quality and robustness of their next-generation integrated circuit (IC) designs manufactured using the foundry's latest processes.
12/05/2023 | PRNewswire
Siemens Digital Industries Software announced that the RS Group plc, a global provider of product and service solutions to more than 1.1 million industrial customers, has selected Siemens as its strategic electronic design automation (EDA) provider for its new, cloud native, DesignSpark Circuit Simulator tool – empowering users to streamline the design process.
12/04/2023 | EMA Design Automation
EMA Design Automation, the world's premier EDA VAR, is spinning off their IP, content, and services group as a new company named Accelerated Designs, LLC with a focus on CAD agnostic solutions.
12/04/2023 | PRNewswire
SINBON Electronics, a provider of integrated solutions for electronic component design and manufacturing, recently obtained UL certification for its NACS (The North American Charging Standard) AC/DC charging cable. SINBON is the first electronic design service provider in Greater China to obtain this certification, and the first batch of charging cable orders has been shipped this week.