Books

Featured Books

design007 Magazine

Latest Issues

Current Issue

Rigid-flex: Designing in 3D

In this month's issue, our expert contributors share their best tips, tricks and techniques for designing rigid-flex circuits. If you're a rigid board designer considering moving into the 3D world of rigid-flex, this issue is just what the doctor ordered!

Simulation, Analysis, and AI

Getting today's designs "right the first time" is critical, especially with costly advanced PCBs. Simulation and analysis software tools can help you in the fight to eliminate respins. They're not magical, but they can predict the future of your design.

Advanced, Complex & Emerging Designs

This month, our contributors focus on designing PCBs with advanced, complex and emerging technologies. We investigate design strategies for boards that are on the cutting edge of technology, or crazily complex, or so new that designers are still writing the rules as they go.

Columns

Latest Columns

||| MENU
DesignCon 2019 Names Vishram Pandit Engineer of the Year and Announces 2019 Best Paper Award Finalists
January 31, 2019 | GlobeNewswire
Estimated reading time: 5 minutes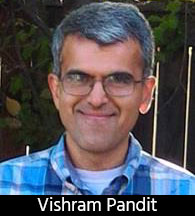 DesignCon 2019
, the nation's largest event for chip, board and systems engineers, today announced the winner of its prestigious Engineer of the Year Award, Vishram Pandit, Technology Lead (Signal/Power Integrity) at Intel Corporation, as well as the 2019 Best Paper Awards Finalists. The Engineer of the Year Award recognizes elite accomplishments in engineering and new product advancements at the chip, board, or system level, with a special emphasis on signal and power integrity. As this year's winner, Pandit has decided to give the $1,000 grant or scholarship to the University of Utah, Salt Lake City where he received his M.S. degree.
Finalists for the Engineer of the year award were selected by the editors of Design News and the winner was voted on by the DesignCon community. The award was presented at DesignCon 2019.
"The finalist judges were extremely impressed with the quality of entries we received this year for the Engineer of the Year Award. Vishram Pandit's dedication for advancing the industry rose above the rest in our open voting. Specifically, impressive was his instrumental role in the development of new PI/SI methodologies that significantly changed how the industry operates," said Naomi Price, conference content director, UBM. "Pandit's contributions to the field of engineering have been nothing short of remarkable and it is a privilege to grant him this well-deserved recognition."
"I'm deeply honored to receive the Engineer of the Year award from such a well-respected institution and also to get the opportunity to contribute to the communities that supported me along my engineering path," said Pandit.
About Vishram Pandit
Pandit currently serves as a SoC Platform Architect at Intel where he brings his 20+ years of experience in electronic engineering to focus on finding ways to improve and co-optimize system power delivery spanning PCB, Package, and Chip. At Intel, Pandit leads and provides technical guidance on developing various new PI/SI methodologies that support spec development, optimization, area savings, Platform BOM cost reduction, and product quality improvement.
Pandit has been a key contributor to methodologies in on-chip power integrity, system-level power integrity impact, and signal/power integrity co-design, successfully deploying them on various Intel products. During his tenure at Intel, Vishram has received various awards for his technical contributions and became co-author of a book, "Power Integrity for I/O Interfaces: with Signal Integrity/Power Integrity co-design" in addition to being co-author of approximately 30 conference and journal publications.
Pandit is an active member of the DesignCon Technical Program Committee and serves as a co-chair for Track 11, covering power integrity in power distribution networks.
This year at DesignCon, Pandit will be presenting at the technical session, " Electrical Integrity for LPDDR5 Memory Technology."
About DesignCon Best Paper Awards
DesignCon Best Paper Awards recognize outstanding contributions to the educational goals of the DesignCon program. DesignCon Best Paper Award recipients are selected through a two-prong process. The first step is a review of the full-length papers accepted for the current year's program. Members of the DesignCon Technical Program Committee rank these papers based on quality, relevance, impact, originality, and lack of commercial content, which determines the finalists. While selection as a finalist for a DesignCon Paper Award is a notable achievement in itself, winners are then chosen from the finalists based on the quality of their presentations. Presentation quality is judged based on audience feedback collected at DesignCon.
2019 BEST PAPER AWARD FINALISTS
Simulation & Measurement Correlation of Power Supply Noise Induced Jitter for Core & Digital IP BlocksHyo-Soon Kang, Intel CorporationGuang Chen, Intel CorporationAshkan Hashemi, Intel CorporationWern Shin Choo, Intel CorporationDavid Greenhill, Intel CorporationWendem Beyene, Intel Corporation
Top-Down Jitter Specification Approach for HBM System OptimizationHing "Thomas" To, Xilinx Inc. Nanju Na, Xilinx Inc.Anna Wong, Xilinx Inc.Haixin Ke, Xilinx Inc.Ajay Kumar Sharma, Xilinx Inc.Wui Hung Moo, Xilinx Inc.
A Review of Combiner/Divider PCB Design Topologies for 5G & WiGig ATE ApplicationsGiovani Bianchi, AdvantestJosé Moreira, AdvantestAlexander Quint, Kalrsruhe Institute für Technologie
On the Minimization of PCB Differential Pair Skew or Its EffectSyed. A. Bokhari, Fidus Systems Inc.
PCB Interconnect Modeling DemystifiedLambert (Bert) Simonovich, Lamsim Enterprises Inc.
6.4Gb/s Single-Ended Transceiver Techniques for DDR5 Server ApplicationTingting Pang, Huawei TechnologiesTianyu Liang, Huawei TechnologiesZhihua Xu, Huawei Technologies
A Methodology for Performance Comparison of Center & Edge Sampling in Serial LinksHossein Shakiba, Huawei Canada – HiLinkShayan Shahramian, Huawei Canada – HiLinkBehzad Dehlaghi, Huawei Canada – HiLinkDavid Cassan, Huawei Canada – HiLinkDavide Tonietto, Huawei Canada – HiLink
Partitioning of TX & RX Feedforward Equalizer for 112-Gbps Serial LinksKevin Zheng, Xilinx Inc.Boris Murmann, Stanford UniversityHongtao Zhang, Xilinx Inc.Geoff Zhang, Xilinx Inc.
Baseline Wander: Systematic Approach to Rapid Simulation & MeasurementPavel Zivny, TektronixVladimir Dmitriev-Zdorov, Mentor, a Siemens BusinessMaria Agoston, Tektronix
100+ Gb/s Ethernet Forward Error Correction (FEC) AnalysisCathy Ye Liu, Broadcom Inc.
A Fast & Simple RFI Mitigation Method without Compromising Signal IntegrityQiaolei Huang, Missouri University of Science and TechnologyLing Zhang, Missouri University of Science and TechnologyYang Zhong, Missouri University of Science and TechnologyJagan Rajagopalan, Amazon Lab126Deepak Pai, Amazon Lab126 Chen Chen, Amazon Lab126 Amit Gaikwad, Amazon Lab126 Chulsoon Hwang, Missouri University of Science and TechnologyJun Fan, Missouri University of Science and Technology
Using Multiple Huygens Boxes to Detect & Quantify the Coupling Path from Noise Source to VictimAntonio Ciccomancini Scogna, Futurewei Technologies Inc.Jiangqi He, Futurewei Technologies Inc.Cheng Wei Chang, HuaweiLiu Chen Jun, Huawei
DFE Implementation & Optimization Considerations for Test & MeasurementKalev Sepp, Signal Integrity Consultant for VESA, Sepson Analytics LLC
How the Braid Impedance of Instrumentation Cables Impact PI & SI MeasurementsIstvan Novak, SamtecJim Nadolny, SamtecGary Biddle, SamtecEthan Koether, Oracle
Demistifying Edge Launch ConnectorsRaul Stavoli, Carlisle ITDavi Correia, Carlisle ITEmad Soubh, Carlisle IT
Effect of PCB Fabrication Variations on Interconnect Loss, Delay, Impedance & Identified Material Models for 56-Gbps Interconnect DesignsAlex Manukovsky, IntelYuriy Shlepnev, Simberian
Thermal & SI/PI Co-Analysis to Quantify PCB Signal Loss Due to Temperature VariationHongfei Yan, IntelXiaoning Ye, IntelYinglei Ren, IntelChunfei Ye, Intel
Accelerating 56G PAM4 Link Equalization Optimization Using Machine Learning-based AnalysisTing Zhu, Hewlett Packard EnterpriseYongjin Choi, Hewlett Packard EnterpriseJacky Chang, Hewlett Packard EnterpriseChris Cheng, Hewlett Packard Enterprise
DesignCon 2019 is also supported by The Institute of Electrical and Electronics Engineers (IEEE),offering its accreditation to conference attendees. Each conference hour is equivalent to one professional development hour (PDH), and 10 PDH's result in one continuing education unit (CEU) and an official IEEE certificate. IEEE accreditation can be used to meet training requirements, stand out to future employers, and maintain an engineering license.
---
Suggested Items
09/28/2023 | Keysight Technologies, Inc.
Keysight Technologies, Inc., Synopsys, Inc., and Ansys announced a new reference flow for the TSMC N4PRF, the world's leading semiconductor foundry's advanced 4 nanometer (nm) radio frequency (RF) FinFET process technology.
09/27/2023 | Keysight Technologies, Inc.
Keysight Technologies, Inc. introduces Keysight EDA 2024, a tightly integrated suite of electronic design automation (EDA) software tools that ensures first pass success.
09/14/2023 | Peters
For Peters, the new Reflow 1.8. soldering machine from SEHO is an investment in the future. Like its predecessor, this machine is used in the laboratory for testing high-quality solder resists. Before the coatings are entrusted to the customers, Peters performs a thermal soldering simulation.
09/08/2023 | AMETEK
AMETEK, Inc. announced the acquisition of United Electronic Industries (UEI), a leading provider of data acquisition and control solutions for the aerospace, defense, energy and semiconductor industries.
09/06/2023 | SEMI
Dr. Lawrence Pileggi, Coraluppi Head and Tanoto Professor of Electrical and Computer Engineering at Carnegie Mellon University, will be honored with the 2023 Phil Kaufman Award for distinguished contributions to Electronic System Design (ESD).