Books

Featured Books

design007 Magazine

Latest Issues

Current Issue

Simplification

On the subject of simplification, our expert contributors explain how to design PCBs without making them complex and over-constrained—whatever the level of technology. In addition, we discuss the effect your decisions and tradeoffs have on design complexity.

The Standards of Design

Our expert contributors discuss how PCB designers can utilize standards to save time and money, not to mention frustration. We also spotlight the newly updated version of the IPC Checklist, a handy guide that illustrates which standards cover which topics, from front-end design through assembly.

Rigid-flex: Designing in 3D

In this month's issue, our expert contributors share their best tips, tricks and techniques for designing rigid-flex circuits. If you're a rigid board designer considering moving into the 3D world of rigid-flex, this issue is just what the doctor ordered!

Columns

Latest Columns

||| MENU
Joe Grand Brings a Hacker Outlook to PCB Design
September 19, 2019 | Andy Shaughnessy, Design007 Magazine
Estimated reading time: 8 minutes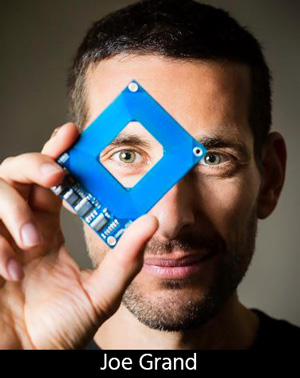 From designing his own mischievous gadgets to testifying on Capitol Hill and starring in his own Discovery TV show "Prototype This!" Joe Grand has lived a hacker's life. I spoke with Joe about his upcoming keynote at AltiumLive in San Diego, "When Hacking and Engineering Collide," which will focus on the lighter side of engineering and the benefits of thinking like a hacker. Can Joe convince PCB designers to adopt a hacker's outlook?
Andy Shaughnessy: Joe, can you tell us about how you became involved in electronics and hacking?
Joe Grand: I've been involved in computers since 1982 and grew up using the Atari 400. My brother, who is six years older than me, was a huge influence in the direction of my life. He collected video games on 5.25" floppy disks and had copy parties with his friends. Then, he decided to become a musician and got tired of using computers. That was great for me because I inherited all of his stuff. That was my gateway into discovering bulletin board systems on my own. I figured out how to make free phone calls, so I could connect to long-distance bulletin board systems outside of my local calling area. My first free phone call was when I seven-years-old; I didn't even understand the concept other than you had to dial a 1-800 number, a six-digit code, and then the phone number of the bulletin board system.
From there, I discovered the software trading world and the hacker community. At the same time, I was fascinated with electronics. I was around 10-years-old when I started building projects out of magazines like Popular Electronics, Nuts & Volts, Circuit Cellar, BYTE, and Radio Electronics. Then, I started building my own stuff. I once built a universal garage door opener that would cycle through all possible passwords, which were normally set with DIP switches. I replaced the DIP switches with a 555 timer and binary counter, so all I had to do was hold the button down until the garage door opened, no matter what the password actually was.
Being able to create something real that was once just an idea in my head is what really solidified my love of engineering.
Andy Shaughnessy: Was this around the time when the Matthew Broderick movie "War Games" came out in 1983?
Grand: I didn't see "War Games" until I was much older because I was seven when it came out, but it's my favorite movie for sure. When I was a teenager in the early '90s, I joined a hacker group called L0pht Heavy Industries based out of Boston. That was one of the first publicly-facing hacker groups. The other guys in the group were older, so they became my mentors and kept me out of trouble. I call myself a "technological juvenile delinquent." I caused a lot of trouble online and even offline, growing up and running around the streets of Boston, I had been going down the wrong path.
I needed some guidance, and I learned from their behavior. I learned about the importance of sharing information and educating and empowering others. The L0pht ended up testifying in front of Congress about the state of computer security related to hackers as the industry started to grow. Having a group of hackers with fake names sitting in the same room as politicians was a pretty big deal at the time!
I was still doing hardware analysis and design at that point. We started a security consulting company called @stake, which was one of the first boutique security consulting companies. Then, I became fed up with the whole world of VCs (venture capitalists) and how the business was running, having our hacker group forced into a corporate mold, so I went back to my passion, which was engineering.
Shaughnessy: Very cool. Now, give us a quick overview of your TV show.
Grand: "Prototype This!" was a show on Discovery Channel that filmed the real-life process of four engineers building crazy prototypes of things that had never been done before. The program was filmed by the same production company that made "MythBusters" and aired in 2007.
Shaughnessy: "MythBusters" was about blowing things up, but "Prototype This!" focused on building stuff.
Grand: Exactly. For "Prototype This!" they wanted real-life engineers, not people who just played them on TV. So, they crafted their own team of people; we came up with a ridiculous number of ideas, and 13 of them were chosen for the first season.
The producers had already selected Mike North and Terry Sandin. Mike is a materials scientist who had recently graduated from UC Santa Barbara. Terry is an amazing machinist and special effects creator out of Hollywood.
They had also already picked Zoz Brooks, a roboticist and software developer from MIT. It turns out that Zoz and I have a lot of the same friends, but we hadn't actually met each other before. Zoz told the producers that we needed an electronics person to complete the team. At the time, I was an advisor for Make Magazine. The producers asked them, "Do you know anybody that could do the show?" They said, "Talk to Joe Grand." I happened to be heading down to San Francisco for a conference, and we arranged a visit for the camera.
I had a massive fever, but I popped a bunch of Advil and talked about some of my projects. A couple of weeks later, they asked me to be on the show. I was actually a little hesitant, because I wasn't sure how I'd enjoy working with other people again and having producers tell me what to do. But, it really came together and turned out to be an awesome experience.
Shaughnessy: That's a great story. So, do you have an engineering degree?
Grand: Yes. I have a degree in computer engineering from Boston University as well as an honorary doctorate from the University of Advancing Technology in Arizona. I'm very proud of it, but my kids make fun of me because they say I'm not a real doctor.
Shaughnessy: Where are you located now?
Grand: I'm in Portland, Oregon. It's a great community here. The tech world is nice too. I grew up in Boston, and my wife and I moved to San Diego when we were dating. Then, we moved to San Francisco to film the TV show, which we filmed on Treasure Island. When it was time for our kids to go to school, we decided to go to Portland; Intel is located here, and there are a lot of smaller companies too, but it's not a mad gold rush like it is in California.
Shaughnessy: Let's talk about your keynote. I like the title, "When Hacking and Engineering Collide."
Grand: I thought it would be fun to combine the hacker and engineering worlds. I'll mostly be talking about some of my favorite projects, experiences designing them, and tips from my design process. Hacking, in this sense, is thinking creatively about solutions to problems and not being bound by conventional wisdom or what other people think. It's definitely going to be different than the more technical topics at AltiumLive.
Shaughnessy: I've been checking out your YouTube content. One of the things you say is that engineers need to think like hackers. What do you mean by that?
Grand: Usually, engineers aren't trained to be hackers. They're trained to be engineers. They're trained to design products that work properly, are within budget, and make it to market on time. That's totally reasonable. But hackers aren't trained like engineers and aren't bound by the same constraints. Hackers will take advantage of all the things that engineers need to put in place in order to make their products easy to design, debug, manufacture, and test.
You've got to have an adversarial mindset during the design process and put yourself in the mind of an attacker. How would they go about hacking your system and what can you implement to make that more difficult? Most of us are not thinking about the fact that somebody can open up our product, connect to test points or debug interfaces, sniff communication buses, extract firmware, or intentionally cause a fault in the system in order to gain unauthorized access.
Shaughnessy: You're focused on the security side of it. What do you think of when you see IoT?
Grand: The problem with IoT is that it involves resource-constrained embedded systems connecting to a network. We have a hard enough time securing our laptops, desktops, and servers. It's arguably more difficult to protect systems that have no or little computing power. A lot of IoT devices are based on reference designs where a vendor gives them a recommended implementation of the system, so lots of products are running the same versions of code with the same outdated libraries and the same exploitable flaws. And, there might not even be a mechanism to update or patch the system if a problem is discovered.
We also have to consider how these devices are communicating over the network and how they're configured, which is sometimes done with some easily reverse-engineered smartphone app. There are just so many ways to go after an IoT device that I don't think we'll see it stopping any time soon.
Shaughnessy: One thing I want to mention is that the keynote description states that you're going to profess your love for ferric chloride. Tell us about that.
Grand: I grew up etching my own boards using copper-clad FR4 and ferric chloride from Radio Shack. I etched my first board when I was 10 years old. I actually didn't have a board professionally fabricated until I was 23. It was a meditative process that I really enjoyed—laying out the artwork, agitating the chemicals, watching it slowly etch. I figured some of the old-school engineers at AltiumLive could relate to that!
Shaughnessy: This has been fascinating, Joe. Thanks for speaking with me.
Grand: I appreciate the opportunity. Thanks so much.
---
Suggested Items
11/13/2023 | Global Newswire
The "Global Copper Clad Laminates Market (by Type, Application, Reinforcement Material, & Region): Insights and Forecast with Potential Impact of COVID-19 (2023-2028)" report has been added to ResearchAndMarkets.com's offering.
11/07/2023 | SCHMID Group
The SCHMID Group, a global solution provider for the high-tech electronics, photovoltaics, glass and energy systems industries, will be exhibiting at productronica in Munich from November 14 – 17, 2023.
11/01/2023 | Alex Stepinski, Stepinski Group
The topic of intrinsic copper structure has been largely neglected in discussions regarding the PCB fabrication quality control process. At face value, this seems especially strange considering that copper has been the primary conductor in all wiring boards and substrates since they were first invented. IPC and other standards almost exclusively address copper thickness with some mild attention being paid to surface structure for signal loss-mitigation/coarse properties. 
10/26/2023 | Andy Shaughnessy, Design007
At PCB West, I sat down for an interview with John Andresakis, the director of business development for Quantic Ohmega. I asked John to update us on the company's newest materials, trends in advanced materials, and the integration of Ticer Technologies, which Quantic acquired in 2021. As John explains, much of the excitement in materials focuses on laminates with lower and lower dielectric constants.
10/25/2023 | Preeya Kuray -- Column: Material Insight
Printed circuit board (PCB) reliability testing is generally performed by exposing the board to various mechanical, electrical, and/or thermal stimuli delineated by IPC standards, and then evaluating any resulting failure modes. Thermal shock testing is one type of reliability test that involves repeatedly exposing the PCB test board to a 288°C pot of molten solder for a specific time (typically 10 seconds) and measuring the number of cycles it takes for a board's copper layer to separate from the organic dielectric layer. If there is no delamination, fabricators can rest assured that the board will perform within expected temperature tolerances in the real world.