Books

Featured Books

smt007 Magazine

Latest Issues

Current Issue

Chips Don't Float

In Europe and the U.S., legislation is under way to revitalize PCB fabrication and packaging. What is the status of this work, and how specifically does this change the industry landscape for EMS companies? What will help keep us afloat?

Flying High With Digital Twin

The opportunity to use manufacturing simulation as a test bed for job planning and process optimization brings continuous improvement into the modern age. This may be an all-or-nothing type of project, but it's worth the investment.

Artificial Intelligence

In this issue, we (and AI) explored how and when artificial intelligence plays a role in manufacturing today. Whether on the factory floor, or in the front office, AI applications are emerging and changing how we approach planning, processes and problem solving.

Columns

Latest Columns

||| MENU
April 2020 Issue of SMT007 Magazine Available Now
April 1, 2020 | I-Connect007 Editorial Team
Estimated reading time: Less than a minute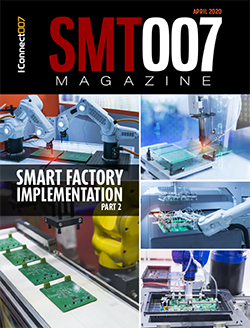 This month in SMT007 Magazine, we continue our exploration of implementation details for smart factories with resources and ongoing examples demonstrating that the real innovation in a smart factory comes from your business practices.  Plus, an exclusive in-depth conversation with aviation design superstar Burt Rutan following his January 2020 keynote at IPC APEX EXPO.
Download your copy today on the virtual newsstand, and available for delivery in your e-mailbox by subscribing here.
---
Suggested Items
09/22/2023 | Nolan Johnson, I-Connect007
This week has been chock full of news about upcoming trade shows and conferences. Clearly, the season is upon us. This week, I-Connect007 reported on PCB West in Santa Clara (often referred to as the show which kicks off trade show season) and the topic of artificial intelligence was everywhere. By the looks of it, not just at the conference, either. For months now, the mainstream media has been gobbling up all sorts of news about generative AI engines, painting the picture that we'll all lose our jobs to these tools, while also reporting on situations where the results from AI have gotten progressively worse over time.
09/21/2023 | TrendForce
Fueled by an AI-driven inventory stocking frenzy across the supply chain, TrendForce reveals that Q2 revenue for the top 10 global IC design powerhouses soared to US $38.1 billion, marking a 12.5% quarterly increase.
09/21/2023 | Cadence Design Systems, Inc.
Cadence Design Systems, Inc. announced it has expanded its design IP portfolio on TSMC's 3nm (N3E) process—most notably with the addition of the flagship Cadence® 224G Long-Reach (224G-LR) SerDes PHY IP, which has achieved first-pass silicon success.
09/21/2023 | Matt Stevenson -- Column: Connect the Dots
PCB prototyping is a critical juncture during an electronic device's journey from concept to reality. Regardless of a project's complexity, the process of transforming a design into a working board is often enlightening in terms of how a design can be improved before a PCB is ready for full production.
09/20/2023 | Cadence Design Systems, Inc.
Cadence Design Systems, Inc. and CEVA, Inc. announced that they have entered into a definitive agreement for Cadence to acquire Intrinsix Corporation, a wholly owned subsidiary of CEVA and a provider of design engineering solutions focused on the U.S. aerospace and defense industry.