Books

Featured Books

design007 Magazine

Latest Issues

Current Issue

Rigid-flex: Designing in 3D

In this month's issue, our expert contributors share their best tips, tricks and techniques for designing rigid-flex circuits. If you're a rigid board designer considering moving into the 3D world of rigid-flex, this issue is just what the doctor ordered!

Simulation, Analysis, and AI

Getting today's designs "right the first time" is critical, especially with costly advanced PCBs. Simulation and analysis software tools can help you in the fight to eliminate respins. They're not magical, but they can predict the future of your design.

Advanced, Complex & Emerging Designs

This month, our contributors focus on designing PCBs with advanced, complex and emerging technologies. We investigate design strategies for boards that are on the cutting edge of technology, or crazily complex, or so new that designers are still writing the rules as they go.

Columns

Latest Columns

||| MENU
Meet Patrick Crawford, I-Connect007 Columnist
May 13, 2020 | I-Connect007 Editorial Team
Estimated reading time: Less than a minute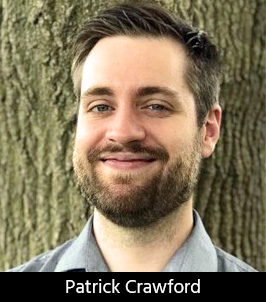 Meet Patrick Crawford, one of our newest I-Connect007 columnists! Patrick's columns will provide updates on IPC Design activities.
Patrick is the manager of design standards and related industry programs at IPC. Patrick manages the IPC-2581 Generic Requirements for Printed Board Assembly Products Manufacturing Data and Transfer Methodology Standard, IPC-2231 DFX Standard, and the IPC-175x family of materials and substances, lab report, and responsible minerals sourcing declaration standards. He is currently the liaison to the Design Community Leadership, the industry leadership group of IPC Design. Patrick and the Design Community Leadership work to develop the IPC Design program as IPC redoubles its efforts to serve the printed board design engineering industry.
Patrick earned his master's degree in materials science and engineering from Portland State University in Portland, Oregon, where his studies focused on the growth of nanoscale carbon allotropes for use in next-generation memory devices and novel biomedical applications.
Read "Design Circuit" here on PCB Design007 or in Design007 Magazine. Subscribe today!
---
Suggested Items
10/02/2023 | SEMI
Industry visionaries and experts will gather November 6-8 at the MEMS & Sensors Executive Congress (MSEC 2023) at the WIGWAM Resort in Phoenix, Arizona for insights into the latest trends and innovations in sensorization.
10/02/2023 | Gen3
Gen3, Global leader in SIR, CAF, Solderability, Ionic Contamination & process optimisation equipment, is pleased to announce the appointment of John Barraclough as the Head of Business Development.
10/02/2023 | KYZEN'
KYZEN, the global leader in innovative environmentally friendly cleaning chemistries, announced that Debbie Carboni, Global Product Line Manager - Electronics, will present as part of the Electric Vehicle (EV) panel during the IPC High Reliability Forum.
10/02/2023 | ACN Newswire
This joint effort is expected to strengthen the supply of NANOWEB® films and accelerate the growth of the transparent conductive film industry, offering new applications for the automotive and consumer electronics sectors, such as transparent film antennas, transparent film heaters, and transparent film electromagnetic shielding.
09/29/2023 | USPAE
In a major initiative to innovate how the Department of Defense (DoD) spurs commercial technology development, the U.S. Partnership for Assured Electronics (USPAE) and DoD launched a Defense Business Accelerator (DBX) to open doors for industrial base growth and stimulate private investment.