Books

Featured Books

smt007 Magazine

Latest Issues

Current Issue

Economic Headwinds

This issue takes stock of the current economic outlook and how companies are using current conditions to move themselves through technological evolutions, workforce shifts, and financial changes. Even with these headwinds, there's forward progress to be made.

Attracting New Talent

To get different results in staffing, you must change how you define, promote and recruit your job opportunities. How do you become magnetic to high-quality early-career candidates?

Test and Inspection

Test and inspection methods are undergoing rapid change. In this issue, we consider the influence of AOI, AI, and human eyes. How exactly are these pieces of the puzzle changing the role of test and inspection?

Columns

Latest Columns

||| MENU
Ross Berntson: Indium Corporation's Pledge for Safe Resumption Post-COVID
May 22, 2020 | Nolan Johnson, I-Connect007
Estimated reading time: 7 minutes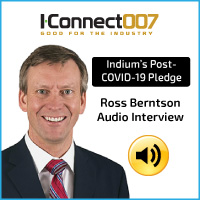 On May 20, Nolan Johnson spoke with Ross Berntson, Indium Corporation's president and COO, about the company's response to the COVID-19 outbreak.
Berntson details the company's work with a consortium of manufacturing businesses in central New York state, developing a manufacturing pledge to keep people safe and keep factories running. Indium Corporation has been one of the frontrunners in formalizing such procedures and in sharing lessons learned among all the participating companies.
Berntson encourages electronics manufacturing companies outside the central New York region to also participate in the pledge. Berntson offers a number of examples of unusual ways to reduce the viral spread and reminds us all that merely making new rules is not sufficient; finding ways to change habits and behaviors long-term is key.
For more information on the pledge, click here.
I-Connect007 continues to deliver original reporting and coverage of the electronics design, electronics manufacturing, and contract manufacturing industries, including up-to-date information from the companies, associations, and supply chains globally. Find the latest news and information at I-Connect007.com, and on our new topic bulletin board, "Industry Leaders Speak Out: Responses to COVID-19 outbreak," found here.
Related Links:
Audio Transcript:
Nolan Johnson: Hi, Nolan Johnson here with I-Connect007, and today I'm talking with Ross Berntson, Indium Corporation's president and COO. Ross, welcome, and thanks for taking the time for this interview.
Ross Berntson: It's great to be here with you, Nolan.
Johnson: Indium has been leading the way in central New York, along with a lot of other manufacturers, I take it, to develop some manufacturing pledges—a method for reopening post-COVID. Could you tell us about that? How does it work?
Berntson: Absolutely. Back in March, when the COVID situation in New York was heating up, we got together with 16 other manufacturers to develop a manufacturer's pledge to keep people safe and factories running, as well as a review process. That review process would allow a peer-to-peer review of manufacturers to come into your site and make sure you're actually living up to the pledge standards.
The pledge comes down to a document that people sign, committing yourself to the Department of Health and CDC requirements for operation, as well as a set of five specific areas of control. One is the site control, making sure you know who's coming in and that there's some kind of screening process. Another is enhanced hygiene protocols, cleaning high-touch surfaces. The third is structuring and social distancing, and reduced density in the facilities through shift changing, shift spreading, and redesigning the factory, especially the break rooms. Fourth is on-site emergency response, which really means having a location somewhere in the facility in which, if someone has symptoms, you can place them, support them, and help them so that they can get home or to healthcare workers safely. And then finally, with this huge anxiety we have from the uncertainty, making sure there's clear communication of expectations, how the company is going, and what's happening, so an enhanced communication commitment.
That pledge is signed by a company, and, again, 13 companies have signed and certified their pledge by a peer-to-peer review process.
Johnson: In other words, you are holding yourselves accountable to the pledge.
Berntson: Correct. We were very fortunate that in our local region, we were partnered with Danfoss, which does power semiconductors and is right here in the Utica-Rome area. They came and audited our facility to make sure we're following our practices, and we went to their site and made sure they were also following their practices on how to keep their people safe.
Johnson: Right. I understand you're encouraging other companies in the electronics and manufacturing industry outside of New York to take the pledge as well.
Berntson: Yes, we are sending this pledge out across the globe. I've been doing webinars, as well as our partner organizations in Central New York—the Manufacturers Association of Central New York—to share this. It has been a major part of the Rhode Island "keep open" program. It has also been a major part of Iowa, Colorado, and even places in the U.K. It has spread around the U.S. and throughout the globe in terms of helping people know, "What are the basic practices, and how do we keep safe?"
Now, within the electronics industry, we're sending it to our suppliers and asking them to make the pledge. But we're also sharing it with our customers, encouraging them—especially those without a major Asia footprint where they'd maybe learn these skills—to use this as a starting point for how they might create safe practices in their own factories.
Johnson: What has been the response so far?
Berntson: It has really been spectacular. I'm very thankful to be with such a great group. One of the benefits of peer-to-peer sharing is you learn new things. One of the items we've learned is, for example, was creating a personal pledge. We had each of our employees sign a pledge to the right conduct and behaviors when they're outside of our site because if they don't do that, we can't make sure that we secure our site. That was an idea from one of our cohorts as we all went through the pledge process.
Another example is we were cleaning all the surfaces but not keeping rigorous logs. Danfoss showed us how they were keeping logs on cleaning surfaces. Again, that's another best practice we brought in-house. That response has been really powerful, as well as the officials—both locally and our counties we operate in. A lot of the county executives have been a part of our calls, so they can learn how to do this, but then New York State, the State of Rhode Island, and some of these other governor's offices have reviewed this pledge and adopted it as a way to go forward.
Within our industry, I think where we might be under threat, for example, is in Mexico, where they've had a lot of shutdowns. Something like the pledge might help them to keep operating and keep their government confident that they're equipped to keep operating safely.
Johnson: It sounds like a lot of collaboration and a lot of joint-learning that's going on here. What have been some of the key lessons or experiences that you've picked up from this process?
Berntson: Some of them are somewhat obvious, such as the management of the break rooms and conference rooms. Originally, we started putting up rules about what you could do, and then we realized, "That's crazy. Let's just remove chairs." One of the best practices that came out of the group is you don't just restructure your break rooms with signs, but you physically change the layout to create more separation.
Similarly, in our factories, we have the confidence to change the way we do shifts but also create barriers and hang plastic in the factories where we couldn't maybe create a proper social distancing between two different workstations to help make sure we keep people safe. That was an idea that came out of, again, one of our partner companies. When we look at the challenge of an open office, fortunately, we have cubicles, but this debate as people return from work-from-home scenarios, how do you create an open office and make that safe? There's a lot of creativity happening in that area, too, to make sure that when people come to the office, they feel safe, they actually are safe, and we reduce the probability of transmission as low as possible.
Johnson: That sounds like there are a lot of simple steps going on there, Ross.
Berntson: There are. One of the simple things that we actually neglected to do, but was pointed out to us as we were going through this process by our own employees, was we wanted to make sure we had a statement that said, "I am safe, I am essential, and I am part of the solution." Part of that was for people in our own factories to point out things that we could do better.
Some of that included closing down drinking fountains, which was pretty obvious in hindsight but wasn't so obvious at the time. We finished restructuring our break rooms, but we left salt and pepper shakers on the tables; of course, that was silly. Those are certainly good transmission points by people handling the same salt and pepper shakers, so those were removed. But that idea came from the front lines of our operators, and then we proceeded to share that with other manufacturers in our cohort. And now, it's part of what we publish, and we are willing to share with any electronics company that is interested in learning our best practices.
Johnson: Great. Ross, this sounds like some great work for the industry as a whole. Thanks for that, and thanks again for taking the time to talk with us and help keep the industry informed.
Berntson: Absolutely. I'm happy to be here, and I hope everyone out there keeps their people safe and is able to, therefore, keep their factories running. Stay safe, everyone.
Johnson: Once again, I've been talking with Ross Berntson, Indium Corporation's president and COO. Thanks for listening.
---
Suggested Items
11/30/2023 | BUSINESS WIRE
Nordson Electronics Solutions, a global leader in electronics manufacturing technologies, is pleased to announce the release of the new ASYMTEK Select Coat® SL-1040 conformal coating system.
11/29/2023 | TT Electronics
TT Electronics, a global provider of custom power solutions and engineered technologies, has announced that its Power and Control business has officially opened its new state-of-the-art research, development and manufacturing facility.
11/27/2023 | IPC
IPC welcomes the actions outlined today by the U.S. Government "to strengthen supply chains critical to America's economic and national security."
11/27/2023 | GOEPEL Electronics
The US branch of GÖPEL electronic is proud to announce the addition of David Kalaidjian as the new National Sales Development Manager.
11/27/2023 | Wurth Elektronik
HyPerStripes project partners will create a technology platform including manufacturing techniques for roll-to-roll (R2R) processing as well as the integration of electronic components onto very long ("endless"), flexible and stretchable printed circuit boards.