Books

Featured Books

design007 Magazine

Latest Issues

Current Issue

Odd Geometries

In this issue, we discuss some of the challenges, pitfalls and mitigations to consider when designing non-standard board geometries. We share strategies for designing odd-shaped PCBs, including manufacturing trade-offs and considerations required for different segments and perspectives.

Simplification

On the subject of simplification, our expert contributors explain how to design PCBs without making them complex and over-constrained—whatever the level of technology. In addition, we discuss the effect your decisions and tradeoffs have on design complexity.

The Standards of Design

Our expert contributors discuss how PCB designers can utilize standards to save time and money, not to mention frustration. We also spotlight the newly updated version of the IPC Checklist, a handy guide that illustrates which standards cover which topics, from front-end design through assembly.

Columns

Latest Columns

||| MENU
New I-007eBook Highlights System Analysis
July 20, 2021 | I-Connect007
Estimated reading time: Less than a minute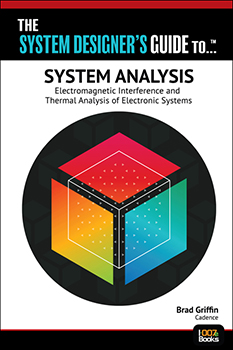 In this latest title from I-007eBooks, authored by Cadence Design Systems, readers will learn how system-level analysis of complex and high-speed electronic designs is critical to solve electromagnetic, electrothermal, and electromechanical simulation challenges and to ensure that the system works under wide-ranging operating conditions.
According to Lee Ritchey, founder and president of Speeding Edge and author of Right the First Time: A Practical Handbook on High-Speed PCB and System Design: "Author Brad Griffin offers readers a very good explanation of system-level analysis of complex and high-speed electronic designs. I highly recommend this book for those who are getting started with the design of PCBs and systems that are used in data centers."
Download your free copy today, which also includes a companion guide with end-to-end design solutions for today's electronics designers.
You can also view other titles in our full library. The System Designer's Guide to… series is specifically dedicated to educating the printed circuit and systems design sectors and serves as a valuable resource for people seeking the most relevant information available.
We hope you enjoy The System Designer's Guide to… System Analysis: Electromagnetic Interference and Thermal Analysis of Electronic Systems.
---
Suggested Items
10/07/2021 | Brad Griffin, Cadence Design Systems
In Chapter 2 of this book, the subject involves the challenges in the design and development of data center systems. With the exponential growth in data center infrastructure for IT networking, numerous challenges have emerged, from limited ecosystems to high-performance computing issues. There are many constraints to building data centers and updating the equipment in them. Planning is critical in managing increased capacity in the existing data center space.