Books

Featured Books

design007 Magazine

Latest Issues

Current Issue

Rigid-flex: Designing in 3D

In this month's issue, our expert contributors share their best tips, tricks and techniques for designing rigid-flex circuits. If you're a rigid board designer considering moving into the 3D world of rigid-flex, this issue is just what the doctor ordered!

Simulation, Analysis, and AI

Getting today's designs "right the first time" is critical, especially with costly advanced PCBs. Simulation and analysis software tools can help you in the fight to eliminate respins. They're not magical, but they can predict the future of your design.

Advanced, Complex & Emerging Designs

This month, our contributors focus on designing PCBs with advanced, complex and emerging technologies. We investigate design strategies for boards that are on the cutting edge of technology, or crazily complex, or so new that designers are still writing the rules as they go.

Columns

Latest Columns

||| MENU
Book Excerpt: 'The Printed Circuit Designer's Guide to… High Performance Materials', Chapter 1
March 17, 2022 | I-Connect007 Editorial Team
Estimated reading time: 1 minute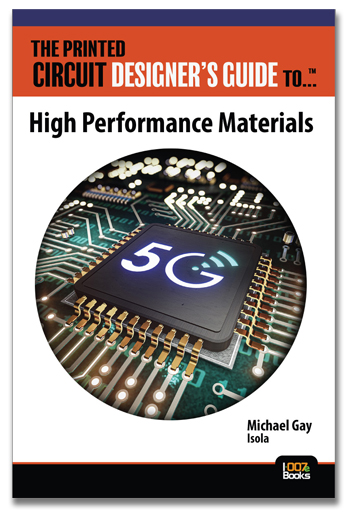 Evolution of the Resin System
Most basic resin systems have been around for a long time. Here is a little timeline of developments through more recent introductions.
In 1907, the first laminate was made with pure phenolic resin by Westinghouse in Pittsburgh, Pennsylvania. Formica became the first true sheet laminate.The first application—a radio by Paul Eisler in 1936—led to practical manufacturing for military radios in the U.S., and use of single-sided copper-clad phenolic laminate started in about 1943 using paper and cotton as the structural component. Epoxy resin was introduced shortly after in 1947.
Still reigning as the lowest loss resin system, a PTFE, RT/Duroid® was introduced in 1949.
The first polyimide was discovered in 1908 by Bogart and Renshaw. However, the high heat-resistant polyimide laminate material was brought to the market in 1951.
Isola began production of copper-clad laminate in 1956.
Epoxy-based laminate systems followed around 1960 and used woven E-glass fabric.
Shortly after, G-10 epoxy laminate (non-flame retardant epoxy resin plus E-glass) and a flame-retardant epoxy version called FR-4 (flame-retardant epoxy resin plus E-glass) were introduced in 1968.
From that time forward, there have been various blends, such as PPO (polyphenylene oxide)/epoxy, CE (cyanate ester)/epoxy, and polyimide/epoxy, that were created to balance properties of pure resin systems to achieve specific enhanced properties. Each new resin system was built on learning from previous products. Resin system developments for high heat applications such as LED lighting, ultra-thin non-reinforced films for capacitance and halogen-free systems to meet RoHS and REACH environmental requirements, continue to be developed to address the performance and reliability needs. With each new need, laminate material manufacturers go into the lab and see what new raw material can be used to improve resin system performance.
The process of developing a new resin system requires deep knowledge of how the PCB will be manufactured. PCB designers are most concerned with assembly process capability, long term reliability, thermal cycling performance, CAF resistance, and electrical performance, therefore, all these attributes must be balanced within the design of a resin system. The market requirements mean that laminate manufacturers must continue to research available options that will provide incremental improvements to the resin system performance.
Follow this link to download your copy of The Printed Circuit Designer's Guide to… High Performance Materials.
---
Suggested Items
09/28/2023 | Anaya Vardya, American Standard Circuits
There has always been pressure to reduce line and space as we have seen the bleeding edge technology go from 8 mils to 5 mils and then to 3 mils. The difference between "then" and "now" is that the prior advancements, for the most part, used the same processes, chemistry and equipment going from 8 mils to 3 mils. But going from 3 mil to sub 1 mil trace and space is a quantum leap in printed circuit board (PCB) technology that requires a whole new set of processes and materials.
09/28/2023 | Michael Carano -- Column: Trouble in Your Tank
In a previous column, the critical process of desmear and its necessity to ensure a clean copper surface connection was presented. Now, my discussion will focus on obtaining a void-free and tightly adherent copper plating deposit on these surfaces. After the desmear process, the task is to insure a continuous, conductive, and void-free deposit on the via walls and capture pad. Today, there are several processes that can be utilized to render vias conductive.
09/20/2023 | I-Connect007 Editorial Team
Panasonic's Darren Hitchcock spoke with the I-Connect007 Editorial Team on the complexities of moving toward ultra HDI manufacturing. As we learn in this conversation, the number of shifting constraints relative to traditional PCB fabrication is quite large and can sometimes conflict with each other.
09/14/2023 | MKS' Atotech
MKS' Atotech, a leading surface finishing brand of MKS Instruments, will participate in the upcoming IPCA Expo at Bangalore International Exhibition Centre (BIEC) and showcase its latest PCB manufacturing solutions from September 13 – 15.
09/14/2023 | Vern Solberg -- Column: Designer's Notebook
Flexible circuit applications can be as basic as furnishing electrical interconnect between two conventional circuit board assemblies, or to prove a platform for placing and interconnecting electronic components. During the planning and pre-design phase of the flexible circuit, there will be several material and process related questions that need to be addressed. Most flexible circuit fabricators welcome the opportunity to discuss their customers' flexible circuit objectives prior to beginning the actual design process.