Books

Featured Books

design007 Magazine

Latest Issues

Current Issue

Simplification

On the subject of simplification, our expert contributors explain how to design PCBs without making them complex and over-constrained—whatever the level of technology. In addition, we discuss the effect your decisions and tradeoffs have on design complexity.

The Standards of Design

Our expert contributors discuss how PCB designers can utilize standards to save time and money, not to mention frustration. We also spotlight the newly updated version of the IPC Checklist, a handy guide that illustrates which standards cover which topics, from front-end design through assembly.

Rigid-flex: Designing in 3D

In this month's issue, our expert contributors share their best tips, tricks and techniques for designing rigid-flex circuits. If you're a rigid board designer considering moving into the 3D world of rigid-flex, this issue is just what the doctor ordered!

Columns

Latest Columns

||| MENU
Book Excerpt: 'The Printed Circuit Designer's Guide to… High Performance Materials', Chapter 1
March 17, 2022 | I-Connect007 Editorial Team
Estimated reading time: 1 minute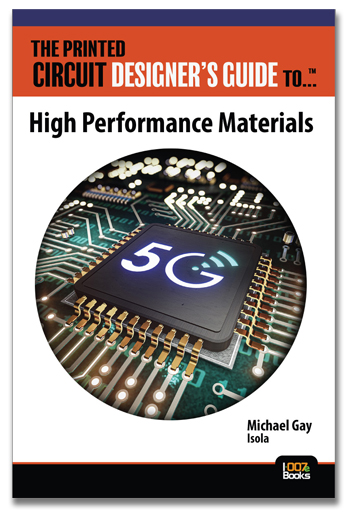 Evolution of the Resin System
Most basic resin systems have been around for a long time. Here is a little timeline of developments through more recent introductions.
In 1907, the first laminate was made with pure phenolic resin by Westinghouse in Pittsburgh, Pennsylvania. Formica became the first true sheet laminate.The first application—a radio by Paul Eisler in 1936—led to practical manufacturing for military radios in the U.S., and use of single-sided copper-clad phenolic laminate started in about 1943 using paper and cotton as the structural component. Epoxy resin was introduced shortly after in 1947.
Still reigning as the lowest loss resin system, a PTFE, RT/Duroid® was introduced in 1949.
The first polyimide was discovered in 1908 by Bogart and Renshaw. However, the high heat-resistant polyimide laminate material was brought to the market in 1951.
Isola began production of copper-clad laminate in 1956.
Epoxy-based laminate systems followed around 1960 and used woven E-glass fabric.
Shortly after, G-10 epoxy laminate (non-flame retardant epoxy resin plus E-glass) and a flame-retardant epoxy version called FR-4 (flame-retardant epoxy resin plus E-glass) were introduced in 1968.
From that time forward, there have been various blends, such as PPO (polyphenylene oxide)/epoxy, CE (cyanate ester)/epoxy, and polyimide/epoxy, that were created to balance properties of pure resin systems to achieve specific enhanced properties. Each new resin system was built on learning from previous products. Resin system developments for high heat applications such as LED lighting, ultra-thin non-reinforced films for capacitance and halogen-free systems to meet RoHS and REACH environmental requirements, continue to be developed to address the performance and reliability needs. With each new need, laminate material manufacturers go into the lab and see what new raw material can be used to improve resin system performance.
The process of developing a new resin system requires deep knowledge of how the PCB will be manufactured. PCB designers are most concerned with assembly process capability, long term reliability, thermal cycling performance, CAF resistance, and electrical performance, therefore, all these attributes must be balanced within the design of a resin system. The market requirements mean that laminate manufacturers must continue to research available options that will provide incremental improvements to the resin system performance.
Follow this link to download your copy of The Printed Circuit Designer's Guide to… High Performance Materials.
---
Suggested Items
11/13/2023 | Global Newswire
The "Global Copper Clad Laminates Market (by Type, Application, Reinforcement Material, & Region): Insights and Forecast with Potential Impact of COVID-19 (2023-2028)" report has been added to ResearchAndMarkets.com's offering.
11/07/2023 | SCHMID Group
The SCHMID Group, a global solution provider for the high-tech electronics, photovoltaics, glass and energy systems industries, will be exhibiting at productronica in Munich from November 14 – 17, 2023.
11/01/2023 | Alex Stepinski, Stepinski Group
The topic of intrinsic copper structure has been largely neglected in discussions regarding the PCB fabrication quality control process. At face value, this seems especially strange considering that copper has been the primary conductor in all wiring boards and substrates since they were first invented. IPC and other standards almost exclusively address copper thickness with some mild attention being paid to surface structure for signal loss-mitigation/coarse properties. 
10/26/2023 | Andy Shaughnessy, Design007
At PCB West, I sat down for an interview with John Andresakis, the director of business development for Quantic Ohmega. I asked John to update us on the company's newest materials, trends in advanced materials, and the integration of Ticer Technologies, which Quantic acquired in 2021. As John explains, much of the excitement in materials focuses on laminates with lower and lower dielectric constants.
10/25/2023 | Preeya Kuray -- Column: Material Insight
Printed circuit board (PCB) reliability testing is generally performed by exposing the board to various mechanical, electrical, and/or thermal stimuli delineated by IPC standards, and then evaluating any resulting failure modes. Thermal shock testing is one type of reliability test that involves repeatedly exposing the PCB test board to a 288°C pot of molten solder for a specific time (typically 10 seconds) and measuring the number of cycles it takes for a board's copper layer to separate from the organic dielectric layer. If there is no delamination, fabricators can rest assured that the board will perform within expected temperature tolerances in the real world.