Books

Featured Books

design007 Magazine

Latest Issues

Current Issue

Rigid-flex: Designing in 3D

In this month's issue, our expert contributors share their best tips, tricks and techniques for designing rigid-flex circuits. If you're a rigid board designer considering moving into the 3D world of rigid-flex, this issue is just what the doctor ordered!

Simulation, Analysis, and AI

Getting today's designs "right the first time" is critical, especially with costly advanced PCBs. Simulation and analysis software tools can help you in the fight to eliminate respins. They're not magical, but they can predict the future of your design.

Advanced, Complex & Emerging Designs

This month, our contributors focus on designing PCBs with advanced, complex and emerging technologies. We investigate design strategies for boards that are on the cutting edge of technology, or crazily complex, or so new that designers are still writing the rules as they go.

Columns

Latest Columns

||| MENU
Excerpt: 'The Printed Circuit Designer's Guide to... Thermal Management with Insulated Metal Substrates, Vol. 2'
August 2, 2022 | Didier Mauve and Robert Art, Ventec
Estimated reading time: 1 minute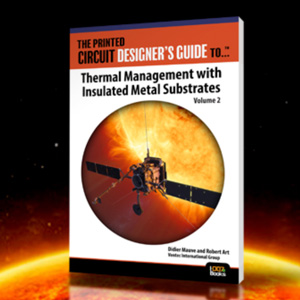 Introduction
The Printed Circuit Designer's Guide to... Thermal Management with Insulated Metal Substrates, Volume 2, by Didier Mauve and Robert Art of Ventec International Group is the second in a two-part series. This book builds on the material presented in the first by describing up-to-the-minute products and design techniques for thermal management with IMS.
The first volume comprehensively covers principles of heat transfer and modeling of thermal systems to help engineers quantify the thermal-management challenges in the application at hand, the nature of IMS, typical material parameters, and the choices available for designers to reach the desired performance.
We recommend reading the first book in order to understand the issue from first principles, how to navigate the many material choices offered, and appreciate how adjusting the various combinations of material types and thicknesses can help you arrive at a solution that meets your requirements from all standpoints, particularly system reliability, size, cost, and manufacturability.
The Printed Circuit Designer's Guide to... Thermal Management with Insulated Metal Substrates, Volume 2, covers additional use cases and materials, including those used for high-temperature applications as well as high-emissivity surface treatment that can significantly enhance thermal performance. A web-based thermal calculator is demonstrated, which helps arrive at the exact size of baseplate needed to achieve the desired thermal performance in the smallest possible volume—much smaller than would be possible using a suitably sized heatsink.
Volume 2 delves deeper into issues such as test methods and how these can affect assessments of IMS materials and analyzes the effects of tolerances in material properties and thickness on the overall thermal conductivity. Understanding this can critically influence measurement error, ultimately determining whether or not an accurate result for reliability can be calculated. The authors look at how problems such as solder cracks affect thermal performance, and share application examples showing design with multilayer IMS.
As application challenges have evolved, and new component types and thermal materials have entered the market, there is more to say about thermal management and the options available to designers striving for an effective, economical, and compact solution to meet system-reliability targets.

To continue reading this book from the I-007eBooks library, download it today!
---
Suggested Items
09/28/2023 | Nolan Johnson, I-Connect007
The practical question around CHIPS Act development and electronics assembly is, "Will this change how we do business?" Indium Corporation's Dr. Andy Mackie sat down with Nolan Johnson to share what he sees as emerging answers to that question from his perspective as an expert in electronics assembly and packaging, and as a participant in standards development through IPC, JEDEC, and SEMI.
09/27/2023 | Nihon Superior Co. Ltd.
Nihon Superior Co. Ltd. is pleased to announce that Keith Sweatman, the company's Senior Technical Advisor, will deliver a presentation titled "A Path to Ductile Low-Temperature Solders for Mass Production of Electronic Assemblies" at the upcoming SMTA International conference and exposition.
09/27/2023 | Hentec Industries/RPS Automation
Hentec Industries/RPS Automation, a leading manufacturer of selective soldering, lead tinning and solderability test equipment, is pleased to announce that Kyocera International has finalized the purchase of a Hentec/RPS Odyssey 1325 robotic hot solder dip component lead tinning machine. 
09/26/2023 | Conecsus Metals México
Conecsus Metals México, an innovative environmental technology and recycling company, will exhibit at the SMTA Foro Tecnico & Expo, Guadalajara, Jalisco, México, on Wednesday, October 25, 2023, beginning at 11:00 a.m.
09/21/2023 | Thermaltronics USA, Inc.
Thermaltronics USA, Inc., a globally acclaimed manufacturer of Precision Soldering Robots and innovative Curie point soldering systems, is excited to announce its participation in the highly anticipated SMTA Guadalajara Expo & Tech Forum, scheduled to take place from October 25-26, 2023.