Books

Featured Books

smt007 Magazine

Latest Issues

Current Issue

Chips Don't Float

In Europe and the U.S., legislation is under way to revitalize PCB fabrication and packaging. What is the status of this work, and how specifically does this change the industry landscape for EMS companies? What will help keep us afloat?

Flying High With Digital Twin

The opportunity to use manufacturing simulation as a test bed for job planning and process optimization brings continuous improvement into the modern age. This may be an all-or-nothing type of project, but it's worth the investment.

Artificial Intelligence

In this issue, we (and AI) explored how and when artificial intelligence plays a role in manufacturing today. Whether on the factory floor, or in the front office, AI applications are emerging and changing how we approach planning, processes and problem solving.

Columns

Latest Columns

||| MENU
Advanced Packaging Gets an Additive Upgrade
November 8, 2022 | Art Wall, NextFlex
Estimated reading time: 2 minutes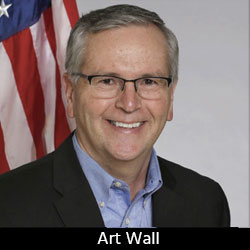 The recent approval of the CHIPS Act has reignited the U.S. semiconductor industry and shone a spotlight on the intricacies involved in chip manufacturing. As new technological innovations—such as 5G, IoT, AI, automotive and high-performance computing—come to market, they're pushing chip manufacturing and integration capabilities. They demand more performance which leads to added complexity in an already extremely complicated process. All this requires a fundamental shift in the way that semiconductors are manufactured and integrated.
It's no secret that many believe Moore's Law, the standard basis for semiconductor innovation over the past 50 years, is reaching the end of its reign. With a need to continue shrinking the size of components, engineers are running into roadblocks based on the physical limitations of electronics manufacturing, packaging, and integration. As manufacturers, we're tasked with finding new ways of improving electronics capabilities, specifically regarding speed and size.
One of the key strategic avenues that's arisen is rethinking how we approach the packaging and integration of modern semiconductors. This has implications across the board for chip design, including how they are combined and how they communicate between the chips. Combining dissimilar chips into an integrated package, called heterogeneous integration, and including somewhat generic chip building blocks called chiplets, is quickly becoming necessary to keep pace with technology advancement.
Challenges in Traditional Packaging and Chip Interconnect
Printed circuit boards (PCBs) are the backbone of electronics, acting to connect integrated circuits (ICs) and discrete components to form a larger working circuit. Historically, individually packaged chips and components are mounted to a PCB and interconnected to deliver functionality.
Following this methodology, all the layers in a board act as separate interconnects, leaving the top and bottom of the board to place components. As the drive to miniaturize while simultaneously becoming more complex requires the addition of more components, this is where we'll begin to see limitations.
An important part of the CHIPS Act was the recognition that not only does the United States need to make massive investments in chip-making facilities or foundries, but also to invest heavily in advanced packaging. Serving as the next step of combining or integrating these chips with novel approaches will be just as important in the innovation of U.S. semiconductor manufacturing capabilities. Some forms of this approach already exist through methodologies such as multi-chip modules or system-in-package (SIP), but more radical approaches are needed to deliver the required performance of the devices.
To read this entire article, which appeared in the November 2022 issue of SMT007 Magazine, click here.
---
Suggested Items
09/21/2023 | KIC
KIC, a renowned pioneer in thermal process and temperature measurement solutions for electronics manufacturing, is thrilled to announce its participation in the upcoming SMTA Guadalajara Expo & Tech Forum.
09/21/2023 | Dymax
Dymax, a leading manufacturer of light-curing materials and equipment, will exhibit in booth 1526 at SMTA International 2023 in Minneapolis, MN, from October 10-11.
09/21/2023 | Altus Group
Altus Group, a leading supplier of capital equipment and services to the electronics manufacturing industry, has signed an agreement with SMT Thermal Discoveries to distribute its advanced reflow soldering and thermal technology solutions in Ireland.
09/21/2023 |
Intraratio, a provider of enterprise software solutions, is pleased to announce that Ryan Gamble, CEO and Founder of Intraratio, will deliver an informative keynote presentation at SMTA International 2023. T
09/20/2023 | PRNewswire
ICZOOM Group Inc., a B2B electronic component products e-commerce platform, provided details on the Company's accelerated growth and steady market expansion strategy, as the Company leverages its strengthened balance sheet and fortified global brand following its successful listing on Nasdaq earlier this year.