Reading time ( words)
We develop best practices to ensure consistent and optimal operational performance, quality, and consistency. The nemesis of this activity is change, which prevents those best practices from becoming stale and shackling the operation. We must take a more modern approach to best practices, one that embraces the ability to change, and is flexible and adaptable to cope with the unexpected (which are actually expected) issues. Knowing how to create change-centric manufacturing best practices comes from experience.
Smart factory related projects tend to be driven from a technical perspective, by both internal teams and external solution suppliers, neither of which is ideal. Internally, projects tend to be driven by a narrowly focused utilization of Lean and Six-Sigma techniques in refining an operation or process and eliminating every form of waste. This is often done using simulation tools that create the very highest performance, and which result in operational best practices. Any change required in the operation, however, invalidates the optimization result. It is too expensive to repeat such projects every time something changes, so such practices are rarely updated. This is no longer acceptable in an environment that brings change on an almost daily basis. If you look around your shop floor and think that shaving off a fraction of a percent of operational time at any station through finite simulation is more important than simply managing to keep operations flowing as changes and challenges occur, then the rest of this article may not be for you.
Talking with external solution providers tends to be quite laborious. Most providers focus primarily on sales of their latest technologies, which represent slight iterations of what they had before, or they share lists of mostly irrelevant functions (described in aging presentations) with only a few new graphics. Both approaches have essentially the same problem: They were designed for a narrow paradigm of manufacturing which disappeared years ago. What is left is the need for extensive customization and adaptation. The largest, most established MES solutions seek to hide that significant customization of existing functions will be needed, almost ubiquitously, to make their paradigm fit yours. At the opposite end of the solutions spectrum, the most recent simple app-based platforms seek to defer or move the need for code outside their sales cycle. In each case, these providers are compromised in what they can offer: either an aging data-model or no data-model at all, both of which trigger the need for significant unexpected costs.
By contrast, some external solution providers that strongly engage with their customers understand change. As they visit manufacturing sites, they see that each has different needs and a desire to introduce change to create sustainable solutions. By listening and understanding evolving customer needs over time, these providers understand the market conditions and challenges and they take a different approach to creating and providing solutions. With the whole manufacturing world currently experiencing a wealth of challenges—a perfect storm that includes supply-chain unreliability, increased human resource turnover and skills shortages, energy shortages, inflation, and market-demand fluctuation—many companies are feeling helpless. They feel trapped in a seemingly never-ending vortex of one crisis after another. However, companies that have embraced the need to transform and adapt find there are opportunities to discover.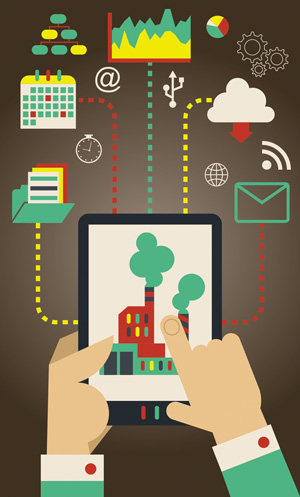 It's the Way You Look at Opportunities
First, we need to stop thinking about challenges as being unexpected. These are just excuses. "Undesired" is probably a better description. I would be surprised if any of today's challenges have not happened many times before. But when there has been a perceived low risk of a potential challenge, it gradually gets ignored—even when the consequences are potentially significant. Manufacturing has become too trusting of its environment, depending on things that cannot be controlled. Rather than going back to a world where everything needs to be manually checked and personally managed, there needs to be a new method to pick up on things that must never be forgotten, that may potentially put the business into a make-or-break situation.
Digital transformation should not be treated as just another buzzword. Businesses must make quick and accurate decisions to react effectively to change. The sheer complexity of issues routinely occurring with product information, materials, quality, and execution across any manufacturing floor, makes decision-making fraught with compromise and brings the risk of incurring losses in performance and opportunity. The role of modern, technology-based solutions should be to create an environment in which such key decision-making is supported, so that it becomes immediate and accurate. Digital best practices should be defined from semi-automation of top-down decision-making activities following the needs of the business.
The essential action here is to take out manual data-gathering, modelling, and analysis processes that are error-prone, slow, and compromised when left to the unaided human, then move them into the digital domain. Let's look at two examples.
The first example relates to new product introduction. The predominant practice today is also the worst, something that goes back 30 years or more. The exchange of product information between design and manufacturing uses diagrams, pictures, and lists that are often sent insecurely by email. Engineering is then relied upon to convert the information, create operational plans and work instructions, as well as costing out the manufacturing operation, confirming capabilities, timings, etc. However, there should not be any need for significant engineering involvement. Data needed by manufacturing, including 3D CAD, the layout of a PCB, and the bill of materials (BOM), can be securely and digitally transferred using a choice of standard digital formats. The data is converted through an automated system, creating electronic work instructions as well as machine ready data. But this is just the beginning, as meaningful manufacturing management in terms of quality, materials, test, inspection, governance, and traceability are all related back and set into context with the original product data.
Rather than having a wealth of reports with very little value, using digital automation provides a fully accurate contextualization of every aspect of production. Decisions related to cost, timing, capacity, quality, yield, delivery, alternate materials, etc., are now qualified digitally. People then make the final decisions quickly, based on an accurate, holistic understanding of the situation. The result of this digital best practice reduces the time taken for new product introduction, which then increases the accuracy of job quotations and eliminates the unexpected challenges of expertise needed to resolve an issue relating to capability, capacity, or quality. Changes in product designs (including variants) can be quickly and easily managed. This allows operations to be more flexible and without losses.
The second example relates to an unexpected material shortage. It takes things to the next level, meaning that it avoids the need to make decisions at all. ERP says "yes" to material availability and allocation when the work order is created and production starts, but then materials needed later cannot be located. The warehouse and the shop floor are scoured for materials. They must be "somewhere," maybe in discarded, part-used carriers, perhaps taken for test or inspection, or even allocated to another work order. Instead, consider recovering and re-working spoilage or even scrapped parts, find alternatives or substitutions. In the physical world, many of these actions become tiresome and expensive fool's errands, as there simply isn't time to do all these things without affecting operational or quality performance. In the end, a solution is not likely to be found. With MES-based digital transformation, all these actions are accelerated by the intrinsic knowledge because they detail the precise location and status. This would obviously help, and in many cases the day could be saved, but this is hardly the very best practice that we can create with these tools.
The above scenario, with a Smart MES in place, would never have happened. Knowledge of individual materials based on IDs allows automation of data collection related to precise instances of consumption and spoilage of materials (whether from machines or human operations), logistics (which includes warehouse management), assignments to production stations, part-used material returns, test, and inspection. This is set into context with the production requirements, including the product data, allocations of work to production stations, and the intended schedule. Any materials shortage is then predicted, in most cases long before commitment is made to start the work order. This provides time to find alternate materials, including ordering replacements through the connected ERP, and becomes an event that is invisible to the operation itself, which is not disturbed. Accurate inventory data shared with ERP creates more opportunity to source materials so as not to constrain planned output for the customer, even where materials are in short supply. We now have our new, digital best practice.
These are just two examples where manual practices based unrealistically on optimized operations are replaced with digitally based best practices that address consequence of change. I was told recently that the modern, single-platform IIoT-based MES solution has around 60,000 functions, all of which are working together to represent a mature ontology and enable such improvements and best practices.
Digital transformation, with the modern MES solution at the heart, contains a mature data model and ontology that enables the complete re-writing of existing best practices to deal with challenges driven by undesired changes, even before they become issues. This illustrates the key difference between companies showing real-world business-enhancing solutions, as opposed to solutions that focus only on technologies.
Don't hesitate to reach out to me with any such examples that you may have or seek to discuss. No one will ever be the final expert here, as we learn more, and see more changes, every day.
This column originally appears in the November 2022 issue of SMT007 Magazine.
Share
Suggested Items
06/02/2023 | Barry Matties, I-Connect007
In this short interview, Barry Matties speaks with Marge Laney, founder and CEO of Alert Tech SMT, about the importance of this one simple tool in effective customer service: communication.
05/24/2023 | I-Connect007
Episode 12, "Smarter Manufacturing through Inspection," from Koh Young's new micro webinar series 'Smarter Manufacturing Enabled with Inspection Data' is available now.
05/17/2023 | I-Connect007
Now available on Spotify, Episode 2 of I-Connect007's new podcast, On the Line with… features an interview with Susan Kayesar of Siemens. Kayesar addresses cloud applications and sustainability, as well as some key, new best practices that emerge from using a cloud-based platform for business operations software systems.