Books

Featured Books

design007 Magazine

Latest Issues

Current Issue

Rigid-flex: Designing in 3D

In this month's issue, our expert contributors share their best tips, tricks and techniques for designing rigid-flex circuits. If you're a rigid board designer considering moving into the 3D world of rigid-flex, this issue is just what the doctor ordered!

Simulation, Analysis, and AI

Getting today's designs "right the first time" is critical, especially with costly advanced PCBs. Simulation and analysis software tools can help you in the fight to eliminate respins. They're not magical, but they can predict the future of your design.

Advanced, Complex & Emerging Designs

This month, our contributors focus on designing PCBs with advanced, complex and emerging technologies. We investigate design strategies for boards that are on the cutting edge of technology, or crazily complex, or so new that designers are still writing the rules as they go.

Columns

Latest Columns

||| MENU
I-Connect007 Editor's Choice: Five Must-Reads for the Week
December 30, 2022 | Nolan Johnson, I-Connect007
Estimated reading time: 3 minutes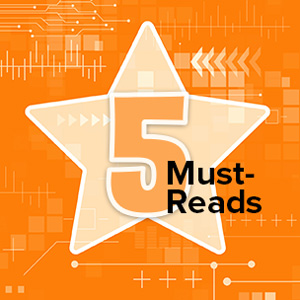 Just because it's a holiday week doesn't mean the news is slow. Okay, maybe a little bit slower than normal, but "slower" can also be the same as "fast, just less fast." It does seem to be a journalistic tradition in late December to reflect on the year with what we call curated content, and folks like to read these reflection pieces. Come to think of it, these weekly must-read reports are exactly the same thing, though we only reflect on the last seven days, not 365.  
"But, Nolan," you ask, "what's your point here?" Just that our most-read content in the past week has been dominated by own curated or staff-written content. Six of the top 10 most-read pieces fall into that category, including Andy Shaughnessy's editor's choice reads from last week; two most-read articles of 2022 submissions; and our holiday greetings note. While they may have been at the top of the list, on principle I'm not going to further promote them here. We don't need to blow our own horn here, though it is great to see so many of you reading our staff-written pieces.  
Instead, we go a bit deeper into the list looking for high-impact hard news. I mean, you've all read the curated stuff already, no sense rehashing that. In fact, I'll even throw in a bonus news item just because there was some good stuff this week. Have a great New Year's weekend.
IPC Issues December Global Sentiment of the Electronics Supply Chain Report
Published December 23, 2022
IPC's global sentiment report, compiling data from hundreds of companies worldwide and throughout the manufacturing supply chain, is always informative, and this report is no different. The upshot: expect continued increases in labor and material costs. Read more, and access the full report, by following this link. 
Raytheon Technologies Completes First Engine Run of Regional Hybrid-Electric Flight Demonstrator
Published December 25, 2022
Personally, I'm quite comfortable with battery-fed electric motor propulsion—most of the time, that is.  The thought of an all-electric airplane, however, exposes my skepticism of battery capacity in mid-air. I know, not entirely rational, but it's my concern and I'll admit to it. So, this news item about petrol-saving hybrid-electric airplane engines leaves me feeling much more comfortable. Read here to see what Raytheon has been doing to develop hybrid-electric air propulsion. 
IPC Releases IPC/WHMA-A-620E, Requirements and Acceptance for Cable and Wire Harness Assemblies
Published December 26, 2022
The deep technical dive for readers this week comes in the form of Revision E to IPC/WHMA-A-620, replete with a long list of updates, reorganization, and more. IPC's David Bergman, vice president of standards and technology, states that this new document, "sets expectation between WHMA members and their customers for…acceptable quality workmanship." If wiring harnesses and components are your thing, this is for you. 
DesignCon Returns to Santa Clara
Published December 29, 2022
Yes, it's show time. Registration is now open for DesignCon 2023, taking place Jan. 31 to Feb. 2, at the Santa Clara Convention Center. DesignCon has continued to be a key show for electronic, electrical, and mechanical design topics. We're glad to see our industry's trade shows and conferences get back to "normal," whatever that means. Fourteen educational tracks, with 100+ sessions are on tap for attendees. We'll be covering DesignCon from start to finish, so you won't miss a thing.
Virgin Orbit Receives U.K.'s First Orbital Launch License
Published December 23, 2022
Satellite launches from the U.K.'s Spaceport Cornwall under the Start Me Up mission program? Yes. The report states that Virgin Orbit can now open the first orbital launch window in Western European history in the next few weeks. For the U.K. Civil Aviation Authority, this is a very big deal. Read more here.  
DarwinAI Brings AI-powered Visual Quality Inspection to Market; Announces Funding Round
Published December 23, 2022 
It's this quote from Sheldon Fernandez, DarwinAI's CEO, that makes this news pertinent for electronics manufacturing. "The global shortage of semiconductors and PCBs, exemplified by the recent CHIPS act, has given rise to circumstances that favor disruption. While we were not the first to take note of this fact, it occurred to us that no one was building a product that combined Artificial Intelligence, hardware, and software into a system that was easy to integrate into the electronics manufacturing process." 
It seems that we're at a tipping point with AI research and development, wherein the technology can move (and is moving) out of academia and into industry. That alone makes this item worth reading. Check it out.
---
Suggested Items
09/20/2023 | I-Connect007 Editorial Team
Panasonic's Darren Hitchcock spoke with the I-Connect007 Editorial Team on the complexities of moving toward ultra HDI manufacturing. As we learn in this conversation, the number of shifting constraints relative to traditional PCB fabrication is quite large and can sometimes conflict with each other.
09/19/2023 | Anaya Vardya -- Column: Standard of Excellence
In my last column, I discussed cutting-edge innovations in printed circuit board technology, focusing on innovative trends in ultra HDI, embedded passives and components, green PCBs, and advanced substrate materials. This month, I'm following up with the products these new PCB technologies are destined for. Why do we need all these new technologies?
09/18/2023 | ViTrox
ViTrox, which aims to be the world's most trusted technology company, is excited to announce that our trusted Sales Channel Partner (SCP) in Mexico, SMTo Engineering, S.A. de C.V., will be participating in SMTA Guadalajara Expo & Tech Forum. They will be exhibiting in Booth #911 from the 25th  to the 26th of October 2023,  at the Expo Guadalajara in Jalisco, Mexico.
09/18/2023 | Intel
Intel announced one of the industry's first glass substrates for next-generation advanced packaging, planned for the latter part of this decade.
09/18/2023 | Aidan Salvi -- Column: Facing the Future
I have been in and around circuit boards most of my life. I started 20 years ago in my family's PCB shop, leaving after a couple of years to start my own software company. About a year ago, I returned to the family business, and the first thing I noticed was that nothing had really changed. We were doing the same things in the same way as the day I left. After talking to several experts in the industry, I realized it was worse than that: The manufacturing of PCBs had not changed in 70 years.