Books

Featured Books

smt007 Magazine

Latest Issues

Current Issue

Chips Don't Float

In Europe and the U.S., legislation is under way to revitalize PCB fabrication and packaging. What is the status of this work, and how specifically does this change the industry landscape for EMS companies? What will help keep us afloat?

Flying High With Digital Twin

The opportunity to use manufacturing simulation as a test bed for job planning and process optimization brings continuous improvement into the modern age. This may be an all-or-nothing type of project, but it's worth the investment.

Artificial Intelligence

In this issue, we (and AI) explored how and when artificial intelligence plays a role in manufacturing today. Whether on the factory floor, or in the front office, AI applications are emerging and changing how we approach planning, processes and problem solving.

Columns

Latest Columns

||| MENU
Bright Lights, Big City: STEM Event Kicks Off
January 26, 2023 | I-Connect007 Editorial Team
Estimated reading time: 2 minutes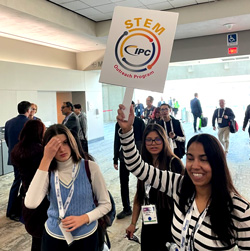 The San Diego sun was warm and bright on Tuesday afternoon, but it didn't stop the crowds from filling the aisles at IPC APEX EXPO 2023 for the trade show's second official day.
Technical conferences, professional development courses, and a keynote from IPC President and CEO John W. Mitchell kept attendees busy.
"In my role as a journalist, this has been an exciting show so far," says I-Connect007 Managing Editor Nolan Johnson. "My interviews have been universally relevant, topical, and full of market insights. The industry is evolving; industry experts and college students alike are invested in R&D work to move the industry forward."
While the show floor was busy and productive, upstairs was another special event, where approximately 300 high students from the local San Diego area rode buses to the San Diego Convention Center for a day full of activities meant especially for them.
This year, the STEM event has expanded to include a second day where more than 200 high school students will attend the well-thought-out program.
Wednesday's program started with breakfast, then the students broke into smaller groups for various activities, including a guided tour of the exhibit hall, while another group had hands-on training on soldering.
Cardin Nguyen, a high school student embedded with the I-Connect007 team covering IPC APEX EXPO, spent several hours with the STEM students, observing, taking notes, and speaking with some of the students.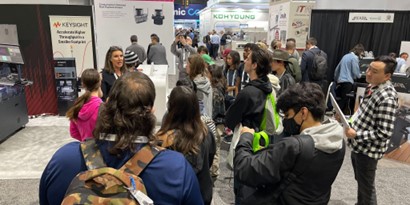 "I decided to first do the walk around in the showroom," he said, "Just because I felt like it, and I just happened to walk with the group that was going downstairs. As the group jumped to different booths, and having a representative just talk about what they do and occasionally showcase some of their machines, explaining what it does, many of the students that were watching looked interested. They were engaging with the showcasing in that sort of thing."
Later on, Cardin talked to some of the students, and noted that about two-thirds of them had come to the event before, wanted to pursue a career in STEM, or just wanted to see what the show was all about.
As the students wrapped up the various morning activities they reassembled for lunch and to enjoy several presentations, along with a Q&A session with a group of industry professionals.
The career panel included Tracey Hogan of Heller Industries, Jason Fullerton of CAES, and Louis Clement at Magic-Ray. 

"Many senior engineers at Heller were fortunate to have been given co-op jobs while studying," said Hogan. "Those experiences, along with strong mentoring early in their careers, were powerful career accelerants. We feel the IPC STEM events allow us to connect with and provide early work experiences to elite students who will showcase their intellect and creativity, so that we can provide opportunities to current students, that we, ourselves, were given a generation ago." 
One cool feature was the live stream polling. A question would come on screen, along with a QR code, and the students could view the results in real time. Look for more in-depth coverage on this in our upcoming Real Time with… IPC APEX Show & Tell Magazine in the coming days.
The effort of IPC and volunteers, along with the support from sponsors, is what makes the event so successful. In fact, this year's event is twice the size of last year's, and we expect to see it continue to grow.
---
Suggested Items
09/20/2023 | I-Connect007 Editorial Team
Panasonic's Darren Hitchcock spoke with the I-Connect007 Editorial Team on the complexities of moving toward ultra HDI manufacturing. As we learn in this conversation, the number of shifting constraints relative to traditional PCB fabrication is quite large and can sometimes conflict with each other.
09/19/2023 | Anaya Vardya -- Column: Standard of Excellence
In my last column, I discussed cutting-edge innovations in printed circuit board technology, focusing on innovative trends in ultra HDI, embedded passives and components, green PCBs, and advanced substrate materials. This month, I'm following up with the products these new PCB technologies are destined for. Why do we need all these new technologies?
09/18/2023 | ViTrox
ViTrox, which aims to be the world's most trusted technology company, is excited to announce that our trusted Sales Channel Partner (SCP) in Mexico, SMTo Engineering, S.A. de C.V., will be participating in SMTA Guadalajara Expo & Tech Forum. They will be exhibiting in Booth #911 from the 25th  to the 26th of October 2023,  at the Expo Guadalajara in Jalisco, Mexico.
09/18/2023 | Intel
Intel announced one of the industry's first glass substrates for next-generation advanced packaging, planned for the latter part of this decade.
09/18/2023 | Aidan Salvi -- Column: Facing the Future
I have been in and around circuit boards most of my life. I started 20 years ago in my family's PCB shop, leaving after a couple of years to start my own software company. About a year ago, I returned to the family business, and the first thing I noticed was that nothing had really changed. We were doing the same things in the same way as the day I left. After talking to several experts in the industry, I realized it was worse than that: The manufacturing of PCBs had not changed in 70 years.