Books

Featured Books

design007 Magazine

Latest Issues

Current Issue

Rigid-flex: Designing in 3D

In this month's issue, our expert contributors share their best tips, tricks and techniques for designing rigid-flex circuits. If you're a rigid board designer considering moving into the 3D world of rigid-flex, this issue is just what the doctor ordered!

Simulation, Analysis, and AI

Getting today's designs "right the first time" is critical, especially with costly advanced PCBs. Simulation and analysis software tools can help you in the fight to eliminate respins. They're not magical, but they can predict the future of your design.

Advanced, Complex & Emerging Designs

This month, our contributors focus on designing PCBs with advanced, complex and emerging technologies. We investigate design strategies for boards that are on the cutting edge of technology, or crazily complex, or so new that designers are still writing the rules as they go.

Columns

Latest Columns

||| MENU
Coreen Blaylock: Opening Doors for New Professionals
February 24, 2023 | Patty Goldman, I-Connect007
Estimated reading time: 1 minute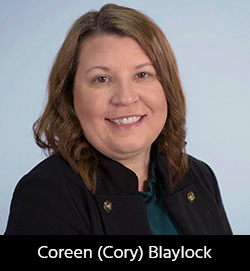 The IPC Excellence in Education Award is given to individuals who have made a significant contribution and demonstrated leadership in workforce development while building a culture of continuous learning within their organization and across the electronics industry.
Coreen Blaylock, project management and ping operations at Lockheed Martin, shares her unconventional introduction to the industry and how her work in STEM education and building industry partnerships has been instrumental in reinvigorating the manufacturing workforce. Lockheed Martin's commitment to continuous education has provided veterans and displaced workers the training and financial support they need to be successful in our exciting industry.
Patty Goldman: Cory, congratulations on winning this award, which highlights IPC's focus on education and workforce development.
Cory Blaylock: Thank you. First, I'm honored to work at Lockheed Martin, a company that's committed to cultivating the next generation of technical talent that supports our nation's most critical needs. We utilize STEM outreach and partnership, and we have educational institutions like the local one that I partnered with at Angelina College, as well as K–12 school districts, and we focus on hiring and training those regional students here in Lufkin. We want current and future Lockheed Martin employees to be well prepared.
Goldman: Why is continuous self-improvement and learning so important to you personally?
Blaylock: Because without it, people can miss out on great opportunities that could be life-changing, and I'm a perfect example of that myself. I came to the electronics manufacturing industry by way of the scenic route. I'm fairly new; I made a mid-career change. I spent the first 12 years of my career as an educator in the public school system. I left the classroom in 2015 to begin a new career at Lockheed Martin. I realized that I had a lot to learn about electronics manufacturing at that point. Throughout my career at Lockheed Martin, I've gone from not knowing anything related to electronics manufacturing to becoming a certified trainer. I teach new operators, assemblers, technicians, and engineers about IPC standards and the applications that they will use in the production and manufacturing settings when they begin their careers.
To read this entire interview, which appeared in the 2023 issue of Show & Tell Magazine, click here.
---
Suggested Items
09/29/2023 | USPAE
In a major initiative to innovate how the Department of Defense (DoD) spurs commercial technology development, the U.S. Partnership for Assured Electronics (USPAE) and DoD launched a Defense Business Accelerator (DBX) to open doors for industrial base growth and stimulate private investment.
09/28/2023 | KYZEN'
KYZEN, the global leader in innovative environmentally friendly cleaning chemistries, is proud to announce that it is sponsoring the Women's Leadership Program Connection Reception to be held at SMTA International.
09/28/2023 | Nolan Johnson, I-Connect007
The practical question around CHIPS Act development and electronics assembly is, "Will this change how we do business?" Indium Corporation's Dr. Andy Mackie sat down with Nolan Johnson to share what he sees as emerging answers to that question from his perspective as an expert in electronics assembly and packaging, and as a participant in standards development through IPC, JEDEC, and SEMI.
09/28/2023 | ZESTRON
ZESTRON is happy to announce that Senior Application Engineer, Ravi Parthasarathy, will be presenting "Revolutionizing PCB Assembly Cleaning:
09/28/2023 | IPC
IPC continues to collaborate with the electronics manufacturing industry to meet their current and future workforce training needs.