Books

Featured Books

design007 Magazine

Latest Issues

Current Issue

Rigid-flex: Designing in 3D

In this month's issue, our expert contributors share their best tips, tricks and techniques for designing rigid-flex circuits. If you're a rigid board designer considering moving into the 3D world of rigid-flex, this issue is just what the doctor ordered!

Simulation, Analysis, and AI

Getting today's designs "right the first time" is critical, especially with costly advanced PCBs. Simulation and analysis software tools can help you in the fight to eliminate respins. They're not magical, but they can predict the future of your design.

Advanced, Complex & Emerging Designs

This month, our contributors focus on designing PCBs with advanced, complex and emerging technologies. We investigate design strategies for boards that are on the cutting edge of technology, or crazily complex, or so new that designers are still writing the rules as they go.

Columns

Latest Columns

||| MENU
I-Connect007 Editor's Choice: Five Must-Reads for the Week
March 10, 2023 | Nolan Johnson, I-Connect007
Estimated reading time: 2 minutes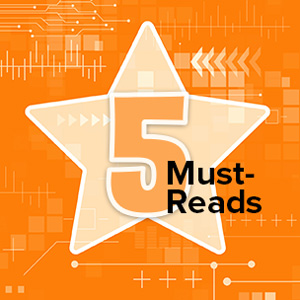 I try to not talk about the weather in this space, but this week I feel compelled. I'm based in the Pacific Northwest, and we're relatively used to it being wet and rainy. But just south of us in California, the state has gone from what I read has been called the driest period in the West in the past 1,200 years to a right proper drenching. This winter, with something like nine "atmospheric river" episodes to date, the California aquifers have gone from critically empty to suddenly trying to capture more water coming faster than the catchments can handle. California is critically waterlogged at the moment, while the surface water works its way into the aquafers.
This week's news cycle felt like one of those California-style "atmospheric rivers." There was so much worthy reporting worthy that I was a bit overwhelmed in making my final selections. Suffice it to say that, this week, there is quite a bit of news that's worth your time to read. I encourage you to visit www.iconnect007.com and subscribe to our daily and weekly newsletters, and our magazines. If you're already a subscriber, share our site with your friends and colleagues. It's worth the time.
Hughes Circuits Earns IPC-1791, Trusted Electronic Designer, Fabricator and Assembler Requirements QML 
Published March 6
San Diego-based Hughes Circuits Inc., offers PCB layout services, PCB fabrication, predision metal fabrication, and full-service assembly. More companies like Hughes are recognizing that being validated for IPC-1791 puts them on a path for higher recognition with the DoD. "The IPC-1791 QML demonstrates Hughes Circuits Inc.'s commitment to securing a position as a trusted supply in the U.S.," the company stated. Couldn't agree more.
Insulectro and LCOA Install R&D Lab With Partner Kyocera in Orange County 
Published March 7
This new test and development lab is intended to assist with product design, field issue troubleshooting, design feature testing, support Design of Experiments work, and more. To this end, the equipment available in the lab is quite extensive. Get the details here.
I-Connect007 Launches New Micro Webinar Series: 'Smarter Manufacturing Enabled with Inspection Data,' Presented by Koh Young 
Published March 8
Koh Young topic expert Ivan Aduna examines the role inspection systems will play in the next industrial revolution. The first episode, "Smart Factory Success" is now available to view. In this 4-minute segment, viewers will discover how inspection systems and proprietary AI-based learning technologies incorporate the industry's best True 3D measurement-based technologies. 
Meet Henry Crandall: New IPC Student Board Member 
Published March 5
As the new Student Board Member on the IPC Board of Directors, I-Connect007 talks to Henry about how he became the first PhD student in electrical engineering in his family, and how his role on the IPC Board will allow him to represent the voices of students and young professionals interested in shaping the future of both IPC and the industry. Henry is I-Connect007's newest columnist, so look for his first column in the March 2023 issue of PCB007 Magazine, which publishes next week. Henry looks to be a strong voice in the industry.
Global Smartphone Production Fell by 15.5% YoY to 301 Million Units for 4Q22 
Published March 9
Even though smartphone production is largely contained within a few very large manufacturers worldwide, the effect of even a small change in production can ripple through our supply chain, alternately gobbling up all available raw materials, or releasing components and supplies back into the supply chain. Read TrendForce's report summary here.
---
Suggested Items
09/20/2023 | I-Connect007 Editorial Team
Panasonic's Darren Hitchcock spoke with the I-Connect007 Editorial Team on the complexities of moving toward ultra HDI manufacturing. As we learn in this conversation, the number of shifting constraints relative to traditional PCB fabrication is quite large and can sometimes conflict with each other.
09/19/2023 | Anaya Vardya -- Column: Standard of Excellence
In my last column, I discussed cutting-edge innovations in printed circuit board technology, focusing on innovative trends in ultra HDI, embedded passives and components, green PCBs, and advanced substrate materials. This month, I'm following up with the products these new PCB technologies are destined for. Why do we need all these new technologies?
09/18/2023 | ViTrox
ViTrox, which aims to be the world's most trusted technology company, is excited to announce that our trusted Sales Channel Partner (SCP) in Mexico, SMTo Engineering, S.A. de C.V., will be participating in SMTA Guadalajara Expo & Tech Forum. They will be exhibiting in Booth #911 from the 25th  to the 26th of October 2023,  at the Expo Guadalajara in Jalisco, Mexico.
09/18/2023 | Intel
Intel announced one of the industry's first glass substrates for next-generation advanced packaging, planned for the latter part of this decade.
09/18/2023 | Aidan Salvi -- Column: Facing the Future
I have been in and around circuit boards most of my life. I started 20 years ago in my family's PCB shop, leaving after a couple of years to start my own software company. About a year ago, I returned to the family business, and the first thing I noticed was that nothing had really changed. We were doing the same things in the same way as the day I left. After talking to several experts in the industry, I realized it was worse than that: The manufacturing of PCBs had not changed in 70 years.