Books

Featured Books

smt007 Magazine

Latest Issues

Current Issue

Chips Don't Float

In Europe and the U.S., legislation is under way to revitalize PCB fabrication and packaging. What is the status of this work, and how specifically does this change the industry landscape for EMS companies? What will help keep us afloat?

Flying High With Digital Twin

The opportunity to use manufacturing simulation as a test bed for job planning and process optimization brings continuous improvement into the modern age. This may be an all-or-nothing type of project, but it's worth the investment.

Artificial Intelligence

In this issue, we (and AI) explored how and when artificial intelligence plays a role in manufacturing today. Whether on the factory floor, or in the front office, AI applications are emerging and changing how we approach planning, processes and problem solving.

Columns

Latest Columns

||| MENU
Murata Showcases Industry-leading Power Products at APEC 2023
March 22, 2023 | PRNewswire
Estimated reading time: 2 minutes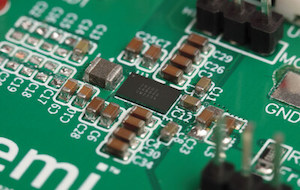 Murata is on hand at the Applied Power Electronics Conference (APEC) show (Booth #508) conducting live exhibitions of two sample-ready industry-leading power products:
The PE25203, a selectable divide-by-3 or divide-by-2 switched-capacitor charge pump targeting laptop applications to convert a 3S/2S battery input to a 1S output for downstream PMICs. This leading-edge technology enables system architects to push beyond the efficiency boundary with exceptionally high 99 percent peak efficiency.
The PE24108, the industry's most efficient 3.3 Vin two-stage buck regulator IC with integrated switching field-effect transistors (FETs) for low-profile < 1.2 mm applications. This solution allows the power train to be mounted on the underside of the PCB, in close proximity to the main DSP/ASIC core, reducing I2R losses and noise pick-up.
PE25203 Switched-capacitor Charge Pump Features, Benefits, Packaging and Availability
The PE25203 operates in a selectable divide-by-3 or divide-by-2 for 3S/2S battery voltage. The switched-capacitor, charge pump-based DC-DC converter supports an output voltage range of 2.75V to 5.0V with load currents of 4A and up to 20W delivered to the external load. With an operating temperature range of -40 to +85?, the PE25203 is fully protected with input under voltage, overcurrent protection, and thermal shutdown fault detection.
With a 1.0 mm z-height solution in a wafer-level chip scale package (WLCSP) package, the PE25203 is ideal for low-profile motherboard designs and LCD panels. The device is based on Murata's unique virtually lossless charge pump technology with an interleaved architecture that provides low input and output ripple performance. The PE25203 dynamic switchover function allows the charge pump ratio to change during operation depending on input battery voltage. This dynamic switchover feature is helpful in low battery events by switching from a divide-by-3 to a divide-by-2 ratio to avoid downstream PMICs from entering the undervoltage lockout (UVLO) event.
PE24108 High-efficiency Buck Regulator Features, Benefits, Packaging and Availability
The PE24108 is based on Murata's revolutionary two-stage buck architecture—a virtually lossless switched-capacitor charge pump followed by a high-efficiency, dual-phase buck regulator—and can deliver up to 10A of power with peak efficiency of 88 percent from 3.3Vin to 0.5Vout. The two-stage solution enables the use of low-profile chip inductors, making it ideal for placement on the underside of system boards to free valuable real estate on the top side of the PCB. The PE24108 can be connected in parallel to provide high power, high efficiency solutions suitable for a variety of 3.3V to sub-1V step-down conversion applications such as optical transceiver modules, network interface cards and memory cards. 
Offered in a 4.0 × 3.2 mm QFN package, the PE24108 is designed to operate over an input voltage range of 3.0V–3.6V and has programmable output voltage of 0.35V–1.0V at up to 10 amps. The solution is ideal for 3.3V point-of-load applications where high efficiency, low profile, low ripple and EMI are essential. The output can be precisely adjusted via external DAC during operation. Frequency synchronization is also available to avoid any beat or spectrum noise issue at the system level. Featuring an extended temperature range of -40 to +125?, the PE24108 is fully protected with input undervoltage, overcurrent protection and thermal shutdown fault detection.
---
Suggested Items
09/21/2023 | Cadence Design Systems, Inc.
Cadence Design Systems, Inc. announced it has expanded its design IP portfolio on TSMC's 3nm (N3E) process—most notably with the addition of the flagship Cadence® 224G Long-Reach (224G-LR) SerDes PHY IP, which has achieved first-pass silicon success.
09/20/2023 | Plasma-Therm
Plasma-Therm, a leading manufacturer of plasma-process equipment for the semiconductor and compound semiconductor markets, announced that it has acquired Thin Film Equipment SrL (TFE), effective September 18, 2023.
09/19/2023 | TSMC
To respond to climate change and mitigate climate impact, TSMC announced an acceleration of its RE100 sustainability timetable, moving its target for 100% renewable energy consumption for all global operations forward to 2040 from 2050.
09/18/2023 | Intel
Intel announced one of the industry's first glass substrates for next-generation advanced packaging, planned for the latter part of this decade.
09/14/2023 | MediaTek
MediaTek and TSMC announced that MediaTek has successfully developed its first chip using TSMC's leading-edge 3nm technology, taping out MediaTek's flagship Dimensity system-on-chip (SoC) with volume production expected next year.