Books

Featured Books

design007 Magazine

Latest Issues

Current Issue

Rigid-flex: Designing in 3D

In this month's issue, our expert contributors share their best tips, tricks and techniques for designing rigid-flex circuits. If you're a rigid board designer considering moving into the 3D world of rigid-flex, this issue is just what the doctor ordered!

Simulation, Analysis, and AI

Getting today's designs "right the first time" is critical, especially with costly advanced PCBs. Simulation and analysis software tools can help you in the fight to eliminate respins. They're not magical, but they can predict the future of your design.

Advanced, Complex & Emerging Designs

This month, our contributors focus on designing PCBs with advanced, complex and emerging technologies. We investigate design strategies for boards that are on the cutting edge of technology, or crazily complex, or so new that designers are still writing the rules as they go.

Columns

Latest Columns

||| MENU
Material Matters and Tribal Knowledge
March 30, 2023 | Alun Morgan, Ventec International Group
Estimated reading time: 1 minute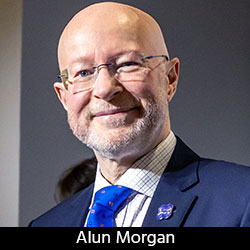 At a recent IPC Laminate/Prepreg Materials Subcommittee meeting, I made two observations: It was very well-chaired and managed, and despite a full attendance of very knowledgeable materials experts, none could remember the rationale for several of the specification sheet descriptions—slash sheets—that comprise IPC-4101E, "Specification for Base Materials for Rigid and Multilayer Printed Boards."
The thought naturally followed that if a comprehensive cross-section of materials experts struggled with this, what hope do PCB designers have of making sense of it?
It was a revelation to learn at a previous materials subcommittee that the headings for each specification sheet do not form part of the specification. These headings include reference definitions for the material, including any reinforcements, resin systems, flame retardants, and fillers that may be used, as well as its other known identifications and the glass transition temperature. However, the requirements for the material are solely defined by the ensuing specific line items within the specification sheets. Bearing in mind that the specification sheets are organized according to the reinforcement type, resin system, and/or construction—although these do not form part of the specification requirements—one could be forgiven for wondering what value this classification system has.
Hypothetically, it would be possible for a materials manufacturer supplying a glass-reinforced polyimide laminate material, which would ordinarily be classified as IPC-4101/40, as an IPC-4101/126 material which would ordinarily be classified as an epoxy woven-glass material. There would be nothing to stop this from happening if the material satisfies the specification sheet requirements. Clearly absurd, but possible under the classification system.
To read this entire article, which appeared in the March 2023 issue of Design007 Magazine, click here.
---
Suggested Items
09/18/2023 | IPC
IPC Day France: Aerospace Electronics is an aerospace-focused networking event featuring key industry experts from NASA and Airbus and will take place on October 2, 2023 . 
09/15/2023 | TRI
Test Research, Inc. (TRI), the leading test and inspection systems provider for the electronics manufacturing industry, will join productronica 2023, which will be held at Messe München Center from November 14 – 17, 2023.
09/13/2023 | I-Connect007 Editorial Team
For this month's issue on rigid-flex design, we spoke with instructor Kris Moyer, who teaches the IPC class "PCB Design for Flex and Rigid-Flex Boards." In this wide-ranging interview, Kris breaks down the hurdles facing rigid-flex designers and offers a variety of solutions for rigid board designers taking on their first rigid-flex circuits. He also provides a few horror stories to illustrate what happens if you don't follow sound design practices, rules, and standards. And, as Kris points out, "Your fabricator is your friend."
09/13/2023 | IPC
In conjunction with NEPCON Vietnam 2023, IPC hosted its popular IPC Hand Soldering and Rework Competition in Hanoi, Vietnam on September 6-8, 2023.
09/13/2023 | Hentec Industries/RPS Automation
Hentec Industries/RPS Automation, a leading manufacturer of selective soldering, lead tinning and solderability test equipment, is pleased to announce that Sinclair Manufacturing has purchased Pulsar solderability testing and Photon steam aging systems for installation in their Chartley, Massachusetts facility.