Books

Featured Books

design007 Magazine

Latest Issues

Current Issue

Rigid-flex: Designing in 3D

In this month's issue, our expert contributors share their best tips, tricks and techniques for designing rigid-flex circuits. If you're a rigid board designer considering moving into the 3D world of rigid-flex, this issue is just what the doctor ordered!

Simulation, Analysis, and AI

Getting today's designs "right the first time" is critical, especially with costly advanced PCBs. Simulation and analysis software tools can help you in the fight to eliminate respins. They're not magical, but they can predict the future of your design.

Advanced, Complex & Emerging Designs

This month, our contributors focus on designing PCBs with advanced, complex and emerging technologies. We investigate design strategies for boards that are on the cutting edge of technology, or crazily complex, or so new that designers are still writing the rules as they go.

Columns

Latest Columns

||| MENU
NAMM 2023: It's All About That Bass
April 24, 2023 | Dan Feinberg, I-Connect007
Estimated reading time: 4 minutes

"I'll go make myself a cup of tea and suddenly a melody will come to me." — London-based composer Nigel Thomas
Well, maybe not, Nigel, if today's use of artificial intelligence in songwriting has anything to say about it. The level of incorporation of AI technology into music, as I witnessed at the National Association of Music Merchants show last week, was, I might say, a little frightening.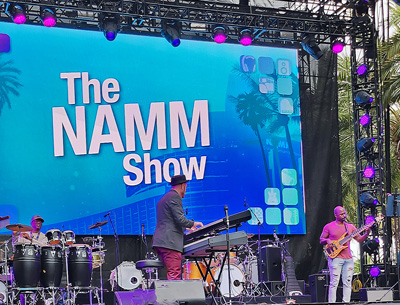 But it's also interesting, and I've spent quite a bit of time learning more about what AI means for writing, art, music, and electronics. So, while I wasn't surprised to see AI at NAMM, I was intrigued by how far it reaches into the music process. 
The use of AI in the music industry seems only natural. For example, if you're trying to create a specific sound, rhythm, mix of instruments, or volume level, you'd typically be in front of a series of mixers and controls, making tweaks and adjustments. If you're trying to create a piece of music that is similar to one you already have, AI can do that for you. Just give it some basic instructions and let it go to work. 
Most of us by now have heard of ChatGPT, but if you've only recently emerged from your basement studio, here's a simple definition:
"AI uses techniques such as machine learning, natural language processing, and computer vision to enable machines to process and analyze large amounts of data, and then make predictions or take actions based on that data."
When it comes to music, here's what ChatGPT has to say: "One application of AI in music is in the creation of music itself. There are now AI tools that can generate music automatically, either by analyzing existing music and creating something similar, or by using machine learning algorithms to generate new musical patterns. AI is also being used in music recommendation systems, which analyze users' listening habits and preferences to suggest new music that they might enjoy."
Basically, AI is listening, which may not necessarily be a bad thing. What we see, hear, watch, and feel in the future will be even more tuned to our own personal preferences than ever before. So, how did that play out at NAMM?
This not-for-profit organization represents the global music products industry. At the annual show, you'll find many versions of any musical instrument, no matter if it's for a brass marching band, a symphony orchestra, a rock or country band—you can play it, you'll find it there.
NAMM was founded in 1901 and is headquartered in Carlsbad, California, but the trade show is hosted in Anaheim. To me, this is the music industry's IPC APEX EXPO with a touch of CES. There are manufacturers, dealers, and other industry professionals including both amateur and professional musicians all coming together to showcase new products and to network with each other.
The organization also provides education and advocacy resources for its members and works to promote music education and appreciation around the world.
And yes, there is music.
This year, the show's opening event included the founder of Creedence Clearwater Revival's John Fogerty, a singer, songwriter, and guitarist who was honored with the NAMM Music for Life Award. Along with John, we heard from many other famous musicians who played music, and spoke with the press and the fans. It was fun.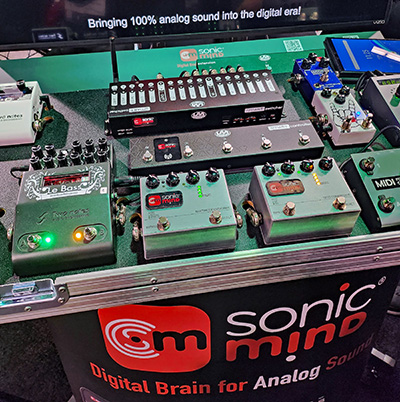 Many came to see new products, especially new gear for use with electric instruments, such as guitar, bass, and the newly available electric banjo. There were also many choices for wind, reed, brass, and percussion instruments. I was impressed with the new guitar and bass pedalboards. However, if you were hoping (like I was) to see the latest offerings from music industry giants Fender, Gibson, and Boss, you would've been disappointed. None of these companies had a significant presence at the show and did not bring their high-end, historically famous instruments.
When asked whether Fender would ever consider fully returning to the NAMM show, Fender CEO Andy Mooney diplomatically refused to rule out the possibility, but made note that NAMM—along with the overall trade show format—"is no longer something especially attractive to larger brands. On the other hand, I never say never, but the biggest trade show that's in Los Angeles is E3, and this year Sony, Microsoft, and Nintendo have all said they're not going."
Side note: Since Mooney's statement, I've learned that E3, one of the world's largest e-gaming events, has been canceled.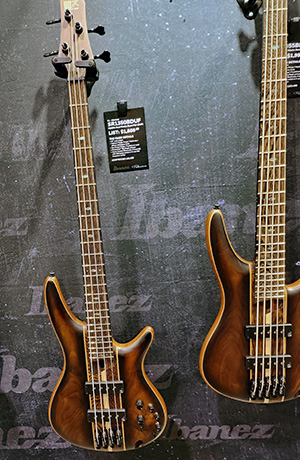 Despite the lack of the high-end brands, there were still guitars and basses to be seen by the hundreds. My observation was that many of these were made-in-Asia knockoffs and their booths only seemed to garner modest attention. However, there were some amazing new offerings that focused on custom-built instruments. They both looked and felt exciting. One well-known brand, Ibanez, offered new high-end instruments and the crowds gathered 'round to see it. I was very impressed with their new instrument finishes, especially the new e-Bass—the first one I've ever considered to replace my Fender Jazz bass.
---
Suggested Items
09/29/2023 | USPAE
In a major initiative to innovate how the Department of Defense (DoD) spurs commercial technology development, the U.S. Partnership for Assured Electronics (USPAE) and DoD launched a Defense Business Accelerator (DBX) to open doors for industrial base growth and stimulate private investment.
09/28/2023 | KYZEN'
KYZEN, the global leader in innovative environmentally friendly cleaning chemistries, is proud to announce that it is sponsoring the Women's Leadership Program Connection Reception to be held at SMTA International.
09/28/2023 | TSMC
TSMC announced the new 3Dblox 2.0 open standard and major achievements of its Open Innovation Platform (OIP) 3DFabric Alliance at the TSMC 2023 OIP Ecosystem Forum.
09/28/2023 | SIA
The Semiconductor Industry Association (SIA) announced Geoff Martha, chairman and CEO of healthcare technology leader Medtronic, will be the keynote presenter at the 2023 SIA Awards Dinner on Thursday, Nov. 16 in San Jose, Calif.
09/28/2023 | GlobalFoundries
GlobalFoundries (GF) announced the official opening of a new hub facility in Penang, Malaysia.