Books

Featured Books

design007 Magazine

Latest Issues

Current Issue

Rigid-flex: Designing in 3D

In this month's issue, our expert contributors share their best tips, tricks and techniques for designing rigid-flex circuits. If you're a rigid board designer considering moving into the 3D world of rigid-flex, this issue is just what the doctor ordered!

Simulation, Analysis, and AI

Getting today's designs "right the first time" is critical, especially with costly advanced PCBs. Simulation and analysis software tools can help you in the fight to eliminate respins. They're not magical, but they can predict the future of your design.

Advanced, Complex & Emerging Designs

This month, our contributors focus on designing PCBs with advanced, complex and emerging technologies. We investigate design strategies for boards that are on the cutting edge of technology, or crazily complex, or so new that designers are still writing the rules as they go.

Columns

Latest Columns

||| MENU
NCAB Advocates for Advanced Technologies
May 17, 2023 | Andy Shaughnessy, Design007 Magazine
Estimated reading time: 3 minutes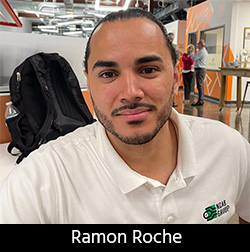 At the SMTA Atlanta Expo and Tech Forum, I spoke with NCAB Group Field Application Engineer Ramon Roche, who gave a presentation at the show titled, "Technical Trends in the Global PCB Industry." Ramon and I discussed his presentation, the emerging technologies that have NCAB's focus over the next few years, and why semi-additive processes may be the key to succeeding with ultra HDI technology. 
Andy Shaughnessy: Nice to meet you, Ramon. Why don't you start off by telling us about your presentation? 
Ramon Roche: Nice to meet you too, Andy. Sure. I came to Atlanta today to talk about emerging technologies in the PCB industry, and really take a deeper dive into ultra HDI and how we see this disrupting the industry. We touched on some of the market trends and some current applications, and some challenges that we're seeing in sourcing and on the manufacturing side. Basically, for this new technology, what do we have to do to be prepared to make ultra HDI a reality? 
Shaughnessy: What are some of the steps that that you all need to take to ramp up for ultra HDI? 
Roche: We're partnering with our customers to take small steps forward into this unchartered territory. During the presentation, we talked about IPC's HDI spec, which only goes down to 50 microns, while ultra HDI goes well below 50 microns—down to 30 microns and even 20 microns in some cases. There's no standard in place for ultra HDI just yet. We're working with our customers to not only design, appropriate applications for this, but also asking ourselves, "How do we as an organization work with our manufacturing partners as well to succeed at that level?" 
Shaughnessy: So, if you're going to move into ultra HDI, do you have to use additive processes like A-SAP or m-SAP? Subtractive processes aren't practical or even possible at that level, correct? 
Roche: Absolutely. The first thing you have to do is put your cowboy hat on, because there's a lot to learn about the design aspect of it. And then on the manufacturing side, you have to work with your local reps or FAE and have a conversation. Once you get below 50 or 40 microns, your traditional subtractive manufacturing methods are starting to reach their capacity, so we have to utilize different manufacturing methods to accomplish this. Below 40 microns, it's time to consider semi-additive processes—A-SAP or m-SAP—for these very fine lines. 
Shaughnessy: What was the reaction to the presentation attendees? Did you have any good questions? 
Roche: Yes, we had a very interactive class, and a lot of really great questions, really pushing the boundaries as engineers. A lot of the questions and concerns that came up were about the robustness and reliability of these boards as they continue to get smaller and smaller. And those are things that we're still gathering data on because we want to improve our yields while making sure that we're building robust boards. We talked about some of the different considerations involving materials with semi-additive processes. And we discussed advanced embedded trace substrates, which can take you below 20 microns, and some different manufacturing processes that allow us to condense all of this into a small footprint. It's exciting stuff.  
Shaughnessy: Do you think semi-additive will eventually make up a big chunk of the market? 
Roche: Yes. Semi-additive is a much cleaner and greener process than subtractive etch. There's a lot of pressure from governments and society in general to embrace sustainability, and semi-additive is a huge improvement over etched copper in that regard. And there are cost reductions as well, just with photoresists and electricity, to name a few. All of this makes this process more impactful as we incorporate this in the future.  
Shaughnessy: Sounds good. Thanks for speaking with me, Ramon. 
Roche: Thank you, Andy.
---
Suggested Items
09/28/2023 | Anaya Vardya, American Standard Circuits
There has always been pressure to reduce line and space as we have seen the bleeding edge technology go from 8 mils to 5 mils and then to 3 mils. The difference between "then" and "now" is that the prior advancements, for the most part, used the same processes, chemistry and equipment going from 8 mils to 3 mils. But going from 3 mil to sub 1 mil trace and space is a quantum leap in printed circuit board (PCB) technology that requires a whole new set of processes and materials.
09/28/2023 | Michael Carano -- Column: Trouble in Your Tank
In a previous column, the critical process of desmear and its necessity to ensure a clean copper surface connection was presented. Now, my discussion will focus on obtaining a void-free and tightly adherent copper plating deposit on these surfaces. After the desmear process, the task is to insure a continuous, conductive, and void-free deposit on the via walls and capture pad. Today, there are several processes that can be utilized to render vias conductive.
09/20/2023 | I-Connect007 Editorial Team
Panasonic's Darren Hitchcock spoke with the I-Connect007 Editorial Team on the complexities of moving toward ultra HDI manufacturing. As we learn in this conversation, the number of shifting constraints relative to traditional PCB fabrication is quite large and can sometimes conflict with each other.
09/14/2023 | MKS' Atotech
MKS' Atotech, a leading surface finishing brand of MKS Instruments, will participate in the upcoming IPCA Expo at Bangalore International Exhibition Centre (BIEC) and showcase its latest PCB manufacturing solutions from September 13 – 15.
09/14/2023 | Vern Solberg -- Column: Designer's Notebook
Flexible circuit applications can be as basic as furnishing electrical interconnect between two conventional circuit board assemblies, or to prove a platform for placing and interconnecting electronic components. During the planning and pre-design phase of the flexible circuit, there will be several material and process related questions that need to be addressed. Most flexible circuit fabricators welcome the opportunity to discuss their customers' flexible circuit objectives prior to beginning the actual design process.