Books

Featured Books

design007 Magazine

Latest Issues

Current Issue

Rigid-flex: Designing in 3D

In this month's issue, our expert contributors share their best tips, tricks and techniques for designing rigid-flex circuits. If you're a rigid board designer considering moving into the 3D world of rigid-flex, this issue is just what the doctor ordered!

Simulation, Analysis, and AI

Getting today's designs "right the first time" is critical, especially with costly advanced PCBs. Simulation and analysis software tools can help you in the fight to eliminate respins. They're not magical, but they can predict the future of your design.

Advanced, Complex & Emerging Designs

This month, our contributors focus on designing PCBs with advanced, complex and emerging technologies. We investigate design strategies for boards that are on the cutting edge of technology, or crazily complex, or so new that designers are still writing the rules as they go.

Columns

Latest Columns

||| MENU
Knowledge: At the Heart of Great Customer Service
May 26, 2023 | Barry Matties, I-Connect007
Estimated reading time: 1 minute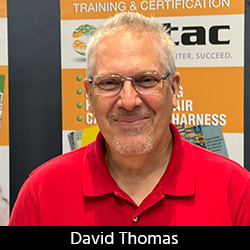 David Thomas, master IPC trainer at EPTAC, says that the more you understand the work and technology that go into your processes and products, the better you can serve your customers. That includes knowing the basics.
Barry Matties: There are a lot of approaches to customer service, but I'm a firm believer that content knowledge is the foundation of great customer service. Service is a process, but understanding technology certainly is a benefit. What are your thoughts on that?
David Thomas: There are cases that I've personally experienced in which someone knows how to speak the language, but they don't know how to apply it, and vice versa. They may come in and talk about something. They think they're speaking as an educated person but are saying something completely wrong. For example, they need to know the basics, from the difference between a resistor and a diode, to how a resistor pack, timer, and an EPROM operate. If you go to a conference or talk with a customer, you need to have basic knowledge so that you're on the same page as them. They should be able to see that you're not the person putting the solder to the application.
Matties: What advice would you give someone who's looking to retool their customer service department or their approach to customer service? 
Thomas: First, gain knowledge on the things you're working with. You can often gain a good understanding by taking, for example, a basic soldering class. Even if you don't use that knowledge, at least you have it. You were there, you did it, and you saw what it takes to do it. You have a better understanding. I find that many engineers who are at the design level want something done to a certain degree, but they have no idea what they're asking for. It makes no sense at all because they aren't there, trying to put it together. Customer service improves when people speak the same language and have a good understanding, whether it's the engineer and whoever is doing the work, or a customer and a company. 
Matties: David, thank you so much.
Thomas: Thank you.
This article originally appeared in the May 2023 issue of PCB007 Magazine.
---
Suggested Items
09/28/2023 | Nolan Johnson, I-Connect007
The practical question around CHIPS Act development and electronics assembly is, "Will this change how we do business?" Indium Corporation's Dr. Andy Mackie sat down with Nolan Johnson to share what he sees as emerging answers to that question from his perspective as an expert in electronics assembly and packaging, and as a participant in standards development through IPC, JEDEC, and SEMI.
09/27/2023 | Nihon Superior Co. Ltd.
Nihon Superior Co. Ltd. is pleased to announce that Keith Sweatman, the company's Senior Technical Advisor, will deliver a presentation titled "A Path to Ductile Low-Temperature Solders for Mass Production of Electronic Assemblies" at the upcoming SMTA International conference and exposition.
09/27/2023 | Hentec Industries/RPS Automation
Hentec Industries/RPS Automation, a leading manufacturer of selective soldering, lead tinning and solderability test equipment, is pleased to announce that Kyocera International has finalized the purchase of a Hentec/RPS Odyssey 1325 robotic hot solder dip component lead tinning machine. 
09/26/2023 | Conecsus Metals México
Conecsus Metals México, an innovative environmental technology and recycling company, will exhibit at the SMTA Foro Tecnico & Expo, Guadalajara, Jalisco, México, on Wednesday, October 25, 2023, beginning at 11:00 a.m.
09/21/2023 | Thermaltronics USA, Inc.
Thermaltronics USA, Inc., a globally acclaimed manufacturer of Precision Soldering Robots and innovative Curie point soldering systems, is excited to announce its participation in the highly anticipated SMTA Guadalajara Expo & Tech Forum, scheduled to take place from October 25-26, 2023.