Books

Featured Books

smt007 Magazine

Latest Issues

Current Issue

Chips Don't Float

In Europe and the U.S., legislation is under way to revitalize PCB fabrication and packaging. What is the status of this work, and how specifically does this change the industry landscape for EMS companies? What will help keep us afloat?

Flying High With Digital Twin

The opportunity to use manufacturing simulation as a test bed for job planning and process optimization brings continuous improvement into the modern age. This may be an all-or-nothing type of project, but it's worth the investment.

Artificial Intelligence

In this issue, we (and AI) explored how and when artificial intelligence plays a role in manufacturing today. Whether on the factory floor, or in the front office, AI applications are emerging and changing how we approach planning, processes and problem solving.

Columns

Latest Columns

||| MENU
Indium Corporation Expert Honored by IEEE EPS
June 7, 2023 | Indium Corporation
Estimated reading time: 1 minute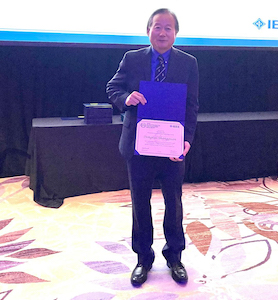 Indium Corporation Strategic Advisor Dr. Dongkai Shangguan was honored by the IEEE Electronics Packaging Society (EPS) with its 2023 Electronics Manufacturing Technology Award at the 73rd Electronics Components and Technology Conference (ECTC) in Orlando, Florida. 
The award serves to recognize major contributions to electronics manufacturing technology in fields encompassed by the IEEE EPS. Dr. Shangguan was honored with this year's award in recognition of his leadership in miniaturization, reliability, and sustainability of high density electronics in global manufacturing across industry segments.
"It is a tremendous honor to be recognized by IEEE EPS with the Electronics Manufacturing Technology Award and join a distinguished list of prior recipients," said Dr. Shangguan.
Dr. Shangguan is a strategic advisor to Indium Corporation. In this role, he works on specific trends related to the advanced semiconductor packaging and SMT industries, and applies his significant industry experience to supporting customers. Dr. Shangguan is an IEEE Fellow and IMAPS Fellow, and has served on the boards of directors for several professional organizations and industry associations, including IPC, IEEE EPS, and iNEMI. He also served as a Distinguished Lecturer for IEEE EPS. He has been honored with some of the industry's most prestigious awards, including IPC's President's Award, the Society of Manufacturing Engineers' (SME) Total Excellence in Electronics Manufacturing Award, the Outstanding Sustained Technical Contribution Award from IEEE EPS, and the William D. Ashman Achievement Award from IMAPS, among others.
Dr. Shangguan received a bachelor's degree in mechanical engineering from Tsinghua University, China, an MBA from San Jose State University, Calif., and a Ph.D. in materials from the University of Oxford, U.K. He has held postdoctoral positions at the University of Cambridge, U.K., and the University of Alabama, and has served as a guest professor at several universities. Dr. Shangguan has published two books and more than 200 scientific papers and technical articles, and has given numerous presentations to share knowledge and expertise with the industry. He is the inventor/co-inventor of 30 U.S. patents and several foreign patents.
---
Suggested Items
09/21/2023 | KIC
KIC, a renowned pioneer in thermal process and temperature measurement solutions for electronics manufacturing, is thrilled to announce its participation in the upcoming SMTA Guadalajara Expo & Tech Forum.
09/21/2023 | Dymax
Dymax, a leading manufacturer of light-curing materials and equipment, will exhibit in booth 1526 at SMTA International 2023 in Minneapolis, MN, from October 10-11.
09/21/2023 | Altus Group
Altus Group, a leading supplier of capital equipment and services to the electronics manufacturing industry, has signed an agreement with SMT Thermal Discoveries to distribute its advanced reflow soldering and thermal technology solutions in Ireland.
09/21/2023 |
Intraratio, a provider of enterprise software solutions, is pleased to announce that Ryan Gamble, CEO and Founder of Intraratio, will deliver an informative keynote presentation at SMTA International 2023. T
09/20/2023 | PRNewswire
ICZOOM Group Inc., a B2B electronic component products e-commerce platform, provided details on the Company's accelerated growth and steady market expansion strategy, as the Company leverages its strengthened balance sheet and fortified global brand following its successful listing on Nasdaq earlier this year.