Reading time ( words)
In previous columns, I have discussed matched length routing and how matched length does not necessarily mean matched delay. But, all design rules, specified by chip manufacturers regarding high-speed routing, specify matched length--not matched delay. In this month's column we'll take a look at the actual differences between the two.
Typically, more than one layer change is required when routing traces to matched length. Figure 1 illustrates the DDR2 address bus routing I did in Altium Designer, my preferred layout tool. In this case, each address signal has four layer changes. The red and green traces are the top and bottom layers--which should be kept as short as possible--and the yellow and orange traces are inner layers embedded between the planes. This was a particularly difficult route as there were two DDR2 memory chips placed on both the top and bottom sides of the board, so each address signal had to go to four different chips and still maintain the correct delay.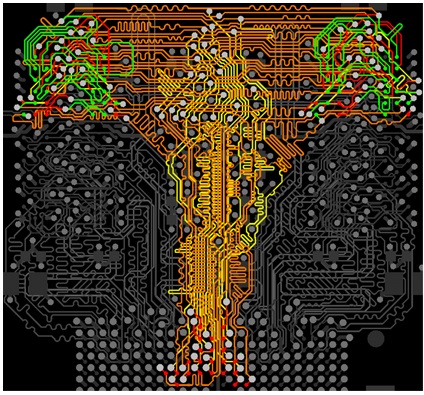 Figure 1: Matched delay T-section DDR2 address routing in Altium Designer.
The longest routes should be placed on the inner layers as this reduces electromagnetic radiation. With all other factors being equal, generally, a trace routed on the inner stripline layer exhibits 4-10 dB less noise than a trace routed on the outer microstrip layer. Also, please note that there are more high harmonics on the top layer routing. The high-frequency components radiate more readily because their shorter wavelengths are comparable to trace lengths, which act as antennas. Consequently, although the amplitude of the harmonic frequency components decreases as the frequency increases, the radiated frequency varies depending on the trace's characteristics.

Read the full column here.


Editor's Note: This column originally appeared in the March 2014 issue of The PCB Design Magazine.
Share
Suggested Items
03/09/2023 | I-Connect007 Editorial Team
What happens when die sizes shrink? As IPC design instructor Kris Moyer explains, quite a bit. Shrinking silicon can mean rising signal speed and rise times, and traditional PCB designers may find themselves dealing with problems formerly only seen by RF engineers. We asked Kris to discuss the pros and cons of silicon shrinkage and some of the techniques and trade-offs that PCB designers and design engineers need to understand as they find themselves entering the RF arena.
12/08/2022 | Nolan Johnson, I-Connect007
Nolan Johnson checks in with Polar's Martyn Gaudion on the evolving needs of global PCB manufacturing markets in a post-pandemic world, where generating accurate PCB specification documentation is essential to successfully navigating today's rampant supply chain constraints. Polar has positioned itself to meet these needs through agile software product developments that allow OEMs and fabricators to simulate material interactions and end-product specifications, including in-demand features like a comprehensive "structure view" that allows users to visualize all the transmission lines on a given a PCB. Though keeping pace with the demands of a rapidly growing industry has been challenging, Polar's commitment to innovation has kept its software suite ahead of the curve.
08/05/2022 | I-Connect007 Editorial Team
I recently spoke with Todd Westerhoff, product marketing manager for signal integrity software tools at Siemens. We discussed a new capability called HyperLynx Apps that offers a new take on traditional signal and power integrity analysis, and how that fits in with the Siemens plan to put SI and PI tools into the hands of more designers early in the design cycle.