Books

Featured Books

design007 Magazine

Latest Issues

Current Issue

Rigid-flex: Designing in 3D

In this month's issue, our expert contributors share their best tips, tricks and techniques for designing rigid-flex circuits. If you're a rigid board designer considering moving into the 3D world of rigid-flex, this issue is just what the doctor ordered!

Simulation, Analysis, and AI

Getting today's designs "right the first time" is critical, especially with costly advanced PCBs. Simulation and analysis software tools can help you in the fight to eliminate respins. They're not magical, but they can predict the future of your design.

Advanced, Complex & Emerging Designs

This month, our contributors focus on designing PCBs with advanced, complex and emerging technologies. We investigate design strategies for boards that are on the cutting edge of technology, or crazily complex, or so new that designers are still writing the rules as they go.

Columns

Latest Columns

||| MENU
Effective Characteristic Impedance
March 4, 2015 | Kirk Fabbri, KSPT Engineering Consulting
Estimated reading time: Less than a minute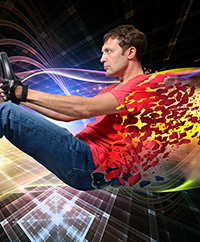 In a typical interconnect, there lie multiple places where capacitance plays a factor in the signal integrity. This includes the driver and receiver output/input capacitance, as well as the packages, vias, and the transmission lines. Failing to optimize these parameters can often lead to unwanted reflections, excessive radiated and or conducted emissions, and sometimes failure of components and systems.
Reflections can occur anytime there is an impedance mismatch on the line. Sources of mismatches are plentiful and include trace width changes, vias, stubs, reference plane changes, and even the so-called fiber weave effect. In this case, a trace can encounter a different dielectric constant depending on whether it is routed over glass or the epoxy resin in the dielectric material. 
In this investigation, it is the capacitive contribution of the different components that are of interest, and how they affect the characteristic impedance the driver sees. 
To read the rest of this article, click here.
---
Suggested Items
10/02/2023 | PRNewswire
The asset transfer acquisition will bring Bliley's equipment, people, and IP under the KYOCERA AVX umbrella and allow KYOCERA AVX to produce the same high-quality electronic components that made Bliley a global leader.
09/27/2023 | Cherie Litson, CID+, Litson1 Consulting
Rigid-flex circuits are unique structures; part rigid board and part flex, they're increasingly working their way into many of the electronic devices we use every day. There have been many advances in rigid-flex lately as more companies find themselves exploring this technology. So, before I started writing this article about rigid-flex design, I double-checked a few things. Fortunately, there is plenty of rigid-flex information available on a variety of great websites that we all know and trust.
09/26/2023 | Brent Fischthal, Koh Young America
Koh Young's Brent Fischthal explains how UHDI and advanced packaging are challenging inspection systems. He says the shift toward larger components and advanced packaging brings a host of challenges that impact the industry. These challenges include complexity, density, package diversity, and inspection methodologies, all of which necessitate a more innovative approach.
09/15/2023 | Seika Machinery, Inc.
Seika Machinery, Inc., a leading provider of advanced machinery, materials and engineering services, is pleased to announce a special sale on the McDry DXU-580UF Feeder Storage Cabinet.
09/11/2023 | PRNewswire
Can digital and/or high throughput manufacturing be applied to circuit boards? Can stretchable electronics be produced without sacrificing processing capabilities?