Books

Featured Books

pcb007 Magazine

Latest Issues

Current Issue

Finding Ultra

New demands on PCB fabrication, namely advanced packaging, ultra high density interconnect (UHDI), and new specialty materials, are converging, changing the landscape of our business. Is it time to start paying close attention to this convergence?

Developing a Strategy

A solid strategy is a critical part of success. This month, we asked some of the top industry leaders and business strategy "gurus" to share their thoughts on developing strategies.

Winning With TQM

In this issue, we explore how TQM has entered the DNA of continuous improvement disciplines, and the role leadership transformation plays in this. If you've ever competed against a TQM company, you understand their winning advantage.

Columns

Latest Columns

||| MENU
Bob Neves Receives Award, Talks Bergman Tribute
March 5, 2015 | Barry Matties, I-Connect007
Estimated reading time: 2 minutes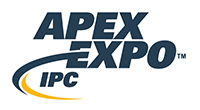 Barry Matties sat down with Bob Neves, one of the first recipients of the Dieter Bergman IPC Fellowship award, to talk about the tribute held for Dieter on Wednesday night of IPC APEX EXPO 2015, and some of the reasons behind the newly created award.
Barry Matties: Bob, Tell me about the new Dieter Berman IPC Fellowship award that you and several others received.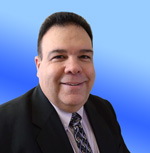 Bob Neves: Well, Dieter's an icon, and pretty much everyone associated Dieter Bergman with IPC. He was a tireless worker, and so after he passed away, they decided to create a Dieter Bergman Memorial Fellowship award for people who were outstanding in their lifetime in standardization, because that's what Dieter was all about. There were eight inaugural awards members who received the honor last night, and I was lucky enough to be chosen as one of them. Dieter was a mentor to me. When I first got into the industry, he inspired me to get involved with the organization, take on leadership roles, and he somehow convinced me to get involved with international standardization, which was one of his passions.
I spent 15 years traveling around the world with Dieter to IEC meetings, and got to know him very well. He was both my mentor and friend, and it was difficult to come to an IPC meeting and not have him here.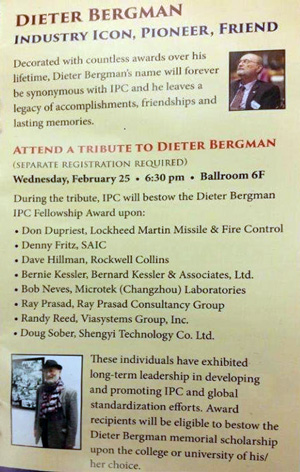 Matties: Seeing the poster of Dieter in the entrance of APEX was certainly a clear reminder that he's no longer with us.
Neves:  Yes, and the memorial was nice. We all told a Dieter story, because everybody has them; he was such a dynamic guy and was a friend to everyone. He knew what he wanted and he'd work 12 hours a day, seven days a week to accomplish it.
Matties: What does this new award mean?
Neves:  Education and standards were Dieter's life. In order to keep his memory alive, IPC wanted to do a couple of things. To reward members who show that same trend within IPC and also leave a scholarship. Each of the winners may choose a college of their choice to leave a small scholarship to, which will help keep Dieter's memory alive. IPC is looking at our committee sessions with a long term view, and we're all getting a little gray. We haven't done a really good job of motivating the young people to get involved. One of the goals we have is to spend more time with the universities, the engineering schools, and try and push what the organization is doing down at that level.
When these new kids get into their first job, they run into a problem with a situation, or a design issue, or fabrication issue, they'll think, "Oh yeah. IPC, that's the organization that can help. Maybe I should get involved." That's a long term effort, but it's definitely something that we need to put in place to assure that 10 years from now we've got this new generation of people coming onto the committees and making a difference.
Matties: That's great, Bob. Congratulations.
Neves:  Thank you.
---
Suggested Items
10/02/2023 | KYZEN'
KYZEN, the global leader in innovative environmentally friendly cleaning chemistries, announced that Debbie Carboni, Global Product Line Manager - Electronics, will present as part of the Electric Vehicle (EV) panel during the IPC High Reliability Forum.
10/02/2023 | PRNewswire
The asset transfer acquisition will bring Bliley's equipment, people, and IP under the KYOCERA AVX umbrella and allow KYOCERA AVX to produce the same high-quality electronic components that made Bliley a global leader.
09/28/2023 | Nolan Johnson, I-Connect007
The practical question around CHIPS Act development and electronics assembly is, "Will this change how we do business?" Indium Corporation's Dr. Andy Mackie sat down with Nolan Johnson to share what he sees as emerging answers to that question from his perspective as an expert in electronics assembly and packaging, and as a participant in standards development through IPC, JEDEC, and SEMI.
09/28/2023 | IPC
IPC continues to collaborate with the electronics manufacturing industry to meet their current and future workforce training needs.
09/28/2023 | IPC
Though product demand weakened this month with Orders and Backlog Indexes slipping, overall electronics industry operations remain healthy per IPC's September 2023 Global Sentiment of the Electronics Supply Chain Report.