Books

Featured Books

smt007 Magazine

Latest Issues

Current Issue

Chips Don't Float

In Europe and the U.S., legislation is under way to revitalize PCB fabrication and packaging. What is the status of this work, and how specifically does this change the industry landscape for EMS companies? What will help keep us afloat?

Flying High With Digital Twin

The opportunity to use manufacturing simulation as a test bed for job planning and process optimization brings continuous improvement into the modern age. This may be an all-or-nothing type of project, but it's worth the investment.

Artificial Intelligence

In this issue, we (and AI) explored how and when artificial intelligence plays a role in manufacturing today. Whether on the factory floor, or in the front office, AI applications are emerging and changing how we approach planning, processes and problem solving.

Columns

Latest Columns

||| MENU
ESI's Most Extensible Laser Micromachining Platform Delivers Efficient Manufacturing for Consumer Electronics
June 25, 2015 | ESI
Estimated reading time: 2 minutes

Electro Scientific Industries, Inc., an innovator of laser-based manufacturing solutions for the micromachining industry, today introduced Jade™, the new low-cost, high-volume-production laser micromachining platform adaptable to a range of configurations for different applications including cutting, marking, drilling and engraving.
The new platform addresses challenges faced by manufacturers in the fast-changing consumer electronics segment where they cope with new materials, new technologies and evolving consumer expectations. Meanwhile, there is relentless pressure to reduce costs, meet quality requirements and achieve high-volume high-yield production. The Jade™ platform is the first laser micromachining platform capable of meeting all these diverse requirements, offering unprecedented levels of versatility and cost-efficient operation.
"Production requirements in consumer electronics are constantly changing with new materials and features that require a range of laser micromachining processes that can be delivered quickly and at an attractive cost of ownership," said Edward C. Grady, President and CEO of ESI. "We are directly addressing this challenge with the Jade™ platform. Designed by ESI's cooperative China-USA engineering operation, this low-cost platform is adaptable, reliable, and locally built and serviced by our support teams on the ground in China."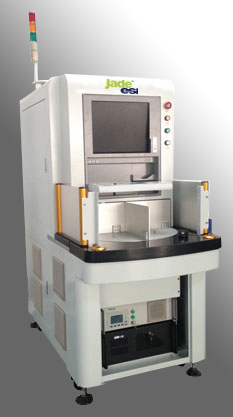 The Jade™ platform is designed to provide contract and consumer electronics manufacturers with a smarter manufacturing option through the use of extendable and configurable stages, lasers, and automation. The base platform can be configured with multiple laser and optics options as well as a range of add-on options including pre- and post-inspection, metrology and advanced alignment automation. All configurations use a common user interface to reduce training time.
This flexibility means that a Jade™ platform can address multiple marking, cutting, and drilling applications in a responsive and cost-effective manner, improving the useful lifespan of the tool and significantly lowering overall cost of ownership for our customers. The Jade™ platform continues ESI's commitment to reliability, responsive local support in China, and to meeting expectations for precision and high-volume yields.
Availability
The Jade™ Series of platforms are available now in China, Vietnam, India, Korea and Taiwan. For more information go to www.esi.com.  
About ESI
ESI's integrated solutions allow industrial designers and process engineers to control the power of laser light to transform materials in ways that differentiate their consumer electronics, wearable devices, semiconductor circuits and high-precision components for market advantage. ESI's laser-based manufacturing solutions feature the micro-machining industry's highest precision and speed, and target the lowest total cost of ownership. ESI is headquartered in Portland, Ore., with global operations from the Pacific Northwest to the Pacific Rim. More information is available at www.esi.com.
---
Suggested Items
09/27/2023 | AT&S
AT&S is working on the EECONE (European ECOsystem for greeN Electronics) project to develop new technologies to make electronics production in Europe more sustainable.
09/27/2023 | iNEMI
Join iNEMI and ZESTRON in Shenzhen on October 13 for a full-day workshop on reliability requirements and challenges for automotive electronics and to share the latest information about standards development for this market segment.
09/26/2023 | SMTA
SMTA is pleased to announce Catherine Wong, Foothill College, has been selected as the recipient of the 2023 JoAnn Stromberg Student Leader Scholarship.
09/25/2023 | Purdue University
Purdue University continues building momentum as America's leading university in semiconductors, with a broad range of updates this fall semester.
09/25/2023 | Alison James
"Electronics systems are at the heart of almost all modern technology. The performance and functionality of these systems have increased at breathtaking speed, chiefly as a result of advancements in semiconductor technology. Semiconductors do not function in isolation," writes Alison James, IPC senior director of government relations, in a 2023 report for the European Commission's Directorate General for Internal Market, Industry, Entrepreneurship. "These electronics systems feature prominently in key sectors like defence, aerospace, space, automotive, medical, and high-performance computing, but electronics are vital to every industry and are central to a variety of EU priorities, including the twin digital and green transitions and Europe's technological sovereignty."