Books

Featured Books

smt007 Magazine

Latest Issues

Current Issue

Economic Headwinds

This issue takes stock of the current economic outlook and how companies are using current conditions to move themselves through technological evolutions, workforce shifts, and financial changes. Even with these headwinds, there's forward progress to be made.

Attracting New Talent

To get different results in staffing, you must change how you define, promote and recruit your job opportunities. How do you become magnetic to high-quality early-career candidates?

Test and Inspection

Test and inspection methods are undergoing rapid change. In this issue, we consider the influence of AOI, AI, and human eyes. How exactly are these pieces of the puzzle changing the role of test and inspection?

Columns

Latest Columns

||| MENU
ESI's Most Extensible Laser Micromachining Platform Delivers Efficient Manufacturing for Consumer Electronics
June 25, 2015 | ESI
Estimated reading time: 2 minutes

Electro Scientific Industries, Inc., an innovator of laser-based manufacturing solutions for the micromachining industry, today introduced Jade™, the new low-cost, high-volume-production laser micromachining platform adaptable to a range of configurations for different applications including cutting, marking, drilling and engraving.
The new platform addresses challenges faced by manufacturers in the fast-changing consumer electronics segment where they cope with new materials, new technologies and evolving consumer expectations. Meanwhile, there is relentless pressure to reduce costs, meet quality requirements and achieve high-volume high-yield production. The Jade™ platform is the first laser micromachining platform capable of meeting all these diverse requirements, offering unprecedented levels of versatility and cost-efficient operation.
"Production requirements in consumer electronics are constantly changing with new materials and features that require a range of laser micromachining processes that can be delivered quickly and at an attractive cost of ownership," said Edward C. Grady, President and CEO of ESI. "We are directly addressing this challenge with the Jade™ platform. Designed by ESI's cooperative China-USA engineering operation, this low-cost platform is adaptable, reliable, and locally built and serviced by our support teams on the ground in China."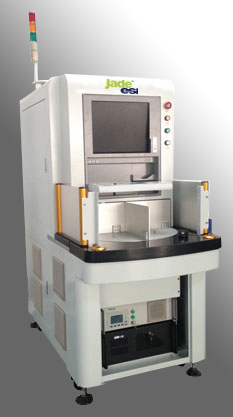 The Jade™ platform is designed to provide contract and consumer electronics manufacturers with a smarter manufacturing option through the use of extendable and configurable stages, lasers, and automation. The base platform can be configured with multiple laser and optics options as well as a range of add-on options including pre- and post-inspection, metrology and advanced alignment automation. All configurations use a common user interface to reduce training time.
This flexibility means that a Jade™ platform can address multiple marking, cutting, and drilling applications in a responsive and cost-effective manner, improving the useful lifespan of the tool and significantly lowering overall cost of ownership for our customers. The Jade™ platform continues ESI's commitment to reliability, responsive local support in China, and to meeting expectations for precision and high-volume yields.
Availability
The Jade™ Series of platforms are available now in China, Vietnam, India, Korea and Taiwan. For more information go to www.esi.com.  
About ESI
ESI's integrated solutions allow industrial designers and process engineers to control the power of laser light to transform materials in ways that differentiate their consumer electronics, wearable devices, semiconductor circuits and high-precision components for market advantage. ESI's laser-based manufacturing solutions feature the micro-machining industry's highest precision and speed, and target the lowest total cost of ownership. ESI is headquartered in Portland, Ore., with global operations from the Pacific Northwest to the Pacific Rim. More information is available at www.esi.com.
---
Suggested Items
12/11/2023 | STI Electronics, Inc.
STI Electronics, Inc., a full-service organization providing training services, training materials, analytical/failure analysis, prototyping and electronics contract manufacturing, proudly announces the latest addition to its Training Team, Ms. Jenny Taymon.
12/08/2023 | TT Electronics
TT Electronics, a leading provider of global manufacturing solutions and engineered technologies, announced today that one of its Asia electronics manufacturing facilities has received approval from the Food and Drug Administration (FDA), through its premarket approval (PMA) supplement evaluation process, to manufacture Class IIa devices on behalf of global medical OEM customers.
12/07/2023 | VDL Groep
VDL Groep has strengthened its position in the high-quality electronics market. The industrial family business with its head office in Eindhoven has acquired Rena Electronica from Zundert.
12/05/2023 | HANZA
HANZA AB has signed an agreement to acquire all shares in Orbit One AB, a Swedish company that offers contract manufacturing of electronics and electromechanics. Orbit One has annual sales of approximately SEK 1.1 billion with an operating profit (EBITA) of approximately SEK 70 million.
12/05/2023 | IPC
Electronics industry sentiment improved during November with demand sentiment also taking a solid step up over the last 30 days per IPC's November 2023 Global Sentiment of the Electronics Supply Chain Report.