Books

Featured Books

design007 Magazine

Latest Issues

Current Issue

Simplification

On the subject of simplification, our expert contributors explain how to design PCBs without making them complex and over-constrained—whatever the level of technology. In addition, we discuss the effect your decisions and tradeoffs have on design complexity.

The Standards of Design

Our expert contributors discuss how PCB designers can utilize standards to save time and money, not to mention frustration. We also spotlight the newly updated version of the IPC Checklist, a handy guide that illustrates which standards cover which topics, from front-end design through assembly.

Rigid-flex: Designing in 3D

In this month's issue, our expert contributors share their best tips, tricks and techniques for designing rigid-flex circuits. If you're a rigid board designer considering moving into the 3D world of rigid-flex, this issue is just what the doctor ordered!

Columns

Latest Columns

||| MENU
Avoid Overbuilding your RF Printed Circuit Board
July 9, 2015 | Barry Matties, I-Connect007
Estimated reading time: 11 minutes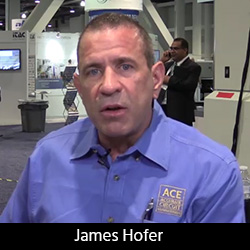 Today, many companies are overbuilding and "overmaterializing" their RF printed circuit boards. In this interview, James Hofer of Accurate Circuit Engineering (ACE) shares some strategies to avoid doing both, which will help lower the total cost of your PCB and improve the overall product quality. Hofer also discusses some of the challenges in the laminate supply chain.
Barry Matties: Why don't you start by talking about Accurate Circuit Engineering; what do you do and what is your specialty?
James Hofer: Accurate Circuit Engineering is a high-tech prototype facility. We specialize in low volume, high mix. Our specialty is RF and signal integrity products. We do a lot of good cavities, and we handle all specialty materials; we especially use a lot of Rogers, Taconic, and Arlon, which is now also Rogers. We stock R4000 series, because 4000 series is an advanced dielectric for signal integrity. We probably run somewhere between 15 and 30 jobs a week on R4000, which we stock because Rogers just recently was quoted as, "We're very proud to say our lead-time on the 4000 series is now only 35 days." That's more than a month.
We specialize in quick-turn. I can run 16-layer, high-frequency jobs with impedance on multiple layers in 24 hours. We can also go up to 20 days. We do everything from the AT test boards to gigantic antennas. Everybody who has a wave-guide analyzer or an amplifier is using boards for those, and our boards are just the kind of things to go in there.
Matties: Yes, RF is a booming area right now.
Hofer: RF satellite is back up and on top of everybody's minds right now, with all the advanced unmanned vehicles that everybody from civilian to military is using. All of that is RF. We're going faster and faster, higher and higher. All our smartphones are using RF-type and wireless technology. All of that requires test equipment, design equipment, prove-out equipment, and every one of those has a circuit board.
Matties: Your manufacturing focus is RF. How long have you had that focus?
Hofer: I brought that focus on board with Accurate about 12 years ago. I've been with Accurate 15 years now, and when I started we were just doing rigid boards, whatever came our way, and I wanted Accurate to move forward and have a specialty. When somebody says, "Who does RF boards? Oh, Accurate does RF boards," we are right there. That has really worked out for us, because not only are we seeing a lot of activity in that area, but we were also very good at it. It has really propelled us to the next level.
Matties: We've done a few surveys recently—you may have seen—about supply chain and also the war on failure. In the RF arena, failure is just not even an option when you're dealing with military satellites, commercial aircraft, that sort of thing. How do you battle failure in your process?
Hofer: We start from the minute we get the customer design. We run it through DFM and DRC checks. We verify their calculations. We take a look at how their structure is and how their stack-up is and how they've laid everything out, to make sure that it's going to be robust enough in the finished product to withstand multiple heat cycles, vibration, etc.
Then during our own manufacturing process, because we're also MIL-certified and AS9100 certified, we have process checks and process documentation to ensure that when we're manufacturing the board, it's seeing only processes that have been vetted and are monitored in performance, tracked, and managed. Once the finished product is done, we put it through construction integrity testing, full electrical testing, and then full dimensional and measurement testing before we ship it out to the customer.
Matties: Interestingly, I've looked at this in the supply chain from fabricator to assembler, and it seems to me that no matter how stable your processes are, you could be using best practices and all that but inspections are the only line of defense.
Hofer: Nothing is 100%. Even computers are 99.9999%, and that's not a hundred. Inspection is really the key to prevent escapes, because you're right, in manufacturing, in life, mistakes are going to happen and people are going to make mistakes and mistakes make people. It's how you move forward from them that's important. The inspection steps—which is why we have so many inspection steps along the way of manufacturing and at final—are the only way you keep it from getting out to assembly and then getting out into a product. Even that, unfortunately, is not at 100%. Sometimes things escape. We see it on the news all the time.
Matties: Absolutely. Airbags, ignition switches, falling satellites, or whatever it happens to be.
Hofer: That's correct.
Matties: It's really interesting, and you mentioned materials. The other part we looked at was supply chain and how difficult it is to get materials. What sort of demands or impacts has that had on your business?
Page 1 of 3
---
Suggested Items
11/29/2023 | TT Electronics
TT Electronics, a global provider of custom power solutions and engineered technologies, has announced that its Power and Control business has officially opened its new state-of-the-art research, development and manufacturing facility.
11/27/2023 | HyRel
HyRel Technologies, a global provider of quick turn semiconductor modification solutions, announces the achievement of International Traffic in Arms Regulations (ITAR) registration.
11/20/2023 | MIT
MIT's Department of Aeronautics and Astronautics (AeroAstro) recently hosted the 2023 Future Leaders in Aerospace Symposium, inviting women and underrepresented minorities in aerospace fields to campus for a two-day program.
11/14/2023 | NEO Tech
NEOTech, a leading provider of electronic manufacturing services (EMS), design engineering, and supply chain solutions in the high-tech industrial, medical device, and aerospace/defense markets, is thrilled to welcome James Doyle to the team as Chief Executive Officer of NEOTech's Aerospace & Defense division, effective immediately.
11/06/2023 | PRNewswire
Vuzix Corporation, a leading supplier of smart glasses and Augmented Reality (AR) technology and products, announced it has completed delivery against a follow-on order from a Tier-1 aerospace and defense contractors with which it has been working with.