Reading time ( words)
Recently I was remodeling a bathroom in my home with my younger son Kyle. We were getting ready to paint the bathroom and I took out the masking tape and began instructing my son on the task of masking. Being a teen, and of course knowing everything, he said to me that he did not need to mask and he could just start painting. I then explained that I did not want paint on everything else, and if you are a parent, you know how the rest of the conversation progressed.
The voice of my father popped into my head during the conversation and I told my son something that my father always said to me, "preparation is 75 percent of the job." My father was a military man, and a stickler on discipline. Not the physical spanking kind, although I did get those on occasion, but the kind of discipline to live your life by.
Our younger generation today tends to lack the discipline of preparation. In a world where almost everything is available instantly at a touch of a button, there is often an expectation of instant gratification.
But, in PCB layout, preparation is a key discipline to the success of your design. Preparation truly is 75 percent of the job! We must setup constraints or rules to guide us from the beginning of the layout to the final release of the design and all the way to fabrication. When this preparation is done correctly, we have the best chance of getting it right the first time.
In my recent article in Printed Circuit Design & Fab , "Using Constraints to Make PCB Layout Easier," I speak about setting up constraints early in your design cycle to prepare for a successful design.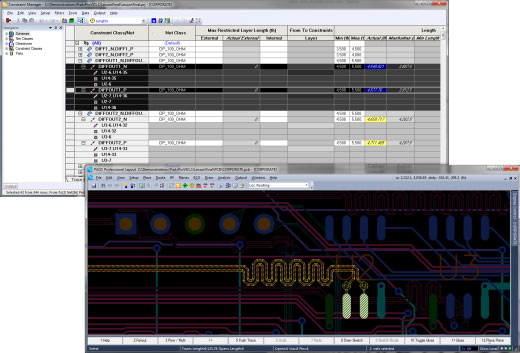 As for that painting project…my son began painting without masking. He got paint everywhere, and spent quite a bit of time cleaning up the mess and re-painting. I had him read my article, and I could tell a light came on in his mind. I expect next time he will prepare properly before starting a task.
Until next time,
Vern
Share
Suggested Items
05/16/2023 | Andy Shaughnessy, Design007 Magazine
I recently ran into Ryan Miller of NCAB Group at SMTA Atlanta. Ryan is a field application engineer and a columnist for Design007 Magazine who joined NCAB last year. In this interview, Ryan discusses his path from Air Force Security Forces to design engineer, and he outlines what he plans to accomplish at NCAB.
05/16/2023 | Andy Shaughnessy, Design007 Magazine
I recently spoke with Fabian Winkler, product marketing manager for Altium 365. He and guest speaker Casey Sirotnak of Forrester are co-hosting a free webinar on May 17 titled "Unveil the Total Economic Impact of Altium 365." The webinar will include data from a Forrester case study that examined the economic benefits of using the Altium 365 environment, such as the number of hours saved per designer per year. I asked Fabian to discuss the focus of the webinar, who should attend, and some of the benefits of this environment that allows ECAD and MCAD engineers to collaborate seamlessly.
05/02/2023 | SEMI
Electronic System Design (ESD) industry revenue increased 11.3% from $3,468.2 million in the fourth quarter of 2021 to $3,858.7 million in the fourth quarter of 2022, the ESD Alliance, a SEMI Technology Community, announced in its latest Electronic Design Market Data (EDMD) report.