Books

Featured Books

smt007 Magazine

Latest Issues

Current Issue

Test and Inspection

Test and inspection methods are undergoing rapid change. In this issue, we consider the influence of AOI, AI, and human eyes. How exactly are these pieces of the puzzle changing the role of test and inspection?

Chips Don't Float

In Europe and the U.S., legislation is under way to revitalize PCB fabrication and packaging. What is the status of this work, and how specifically does this change the industry landscape for EMS companies? What will help keep us afloat?

Flying High With Digital Twin

The opportunity to use manufacturing simulation as a test bed for job planning and process optimization brings continuous improvement into the modern age. This may be an all-or-nothing type of project, but it's worth the investment.

Columns

Latest Columns

||| MENU
3rd Annual DDM Novastar Open House a Success
October 13, 2015 | DDM Novastar Inc.
Estimated reading time: 1 minute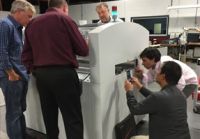 For the third consecutive year, DDM Novastar held its annual Technical Workshop and Open House on September 15-17, 2015 and was, by all measure, an enormous success.
The Technical Workshop was attended by customers from Canada, Connecticut, New Jersey, New York, South Carolina, Virginia and as far away as Florida. Because the workshops have proven so worthwhile to customers, DDM Novastar has already scheduled their mid-winter workshop for February 9-10, 2016.
Participants were able see all of DDM Novastar's products first-hand in a single location, ask technical questions, meet the team that supports the equipment, and take a tour of the company's exclusive U.S. manufacturing and assembly facility.
The Open House featured hands-on equipment demonstrations including screen printers, pick & place machines, reflow ovens and selective solder machines, a custom reel-to-reel assembly line, and feeders, controls, and ancillary components.
About DDM Novastar
DDM Novastar, Inc, was established in 2011, following the close of APS Novastar, LLC, formerly of Huntingdon Valley, PA. Many of the key staff from APS were hired by DDM Novastar to continue the legacy started by APS in 1981. DDM Novastar continues in their footsteps as the global leader in the design, development, and manufacture of OEM equipment for the short to medium run surface mount technology (SMT) and printed circuit board (PCB) markets.
DDM Novastar's products include stencil printers, automated pick and place robots, reflow ovens, wave and selective solder equipment, component counters and lead forming equipment. DDM Novastar's experienced team has installed over 24,000 product solutions in the telecom, defense and aerospace, security, transportation, automotive, medical and diagnostic devices, personal computers, and academic markets. For more information, visit www.ddmnovastar.com.
---
Suggested Items
09/14/2023 | SHENMAO
SHENMAO America, Inc. is proud to introduce its latest innovation in response to the growing demand for ultra-thin packages in the electronics industry.
09/14/2023 | Peters
For Peters, the new Reflow 1.8. soldering machine from SEHO is an investment in the future. Like its predecessor, this machine is used in the laboratory for testing high-quality solder resists. Before the coatings are entrusted to the customers, Peters performs a thermal soldering simulation.
09/12/2023 | SMTA
The program for the SMTA International Technical Conference is finalized with 90 great papers presented across 30+ sessions. Each session features two to four presentations on a related topic and is organized into the following tracks. Check it out!
09/07/2023 | BTU International, Inc.
BTU International, Inc., a leading supplier of advanced thermal processing equipment for the electronics manufacturing market, will exhibit at SMTA International 2023.
09/07/2023 | Heraeus Electronics
Heraeus Electronics is pleased to announce its participation at SMTA International, a premier event for electronics manufacturing and assembly professionals.