Books

Featured Books

design007 Magazine

Latest Issues

Current Issue

Rigid-flex: Designing in 3D

In this month's issue, our expert contributors share their best tips, tricks and techniques for designing rigid-flex circuits. If you're a rigid board designer considering moving into the 3D world of rigid-flex, this issue is just what the doctor ordered!

Simulation, Analysis, and AI

Getting today's designs "right the first time" is critical, especially with costly advanced PCBs. Simulation and analysis software tools can help you in the fight to eliminate respins. They're not magical, but they can predict the future of your design.

Advanced, Complex & Emerging Designs

This month, our contributors focus on designing PCBs with advanced, complex and emerging technologies. We investigate design strategies for boards that are on the cutting edge of technology, or crazily complex, or so new that designers are still writing the rules as they go.

Columns

Latest Columns

||| MENU
DownStream: What a Long EDA Trip it's Been
June 8, 2016 | Andy Shaughnessy, PCBDesign007
Estimated reading time: 2 minutes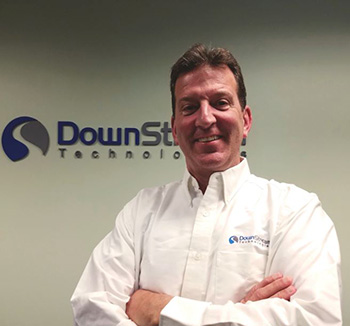 No doubt about it: DownStream Technologies co-founder Joe Clark is an EDA veteran, with a history that dates back to the very beginning of EDA tools through the merger madness of the late '90s and beyond. I sat down with Joe during IPC APEX EXPO, and asked him about some of the changes he's seen, and the direction of DownStream as it enters its 15th year. 
Andy Shaughnessy: Joe, why don't you start off by giving everybody a real quick background about yourself and DownStream?
Joe Clark: I actually began in EDA with a company called GenRad, or General Radio, which manufactured automatic test equipment (ATE) for verifying PCBs. The application there was mostly for functional testing. We created a PCB simulator to simulate the board and test if, for a given set of inputs, the outputs were correct. From that we ventured into simulation tools for custom components as custom ICs started to make an appearance in the market.
I went to work for Racal-Redac in the late '80s and early '90s before I moved to PADS Software, where I spent 10 years of my time. There we merged with Innoveda, which was formerly Viewlogic, and from there we spun out in 2002 to create DownStream Technologies.
Shaughnessy: And 2002 was a great year to launch a start-up.
Clark: That's a very good point. When I think about how long we've been doing DownStream it seems like it was only a couple of years ago, but it has been 15 years. When we spun out, it was really a bad time: The tech bubble had burst and then there was 9/11 and all the terrible things that surrounded that. It was just a bad time in general. Our view was the EDA industry up until then had focused primarily on what we called the upstream processes, like specifying the design, creating the schematic, the layout and so on, very few companies were focusing on the back end of the process, where we actually build things.
Shaughnessy: Where all the mistakes are.
Clark: Exactly. Our belief was that in the whole process of NPI, new product introduction, it was equally important to focus on the front end, the upstream processes, as it was to focus on the back end, the manufacturing process – where we build things. Our vision for DownStream was to be the company that helps companies to bridge the gap or chasm between the "upstream" design processes and the "downstream" physical processes. This was an area of new product development that we believed would move from something that was "nice to do" to "mission critical".
Now, 15 years later, our vision was correct. Today, when you hear companies today talk about where they are focusing it is on the downstream processes. How do we improve that hand-off from design to manufacturing? A company's time for realizing a return on their products is always shrinking. The technology itself is always advancing, geometries continue to shrink, and flex circuits and embedded components are now a reality. The complexities have increased enough that is it no longer good enough to take the design and do the proverbial "hand it off over the wall."
Companies need to understand the manufacturing process and prepare the upstream processes to deal with them. Basically in a nutshell, where DownStream fits into the equation is we help companies bridge that gap, that chasm, between the upstream and downstream processes and how their products are built.
To read this entire article, which appeared in the May 2016 issue of The PCB Design Magazine, click here.
---
Suggested Items
09/22/2023 | GlobalFoundries
The U.S. Department of Defense (DoD) has awarded GlobalFoundries (Nasdaq: GFS) (GF) a new 10-year contract for a supply of securely manufactured, U.S.-made semiconductors for use across a wide range of critical aerospace and defense applications. 
09/25/2023 | APCT
APCT, a leading name in the PCB and electronics industry, is delighted to announce the appointment of Peter Austin as its President and CEO, effective September 1. Peter takes the reins from former CEO, Steve Robinson, who has retired after years of dedicated service to the company.
09/22/2023 | Happy Holden, I-Connect007
Ever since high density interconnect (HDI) was created in 1982 by Hewlett-Packard to package its first 32-bit computer powered by a single chip, it has continued to evolve and provide the solutions for miniaturized products. The leading edge of HDI technology became the process used for organic flip-chip packaging for the semiconductor industry. The two distinct markets—IC substrates and product-system integration—are now colliding and utilizing the same ultra-HDI manufacturing processes.
09/21/2023 | KIC
KIC, a renowned pioneer in thermal process and temperature measurement solutions for electronics manufacturing, is thrilled to announce its participation in the upcoming SMTA Guadalajara Expo & Tech Forum.
09/21/2023 | Intraratio
Intraratio, a provider of enterprise software solutions, is pleased to announce its participation in the SMTA Guadalajara Expo and Tech Forum 2023.