Books

Featured Books

design007 Magazine

Latest Issues

Current Issue

Rigid-flex: Designing in 3D

In this month's issue, our expert contributors share their best tips, tricks and techniques for designing rigid-flex circuits. If you're a rigid board designer considering moving into the 3D world of rigid-flex, this issue is just what the doctor ordered!

Simulation, Analysis, and AI

Getting today's designs "right the first time" is critical, especially with costly advanced PCBs. Simulation and analysis software tools can help you in the fight to eliminate respins. They're not magical, but they can predict the future of your design.

Advanced, Complex & Emerging Designs

This month, our contributors focus on designing PCBs with advanced, complex and emerging technologies. We investigate design strategies for boards that are on the cutting edge of technology, or crazily complex, or so new that designers are still writing the rules as they go.

Columns

Latest Columns

||| MENU
The Importance of Design for Profit (DFP)
July 5, 2016 | Barry Matties, I-Connect007
Estimated reading time: 1 minute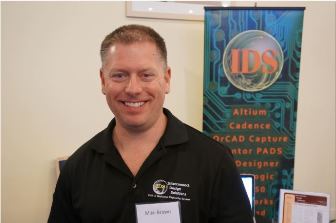 In this interview, Interconnect Design Solutions' Mike Brown and I took a few minutes during the recent Geek-A-Palooza event to discuss the importance of material selection and designing for profitability, how automation affects the design process, and the future of the design community.   
Barry Matties: Mike, tell me a little bit about IDS and what you do.
Mike Brown: We provide PCB layout and mechanical engineering services as an extension for OEMs as well as bareboard fabricators and assemblers that need design support. Basically, we're in the trenches working with the electrical engineers to help realize our product and bring it to market.
Matties: Are you doing actual design for customers or are you just assisting and educating?
Brown: We're actually doing design at the rigid board level, the flex-rigid, and flex board level as well as mechanical engineering and enclosure design. We're helping engineers realize their project from concept through reality.
Matties: So you start from the beginning?
Brown: We start from the beginning with a functional spec. We're sitting there basically looking at a block diagram sometimes.
Matties: It's a collaborative effort?
Brown: Yes, it is very collaborative.
Matties: Isn't that the best way to go, really?
Brown: It is. You have to be engaged in the beginning in order to be successful in the end.
Matties: And yet many engineers don't take this track; what's the downside of that?
Brown: The problem is there's a lack of communication and in a lot of cases, multiple spins of your product can occur; which in turn costs more because you typically don't have your pwb layout designer collaborating up front with your primary engineering team. The layout designer really needs to understand the product from the beginning. They need to understand the design intent and what the end goal of the product is. By having them involved in the beginning up front at the functional spec level and then at the detail spec level, they can help make conscious decisions that ultimately will affect the overall cost, time line and schedule of the product.
To read this entire article, which appeared in the June 2016 issue of The PCB Design Magazine, click here.
---
Suggested Items
09/28/2023 | TSMC
TSMC announced the new 3Dblox 2.0 open standard and major achievements of its Open Innovation Platform (OIP) 3DFabric Alliance at the TSMC 2023 OIP Ecosystem Forum.
09/28/2023 | Keysight Technologies, Inc.
Keysight Technologies, Inc., Synopsys, Inc., and Ansys announced a new reference flow for the TSMC N4PRF, the world's leading semiconductor foundry's advanced 4 nanometer (nm) radio frequency (RF) FinFET process technology.
09/27/2023 | Cherie Litson, CID+, Litson1 Consulting
Rigid-flex circuits are unique structures; part rigid board and part flex, they're increasingly working their way into many of the electronic devices we use every day. There have been many advances in rigid-flex lately as more companies find themselves exploring this technology. So, before I started writing this article about rigid-flex design, I double-checked a few things. Fortunately, there is plenty of rigid-flex information available on a variety of great websites that we all know and trust.
09/27/2023 | Brad Griffin, Cadence Design Systems
Another challenge for SerDes is losses within the channel design. At high speeds, dielectric material can be very lossy, making the appropriate selection of the right material, length, etc., critical for the channel. Many questions about stackup, trace widths, and height from the ground plane need to be defined up front. Simulating a signal with a topology explorer tool extracted from the design can be used to set up and run sweep parameters and push min/max length/spacing values into the Allegro schematic constraint manager (system capture).
09/27/2023 | Keysight Technologies, Inc.
Keysight Technologies, Inc. introduces Keysight EDA 2024, a tightly integrated suite of electronic design automation (EDA) software tools that ensures first pass success.