Books

Featured Books

pcb007 Magazine

Latest Issues

Current Issue

The Registration Sweet Spot

Registration is underrated and underappreciated. The key is to ensure proper registration from layer to layer across the entire printed circuit board. It's a holistic process requiring anticipation, prediction, precise attention at each step, and detailed data tracking and monitoring.

High-reliability Fabrication

In this month's issue, our expert contributors discuss the latest in technologies, trends, complexities and resources regarding high-reliability fabrication.

Finding Ultra

New demands on PCB fabrication, namely advanced packaging, ultra high density interconnect (UHDI), and new specialty materials, are converging, changing the landscape of our business. Is it time to start paying close attention to this convergence?

Columns

Latest Columns

||| MENU
Estimated reading time: 4 minutes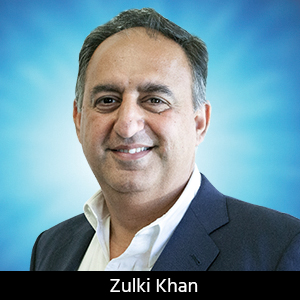 December 9, 2021
Zulki's PCB Nuggets: Cleanliness is Next to Reliability
Today's PCBs are highly populated with increasingly smaller device packaging. As a result, these advanced device packages are extremely difficult to clean due to tight densities and configurations, especially with bottom terminated components.
Current OEM system designs, and those on the drawing board, are driving these newer technologies, which are the foundation of advanced PCB assembly and manufacturing.
Against this backdrop, cleaning processes—as a major part of PCB assembly and manufacturing—take on new meaning. Cleanliness in manufacturing plays a major role, now more than ever, to not only perform optimal assembly, but also to achieve high reliability. This can come in handy when we are talking about Mil/Aero projects.  
However, calibrating cleanliness to comply with new technology advances is one area that is often taken for granted. Consequently, prudent OEMs, especially those dealing in Mil/Aero and RF/Microwave applications, must pay special attention to this particular area as their advanced products undergo PCB assembly and manufacturing.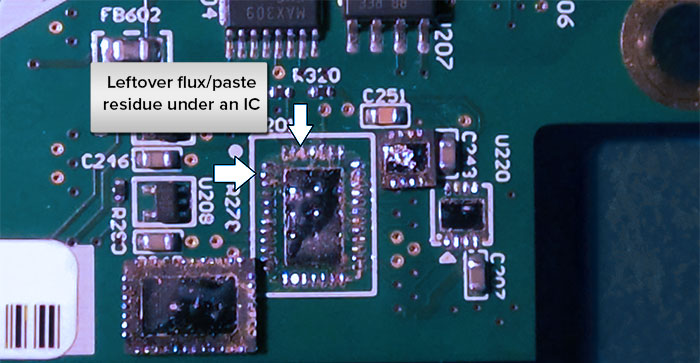 Let's take a step back and consider all those fluxes, pastes, and adhesives we use on a daily basis on the assembly floor. In most instances, after undergoing those processes a PCB retains some residues from those materials. Those remaining residues, however miniscule, must be properly cleaned. Figure 1 shows the flux and paste residues under a device.
Why is that important? Think about those bottom terminated devices like BGAs, QFNs, and DFNs, among others. You cannot physically see flux or paste residue in those hidden device areas. If even the smallest residue gets stuck in those vulnerable device areas, they can create issues and challenges along the assembly path.
This risk is especially true if you are using very fine pitch BGA, QFN, and DFN devices. Let's say some residues are left in those bottom terminated areas. As a result, it will be difficult–to nearly impossible–to perform underfill for those devices. Leftover flux and paste contamination across different QFN and DFN balls and bumps does not allow enough room for underfill material to go in and secure those devices.
Those devices must be properly cleaned. If not, because these are active fluxes, there's a high probability of creating corrosion or contamination; the fluxes have active ingredients which trigger that contamination or corrosion over time. In short, that creates reliability issues during assembly and later on in the field as latent failures.
PCB cleanliness is especially critical for Mil/Aero and RF/microwave applications. Mil/Aero, in particular, demands stringent compliance with such standards as Military Standard (MIL/STD) 1246C. In part it says, "This standard provides a basis and a uniform method for specifying product cleanliness levels and contamination control program requirements. The emphasis is on contaminants that cause damage through physical interactions rather than chemical interactions."
RF and microwave applications also require stringent cleaning processes to maintain specified reception and transmission signal speeds. If these products are not cleaned properly, and residues remain there, the speed of these extremely high-speed signals do not travel at optimal levels. As a result, higher than normal signal to noise ratio (SNR) is generated, which is not desirable. Furthermore, residues deteriorate signals and signal propagation, thereby making these products less than optimal.
What is Cleanliness, How is It Done, and How Do We Measure It?
There are multiple aspects to cleanliness, defined by IPC class 2 or class 3. Typically, every single board assembled with water soluble flux goes through deionized (DI) water cleaning, which is standard process for board cleaning after the assembly is complete. Here, it's highly important to control the washer's different parameters. What is the water temperature? What is the flow of that water pressure? And what is the conveyor speed on which the board is going through to make sure that your cleanliness is properly performed?
With standard cleaning, you have to make sure to review, examine, and calculate for the optimal cleaning to be performed. In a second category of cleaning, there are cases where DI water cannot perform all the cleaning.  Or, perhaps, there are certain components on the PCB that water can damage.
In cases like these, special chemistry (saponifiers) and batch cleaning processes are used for cleaning. A saponifier, also known as an aqueous cleaner, is formulated to remove resin, rosin, no-clean and water-soluble flux residues. 
Also, during batch cleaning, you need to assure that water is not touching certain components as specified in their datasheets. Your choice of batch cleaning techniques with saponifiers and different chemistries depends on a PCB's application and the type of components on a board. Batch cleaning is a slower process compared to DI water because it isn't as automated as the inline washer process.
As I've said here, DI water is the industry standard cleaning process. Both DI water and batch cleaning are used for Mil/Aero and RF/microwave PCB applications. However, Ionographic testing is required to determine how clean those PCB are which is done by performing measurements on the purities of the board.
The IPC standard for cleanliness is equivalent of 10 micrograms per inch squared of sodium chloride (10µg/in2 of NaCl). That standard is now outdated. Current cleanliness requirements, especially for fine pitch devices are in the range of 2 to 3 mg NaCl equivalent/in2. This measurement is also a process control indicator at an EMS company.
Once the PCBs are cleaned, it may be necessary to further measure the cleanliness level, especially in case of RF and Mil/Aero applications. For this, Ionograph contamination tester comes in handy. It measures the purity of a board, say for example, 99.99% purity or 95.75% purity. So, it gives us a specific quantifiable number, which cannot be challenged or disputed. And that is typically required for extra clean boards that are required either in Mil/Aero or RF/microwave applications.
Zulki Khan is the president and founder of NexLogic Technologies Inc.