Books

Featured Books

design007 Magazine

Latest Issues

Current Issue

Rigid-flex: Designing in 3D

In this month's issue, our expert contributors share their best tips, tricks and techniques for designing rigid-flex circuits. If you're a rigid board designer considering moving into the 3D world of rigid-flex, this issue is just what the doctor ordered!

Simulation, Analysis, and AI

Getting today's designs "right the first time" is critical, especially with costly advanced PCBs. Simulation and analysis software tools can help you in the fight to eliminate respins. They're not magical, but they can predict the future of your design.

Advanced, Complex & Emerging Designs

This month, our contributors focus on designing PCBs with advanced, complex and emerging technologies. We investigate design strategies for boards that are on the cutting edge of technology, or crazily complex, or so new that designers are still writing the rules as they go.

Columns

Latest Columns

||| MENU
Dr. Lawrence T. Pileggi of Carnegie Mellon University to be Honored with 2023 Phil Kaufman Award
September 6, 2023 | SEMI
Estimated reading time: 3 minutes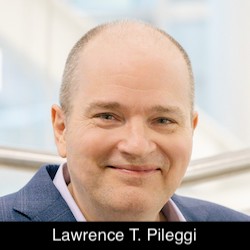 Dr. Lawrence Pileggi, Coraluppi Head and Tanoto Professor of Electrical and Computer Engineering at Carnegie Mellon University, will be honored with the 2023 Phil Kaufman Award for distinguished contributions to Electronic System Design (ESD). The award will be presented at the annual Phil Kaufman Award presentation and dinner in Q1 2024.
Dr. Pileggi will be honored for his pioneering contributions to circuit simulation and optimization that have enabled the industry to address the challenge of interconnect delay dominated designs, and for his innovations in Electrical & Computer Engineering (ECE) education. The Phil Kaufman Award is presented annually by the Electronic System Design Alliance (ESD Alliance), a SEMI technology community, and the Council on Electronic Design Automation (CEDA) of the Institute of Electrical and Electronics Engineers (IEEE).
"Dr. Pileggi's work over the last several decades has been pivotal to the advancement of circuit simulation and optimization in electronic design automation," said Anirudh Devgan, President and CEO of Cadence Design Systems, a member of the ESD Alliance. "Larry is one of the most influential professors in our field; his work has had widespread, profound and lasting impact on the industry."
"Larry Pileggi has had a broad and deep influence on EDA, spanning education, key inventions, research consortia, and commercial startups," said Leon Stok, Vice President of EDA at IBM. "In each of these, he is not just participating but driving the outcome."
"Dr. Pileggi has been a key innovator and EDA educator with numerous fundamental technical contributions in modeling, design and design methodologies for integrated systems and electrical power systems," said Gi-Joon Nam, President of the IEEE Council on EDA. "Further, with over 30 years on the faculty of Carnegie Mellon University and the University of Texas at Austin, his numerous Ph.D. students continue to enhance the semiconductor industry."
"On behalf of the ESD Alliance, I congratulate Dr. Pileggi on being honored with the 2023 Phil Kaufman award," said Bob Smith, Executive Director of the ESD Alliance. "The industry would not be where it is today without his fundamental R&D, which has enabled much of the advanced technology we use every day."
About Dr. Lawrence T. Pileggi
Prior to his current role as Coraluppi Head and Tanoto Professor of Electrical and Computer Engineering at Carnegie Mellon University, Dr. Pileggi held positions at Westinghouse Research and Development and the University of Texas at Austin. He has consulted for various semiconductor and EDA companies and co-founded Fabbrix Inc., Extreme DA, and Pearl Street Technologies. His research interests include various aspects of digital and analog integrated circuit design and simulation, optimization, and modeling of electric power systems.
Dr. Pileggi has received numerous awards, including the ACM/IEEE A. Richard Newton Technical Impact Award in Electronic Design Automation in 2011 and the 2015 Semiconductor Industry Association (SIA) University Researcher Award.
He co-authored Electronic Circuit and System Simulation Methods, McGraw-Hill, 1995 and IC Interconnect Analysis, Kluwer, 2002, has published over 400 conference and journal papers, and holds 40 U.S. patents. He is a fellow of the IEEE.
Dr. Pileggi received his BSEE and MSEE from the University of Pittsburgh in 1983 and 1984, respectively, and his Ph.D. from Carnegie Mellon University in 1989.
About the Phil Kaufman Award
The Phil Kaufman Award honors individuals who have had a demonstrable impact on the field of electronic system design through technology innovations, education/mentoring, or business or industry leadership. The award was established as a tribute to Phil Kaufman, the late industry pioneer who turned innovative technologies into commercial businesses that have benefited electronic designers. The 2022 recipient was Dr. Giovanni de Micheli, Professor and Director of the Institute of Electrical Engineering and of the Integrated Systems Centre at EPF Lausanne, Switzerland.
About the IEEE Council on Electronic Design Automation (CEDA)
The IEEE Council on Electronic Design Automation (CEDA) provides a focal point for EDA activities spread across seven IEEE societies (Antennas and Propagation, Circuits and Systems, Computer, Electron Devices, Electronics Packaging, Microwave Theory and Techniques, and Solid-State Circuits). The Council sponsors or co-sponsors over a dozen key EDA conferences including: the Design Automation Conference (DAC), Asia and South Pacific Design Automation Conference (ASP-DAC), International Conference on Computer-Aided Design (ICCAD), Design Automation and Test in Europe (DATE), and events at Embedded Systems Week (ESWEEK). The Council also publishes IEEE Transactions on Computer-Aided Design of Integrated Circuits & Systems (TCAD), IEEE Design & Test (D&T), and IEEE Embedded Systems Letters (ESL). The Council boasts a prestigious awards program in order to promote the recognition of leading EDA professionals, which includes the A. Richard Newton, Phil Kaufman, and Ernest S. Kuh Early Career Awards. The Council welcomes new volunteers and local chapters.
---
Suggested Items
09/27/2023 | Brad Griffin, Cadence Design Systems
Another challenge for SerDes is losses within the channel design. At high speeds, dielectric material can be very lossy, making the appropriate selection of the right material, length, etc., critical for the channel. Many questions about stackup, trace widths, and height from the ground plane need to be defined up front. Simulating a signal with a topology explorer tool extracted from the design can be used to set up and run sweep parameters and push min/max length/spacing values into the Allegro schematic constraint manager (system capture).
09/27/2023 | Keysight Technologies, Inc.
Keysight Technologies, Inc. introduces Keysight EDA 2024, a tightly integrated suite of electronic design automation (EDA) software tools that ensures first pass success.
09/27/2023 | I-Connect007 Editorial Team
Oved Shapira is CEO of PCB Technologies, the Israeli-based printed circuit provider. PCB Technologies has recently invested in facilities and expertise to design, fabricate, and assemble substrates, a key component for advanced packaging technologies. Oved spoke with Barry Matties and Nolan Johnson about how advanced packaging will influence the industry. He said it will shift everything, including design, fabrication, assembly techniques, and capital equipment development. Some of these shifts might be subtle, and others more seismic. Whatever the changes, Oved says it's coming.
09/27/2023 | Transition Automation, Inc.
Transition Automation, Inc. has improved the unique Paste Retainer System that is included in the company's line of squeegee holder systems.
09/26/2023 | Cadence Design Systems, Inc.
Cadence Design Systems, Inc. announced the expansion of its node-to-node design migration flow based on the Cadence® Virtuoso® Studio, which is compatible with all TSMC advanced nodes, including the latest N3E and N2 process technologies.