Books

Featured Books

design007 Magazine

Latest Issues

Current Issue

Rigid-flex: Designing in 3D

In this month's issue, our expert contributors share their best tips, tricks and techniques for designing rigid-flex circuits. If you're a rigid board designer considering moving into the 3D world of rigid-flex, this issue is just what the doctor ordered!

Simulation, Analysis, and AI

Getting today's designs "right the first time" is critical, especially with costly advanced PCBs. Simulation and analysis software tools can help you in the fight to eliminate respins. They're not magical, but they can predict the future of your design.

Advanced, Complex & Emerging Designs

This month, our contributors focus on designing PCBs with advanced, complex and emerging technologies. We investigate design strategies for boards that are on the cutting edge of technology, or crazily complex, or so new that designers are still writing the rules as they go.

Columns

Latest Columns

||| MENU
Book Excerpt: 'The Printed Circuit Designer's Guide to... Manufacturing Driven Design,' Chapter 4
September 12, 2023 | I-Connect007 Editorial Team
Estimated reading time: 1 minute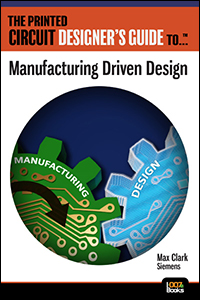 Excerpt from: The Printed Circuit Designer's Guide to... Manufacturing Driven Design, Chapter 4—Concurrent and Intelligent DFM
Bridging the Gap
If Manufacturing Driven Design is to be considered as the eventual end goal of the larger product manufacturing process, it is worthwhile to consider where the current industry is in terms of adoption of this methodology. I spent a good deal of time in Chapter 3 specifically explaining what DFM is not. In this chapter, we will cover what, and where, DFM currently is. DFM has been evolving away from the rudimentary and manual selection Engineering Rules Files to an automated and intelligent means of assigning manufacturing process requirements based on design characteristics.
It could be suggested that DFM is meant to represent the manufacturers' interpretations of the design requirements only from a process perspective. This may suggest that DFM should have been viewed as a transitional solution that is better off taken into consideration throughout the design process. Widespread technological adoption of MDD within the PCB industry has been rather cautious as a whole, especially when compared to similar fields which have already adopted an MDD approach. Many within the industry see the evolution of DFM as the end solution, instead of as a transitionary approach to manufacturing. Within late-stage DFM, there are several significant advancements that are now emerging which show promise in bridging the gap between Digital Rule Checks (DRCs) and MDD. These are the use of Concurrent DFM and Intelligent DFM.
Both concurrent and intelligent DFM complement each other within the typical workflow and represent the beginnings of a transition away from a classical DFM, allowing for an improved NPI process.
---
Suggested Items
09/28/2023 | Technica USA
Technica USA announced it has reached a Master Distribution Agreement with SAA to promote and support automation systems & technology offered by SAA.
09/28/2023 | GlobalFoundries
GlobalFoundries (GF) announced the official opening of a new hub facility in Penang, Malaysia.
09/28/2023 | IPC
IPC continues to collaborate with the electronics manufacturing industry to meet their current and future workforce training needs.
09/26/2023 | GlobalFoundries
GlobalFoundries (GF) announced it has applied for U.S. CHIPS and Science Act Funding, with two full applications submitted to the CHIPS Program Office of the U.S. Department of Commerce.
09/22/2023 | GlobalFoundries
The U.S. Department of Defense (DoD) has awarded GlobalFoundries (Nasdaq: GFS) (GF) a new 10-year contract for a supply of securely manufactured, U.S.-made semiconductors for use across a wide range of critical aerospace and defense applications.