Books

Featured Books

design007 Magazine

Latest Issues

Current Issue

Odd Geometries

In this issue, we discuss some of the challenges, pitfalls and mitigations to consider when designing non-standard board geometries. We share strategies for designing odd-shaped PCBs, including manufacturing trade-offs and considerations required for different segments and perspectives.

Simplification

On the subject of simplification, our expert contributors explain how to design PCBs without making them complex and over-constrained—whatever the level of technology. In addition, we discuss the effect your decisions and tradeoffs have on design complexity.

The Standards of Design

Our expert contributors discuss how PCB designers can utilize standards to save time and money, not to mention frustration. We also spotlight the newly updated version of the IPC Checklist, a handy guide that illustrates which standards cover which topics, from front-end design through assembly.

Columns

Latest Columns

||| MENU
Shipments of Smartphone Panels Are Forecasted to Drop by 9% YoY for 2024
September 28, 2023 | TrendForce
Estimated reading time: 2 minutes
TrendForce projects that shipments of smartphone display panels (smartphone panels) will reach approximately 1.85 billion pieces in 2023, reflecting a YoY increase of 8.7%. This growth is primarily driven by the demand from the smartphone repair market, the market for second-hand smartphones, and the release of new smartphone models. Looking ahead to 2024, TrendForce anticipates that the supply-demand dynamics of the smartphone market will return to a normal cycle. Consequently, there could be a drop in demand for second-hand devices and device repair. TrendForce forecasts that shipments of smartphone panels will amount to around 1.82 billion pieces in 2024, reflecting a YoY decline of 9%.
Regarding shipments of smartphone panels from individual panel makers, the decline in demand for LCD panels is a shared issue for some of them. Currently, BOE firmly holds the top position in global smartphone panel shipments, with an estimated shipment of around 560 million pieces for 2023. However, in 2024, BOE is expected to be impacted by the weakening demand for LCD panels, resulting in a projected YoY drop of 7.2% to around 520 million pieces. Following BOE is SDC in second place. Due to the decline in demand for rigid AMOLED panels, SDC's shipments for 2023 are forecasted around 350 million pierces. As for 2024, SDC's shipment figures are expected to remain relatively on par with the figure 2023 as its performance is expected to be sustained by the demand related to Samsung's and Apple's devices. Tianma is estimated to ship around 175 million pieces of smartphone panels in 2023, securing the company's third-place position. As Tianma expands collaborations with various brands, there is a chance that its shipments could see a marginal YoY increase of 5.2% for 2024, totaling about 190 million pieces.
Innolux is ranked in fourth place in shipments at about 140 million pieces for 2023 and is projected at about 125 million pieces for 2024 under a YoY reduction of 11.2% due to the shrinking demand from the LCD market. HKC, ranked at fifth place, is estimated at a shipment volume of 170 million pieces for 2023 attributed to its cost advantage from the G8.6 production lines, and is projected to grow to 180 million units in shipments for 2024 at a YoY growth of 4.2%. TrendForce commented that SDC is the sole maker among the top five players that is deteriorating in shipments during 2023 due to the declining demand for rigid AMOLED panels, meaning that rigid AMOLED panels made by South Korean makers are gradually subsiding in market shares, after the initiation of mass production on flexible AMOLED panels by Chinese makers, on account of insufficient cost competitiveness.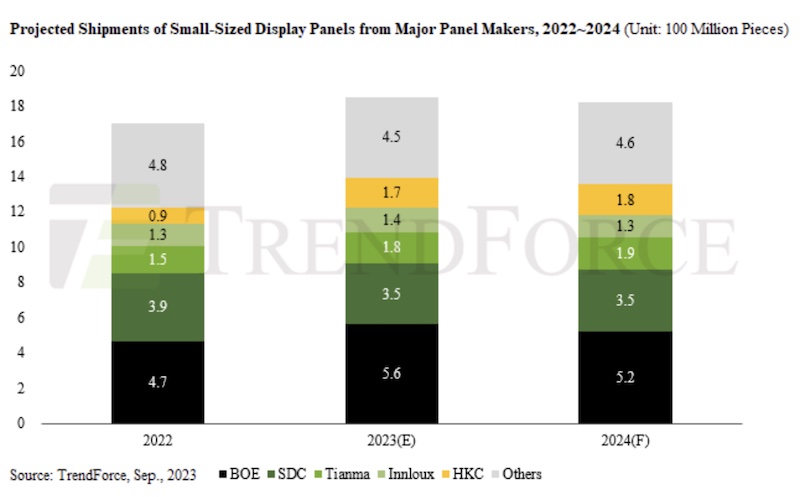 As for the shipment ratio among panel makers by region, Taiwanese makers are able to hold onto their proportion thanks to the support from a-Si LCD, while Japanese makers are dropping in shipments due to their expeditious exit from the smartphone market. South Korean makers are maintained at 23-25% of shipments attributable to their technology of flexible AMOLED panels and the corresponding adoption by high-end smartphones. Chinese makers have ascended from 54.8% (2022) to 63.7% (2023) in overall shipments of smartphone panels, which showcases their continued significance in the overall smartphone supply chain.
---
Suggested Items
12/08/2023 | Real Time with...productronica
MivaTek's Brendan Hogan talks about how the company employs Digitally Adaptive Rasterization Technology (DART) in their high-res imaging equipment. He also shares how the blurred line between semiconductors and microelectronics is driving broader application of the imaging process.
12/08/2023 | Hentec Industries/RPS Automation
Hentec Industries/RPS Automation, a leading manufacturer of selective soldering, lead tinning and solderability test equipment, is pleased to announce that Agility Manufacturing Inc. has finalized the purchase of their second Hentec/RPS Vector 460 selective soldering system.
12/08/2023 | DuPont
DuPont announced it has received a perfect score of 100 on the Human Rights Campaign Foundation's 2023-2024 Corporate Equality Index (CEI), the nation's foremost benchmarking survey and report measuring corporate policies and practices related to LGBTQ+ workplace equality.
12/07/2023 | Real Time with...productronica
Ashley Steers, Electra Polymers, updates Pete Starkey on the company's future, including a new manufacturing facility dedicated to producing inkjet solder mask.
12/07/2023 | Real Time with...productronica
Pete Starkey Interviews Dr. Giovanni Obino From MKS Atotech. Real-time feedback and two points of view are just some of the features of Atotech's IIoT platform.