Books

Featured Books

pcb007 Magazine

Latest Issues

Current Issue

The Registration Sweet Spot

Registration is underrated and underappreciated. The key is to ensure proper registration from layer to layer across the entire printed circuit board. It's a holistic process requiring anticipation, prediction, precise attention at each step, and detailed data tracking and monitoring.

High-reliability Fabrication

In this month's issue, our expert contributors discuss the latest in technologies, trends, complexities and resources regarding high-reliability fabrication.

Finding Ultra

New demands on PCB fabrication, namely advanced packaging, ultra high density interconnect (UHDI), and new specialty materials, are converging, changing the landscape of our business. Is it time to start paying close attention to this convergence?

Columns

Latest Columns

||| MENU
Perfect Point Announces Release of New FPC & Adhesive Based Material Endmill
October 30, 2019 | Perfect Point
Estimated reading time: Less than a minute
Perfect Point and Jinzhou have recently released the newly designed "SR111RE" single flute endmill.  The "SR111RE" is an enhanced single flute endmill specifically engineered for processing of FPC, rigid-flex builds and adhesive layers with an excellent finish.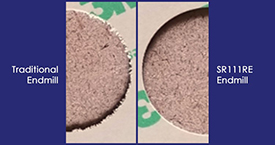 Perfect Point has identified and solved an industry challenge in cutting/milling soft materials, particularly with builds containing adhesive layers. Traditional endmills in the market generate a significant amount of heat during the routing process with these soft materials, resulting in a poor edge finish on the panel profile. The modified helix and other geometry improvements on the SR111RE prove to be extremely effective at heat mitigation by more effectively evacuating debris, resulting is a nice profile finish.
In addition to these design attributes, the "SR111RE" is available with Perfect Point's "CARBONITE" proprietary coating allowing for improved wear resistance and even better debris evacuation for more complex builds.
"We are delighted to introduce our new SR111RE tools to North America. This revolutionary design will allow PCB manufacturers to realize significantly yields and produce higher quality product," says Edson Bosetti, product manager.
---
Suggested Items
10/03/2023 | Nolan Johnson, PCB007 Magazine
Automation is everywhere, and nowhere is that more evident than the machines from Schmoll used in the new captive facility for Schweitzer Engineering Laboratories. Schmoll Maschinen GmbH Executive Director Stephan Kunz, and Evan Howard, service manager for Schmoll products, Burkle North America, discuss how their machines are perfectly suited for SEL's production lines.
09/15/2023 | STARTEAM GLOBAL
STARTEAM GLOBAL, a leading manufacturer of Printed Circuit Boards (PCB), technology and service solutions, is pleased to announce the opening of our new PCB manufacturing factory in Prachinburi, Thailand, on Wednesday 27 September 2023.
09/14/2023 | MKS' Atotech
MKS' Atotech, a leading surface finishing brand of MKS Instruments, will participate in the upcoming IPCA Expo at Bangalore International Exhibition Centre (BIEC) and showcase its latest PCB manufacturing solutions from September 13 – 15.
09/11/2023 | American Standard Circuits
American Standard Circuits has purchased and installed new Schmoll SpeedMaster HDI 6 high technology drilling equipment provided by Burkle North America.
09/27/2023 | Michael Ford -- Column: Smart Factory Insights
The PCB has become a neglected component from the Smart assembly manufacturing perspective, wrongly regarded as just a "given" material. We need to put it right. PCB manufacturing needs to become Smart in order to make the local fabrication business model work as part of the holistic electronics' "smarter, secure, and sustainable" approach—what I'm calling the new three Ss of manufacturing.