Books

Featured Books

design007 Magazine

Latest Issues

Current Issue

Simplification

On the subject of simplification, our expert contributors explain how to design PCBs without making them complex and over-constrained—whatever the level of technology. In addition, we discuss the effect your decisions and tradeoffs have on design complexity.

The Standards of Design

Our expert contributors discuss how PCB designers can utilize standards to save time and money, not to mention frustration. We also spotlight the newly updated version of the IPC Checklist, a handy guide that illustrates which standards cover which topics, from front-end design through assembly.

Rigid-flex: Designing in 3D

In this month's issue, our expert contributors share their best tips, tricks and techniques for designing rigid-flex circuits. If you're a rigid board designer considering moving into the 3D world of rigid-flex, this issue is just what the doctor ordered!

Columns

Latest Columns

||| MENU
But Wait, There's More Happy-ness: Happy Holden Wants Your Questions
July 15, 2020 | I-Connect007 Editorial Team
Estimated reading time: Less than a minute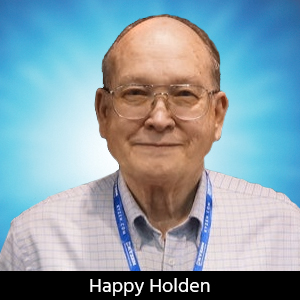 It started out as a simple idea: Why not let our readers pose questions to Happy Holden? And we mean any question—technical, market trends, you name it.
As you've no doubt discovered while perusing the pages of I-Connect007 newsletters over the past few weeks, "Just Ask Happy" turned out better than we could have imagined. PCB designers, fabricators, and assembly providers from all over the world submitted their questions. So far, Happy has answered questions regarding everything from HDI and stacked microvia reliability challenges to the flexible and rigid-flex issues, and the global PCB fabrication market of the future.
The "Just Ask Happy" series has been so popular that we're giving readers another bite at the apple. Here's your chance to send Happy Holden more of your questions. What's the one question about this industry that no one has ever been able to answer to your satisfaction?
Just ask Happy! If Happy doesn't know the answer, he'll talk to someone who does. To submit your questions to Happy, click here.
---
Suggested Items
12/07/2023 | TrendForce
TrendForce reports that smartphone production—fueled by reduced channel inventories and spikes in seasonal demand—saw a significant uptick in 3Q23.
12/06/2023 | IDC
Worldwide shipments of wearable devices grew 2.6% year over year during the third quarter of 2023 (3Q23) and reached an all-time high for the third quarter of 148.4 million units, according to new data from the International Data Corporation (IDC) Worldwide Quarterly Wearable Device Tracker.
12/05/2023 | TrendForce
TrendForce reports a pivotal shift in the NAND Flash market for 3Q23, primarily driven by Samsung's strategic decision to reduce production.
12/04/2023 | Cicor
The Cicor Group is publishing its financial mid-term targets for the next three to four years today and hosts its Capital Markets Event 2023 this evening in Zurich.
12/04/2023 | TrendForce
TrendForce investigations reveal a significant leap in the DRAM industry for 3Q23, with total revenues soaring to US$13.48 billion—marking 18% QoQ growth.