Books

Featured Books

design007 Magazine

Latest Issues

Current Issue

Simplification

On the subject of simplification, our expert contributors explain how to design PCBs without making them complex and over-constrained—whatever the level of technology. In addition, we discuss the effect your decisions and tradeoffs have on design complexity.

The Standards of Design

Our expert contributors discuss how PCB designers can utilize standards to save time and money, not to mention frustration. We also spotlight the newly updated version of the IPC Checklist, a handy guide that illustrates which standards cover which topics, from front-end design through assembly.

Rigid-flex: Designing in 3D

In this month's issue, our expert contributors share their best tips, tricks and techniques for designing rigid-flex circuits. If you're a rigid board designer considering moving into the 3D world of rigid-flex, this issue is just what the doctor ordered!

Columns

Latest Columns

||| MENU
The Case for ODB++: Interview with Pat McGoff and Max Clark
October 14, 2021 | I-Connect007 Editorial Team
Estimated reading time: 4 minutes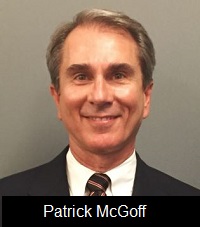 This is one of three interviews from the October 2021 issue of Design007 Magazine that focuses on design data formats.
To many, ODB++ still seems like a new format, but it has been around in one form or another for decades. ODB++ is gaining users every year, and has clinched a strong second place behind Gerber—first among intelligent formats.
To learn more about ODB++, we spoke with Pat McGoff and Max Clark of Siemens Digital Industries Software, two developers who have been working on the format for years. In this interview, they explain how ODB++ works, why they believe designers and manufacturers should switch to this format, and what's next for ODB++.
Andy Shaughnessy: Pat, would you give us a brief background about ODB++ and how it got to this point?
Pat McGoff: ODB++ originated in 1995, so the industry has been using it for 26 years. I think that is noteworthy. It's not the new kid on the block; it's not unproven. It absolutely is proven. The important thing is that the industry has determined its value over the course of 26 years. The customers decide what tools and formats are best for them. Nothing can be dictated or pushed on them, and they'll decide over time if this is going to serve them best. Then, it's like water flowing downhill.
ODB++ today is not the same as what you thought of ODB++ in the past. Before, ODB++ was a singular format; today, it's part of a family of formats. A year ago, we announced the family of ODB++. We've broken it down into ODB++ Design, ODB++ Process, and ODB++ Manufacturing. Just to give you a simple explanation, ODB++ Design was formerly known as just ODB++. That's the format that used to communicate the full manufacturing product model from design to manufacturing.
ODB++ Process is a format to provide common communications for driving PCB assembly equipment, to take data from a CAM system and drive the SMT equipment directly. The third one is ODB++ Manufacturing, and that's the protocol for the collection of data from the shop floor, so you've got a common standard of how to collect it and aggregate it from the wide variety of both automated machines and manual processes.
Dan Feinberg: ODB++ as it is today combines the ability to view both process and manufacturing, correct?
McGoff: Yes. I'm trying to be clear and call it a family. There are three different formats within the family, so I think that's the gist of what you're interested in, but I want everybody to know that the family of formats, of ODB++, has expanded beyond just that one.
Nolan Johnson: If you don't mind, can I attach some categories to this? Design is going to be the design data. Process is going to capture more of the assembly and manufacturer instructions—how to put it together. Manufacturing, then, is basically capturing the as-built data.
McGoff: That's a very good way to put it, Nolan. With that said, obviously, the format has evolved. It started with the origins of Valor. Max was employee number three for Valor here in the U.S., and I was employee number nine. For the past 14 years now, we both have been directly responsible for the format. Clearly, Max is on the technical side, and me on the marketing and customer support side, but we consider ourselves stewards of the format. It's something that Valor originated, Mentor took ownership of it when they acquired us in 2010, and Siemens took ownership of it when they acquired Mentor in 2017. It's perpetuated. As a matter of fact, you can go to the ODB++ website and see that we currently have more than 73,000 users registered on the ODB++ website. That's a very significant number. It clearly is the highest number of users of any intelligent format you're going to see in the industry, so that shows how broadly it's being used.
Equally important is we have 80 software companies signed up on our partners page, committed by contract to support it. That's important, as being software companies, they are the tool suppliers—the people who make the ecosystem work. I emphasize this because of these 73,000 users, maybe that represents 10,000 or 20,000 companies. What's important for any format to be successful and have value for the industry is that the tools in the ecosystem must support the format because if a format runs into a dead end anywhere in the process of design through manufacturing, then it's just that, a dead end. It's not serving the flow completely. Then, you would have to complement that format with additional data in a different format to complete your process. You're not going to find any other formats out there in the industry that are supported by as many software companies in the ecosystem as ODB++ has.
To read this entire conversation, which appeared in the October 2021 issue of Design007 Magazine, click here.