Books

Featured Books

design007 Magazine

Latest Issues

Current Issue

Simplification

On the subject of simplification, our expert contributors explain how to design PCBs without making them complex and over-constrained—whatever the level of technology. In addition, we discuss the effect your decisions and tradeoffs have on design complexity.

The Standards of Design

Our expert contributors discuss how PCB designers can utilize standards to save time and money, not to mention frustration. We also spotlight the newly updated version of the IPC Checklist, a handy guide that illustrates which standards cover which topics, from front-end design through assembly.

Rigid-flex: Designing in 3D

In this month's issue, our expert contributors share their best tips, tricks and techniques for designing rigid-flex circuits. If you're a rigid board designer considering moving into the 3D world of rigid-flex, this issue is just what the doctor ordered!

Columns

Latest Columns

||| MENU
Happy Holden Reflects on Successful IPC APEX EXPO 2022
March 9, 2022 | Happy Holden, I-Connect007
Estimated reading time: 2 minutes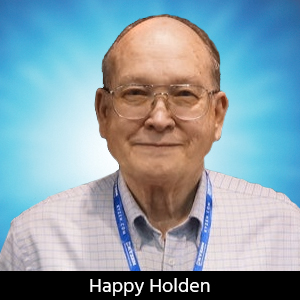 The attendance at this year's IPC APEX EXPO seemed higher than I expected, so thank you all for making the necessary arrangements to attend. However, we sorely missed many of our foreign contributors and friends.
I repeatedly heard this well-worn phrase, "It's good to see everyone again!" I agree. It was good to see so many friends—both renewing former acquaintances and making new friends. I enjoyed several conversations, many of them technical, about the current state of the industry, how we feel about masks and COVID, and what we can expect to see in the coming year.
One of my cherished reunions was with Pete Starkey, who fought through the red tape of government restrictions to make his way from England for the show. Both of us were able to help conduct interviews with many of the industry's business and technical leaders. For that, I am grateful.
I also want to thank I-Connect007 for inviting me to participate with them, and for taking extra safety precautions so that I would be able to return home and not bring back any virus to my wife. Thankfully, I made it through seven days without an incident.
I also want to mention our "data angel" Amanda Gustafson, a contractor from Convention Data Services, who oversaw the registration for IPC. She was fast, efficient, and took loving care of us.
As for the show, what can I say but it was beyond expectations. I thoroughly enjoyed the keynotes from John Mitchell and David Pogue, the latter of whom chose the appropriate topic of "disruptive tech" and how it will affect your business. Be sure to read the reports and interviews regarding Pogue's presentation here in Show & Tell Magazine.
I thought John's talk was inspiring and truly covered the needs and challenges our industry faces. I hope those who listened will take action. However, it had a heavy focus on electronics assembly and was weak on substrate fabrication, where I feel there is a dire need for some support.
But the real highlight for me this time around was an opportunity to meet some young engineers who are just starting their careers. As many of you know, I have been in this business for the better part of 50 years, and I so enjoy seeing young people who are developing a love for the industry and want to make their own mark—just as I have done.
Two of these young engineers were Paige Fiet and Hannah Nelson. Paige is leaving her position as a student director on the IPC Board of Directors now that she has graduated, while Hannah is still in college and is taking on the role left open by Paige.
We have great confidence in Paige as she gains comfort in her new role at TTM. The IPC STEM program did its job well in helping prepare Paige, and others, for their new careers. I also know Hannah will do exceptionally well. She is eager to listen and learn and has already recognized where her voice can be heard.
To read this entire article, which appeared in the Real Time with... IPC APEX EXPO 2022 Show & Tell Magazine, click here.
---
Suggested Items
11/29/2023 | HyRel
HyRel Technologies, a global provider of quick turn semiconductor modification solutions, is pleased to announce a strategic partnership with EQC Southeast as its manufacturers' representative.
11/28/2023 | IPC
Neil Shah, senior technical director at alliantgroup, a tax and business consultancy, will present a technical education workshop,
11/27/2023 | Dan Beaulieu -- Column: It's Only Common Sense
Being the best is never easy. When you study the life of elite athletes, for example, you will find a list of characteristics that typically puts plain old hard work at the top. These athletes work harder than anyone else. They're the first ones there in the morning and the last to leave at the end of the day. They literally live and breathe what they are doing. They don't allow themselves any breaks, excuses, or cop outs. They are, as we say, all in.
11/27/2023 | GOEPEL Electronics
The US branch of GÖPEL electronic is proud to announce the addition of David Kalaidjian as the new National Sales Development Manager.
11/27/2023 | Linköping University
Linköping university has been granted six million SEK from the Swedish Innovation Agency (Vinnova) for the research project Catena-D (Circular and resource-efficient value chain systemically enabled with AI and digital thread).