Books

Featured Books

design007 Magazine

Latest Issues

Current Issue

Rigid-flex: Designing in 3D

In this month's issue, our expert contributors share their best tips, tricks and techniques for designing rigid-flex circuits. If you're a rigid board designer considering moving into the 3D world of rigid-flex, this issue is just what the doctor ordered!

Simulation, Analysis, and AI

Getting today's designs "right the first time" is critical, especially with costly advanced PCBs. Simulation and analysis software tools can help you in the fight to eliminate respins. They're not magical, but they can predict the future of your design.

Advanced, Complex & Emerging Designs

This month, our contributors focus on designing PCBs with advanced, complex and emerging technologies. We investigate design strategies for boards that are on the cutting edge of technology, or crazily complex, or so new that designers are still writing the rules as they go.

Columns

Latest Columns

||| MENU
September 2022 Issue of Design007 Magazine Available Now
September 9, 2022 | I-Connect007 Editorial Team
Estimated reading time: Less than a minute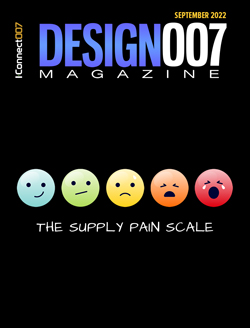 In our August issue of SMT007 Magazine, "supply pain management" was the topic of discussion. This reminds us of the question that doctors often ask: "What's your pain level on a scale of 1–10?"
Designers and design engineers have learned to navigate this supply chain craziness, snatching up components that are in short supply or making do with lower-tech parts that are available.
Supply chain management is a dynamic situation, with a number of global forces that can create pain for PCB designers. In this issue, we speak with a variety of experts and bring you up-to-the-minute insight about designing PCBs in this ever-changing environment. Take a breath and prepare to work through the supply pain as you flip through the pages of this month's Design007 Magazine.
Download your PDF copy today for future reference.
Subscribe here for our email notification direct to your inbox each month.
---
Suggested Items
09/29/2023 | KemLab Inc.
KemLab Inc., a pioneering developer of advanced materials for microelectronics and MEMS applications, welcomes the promising strides made by the CHIPS Act in bolstering the nation's semiconductor manufacturing capabilities.
09/20/2023 | Zentech Manufacturing
Zentech Manufacturing is pleased to announce that it has chosen Tim Facklam to be its Chief Operating Officer.
09/14/2023 | CONFIDEE
CONFIDEE, a leading PCB partner, proudly announces its recent achievement of AS9120 certification. This prestigious certification highlights the company's commitment to excellence, quality, and customer satisfaction, making it a preferred choice for all defence and aerospace needs.
09/13/2023 | TrendForce
TrendForce's latest research paints a vivid picture: Q2 saw the NAND Flash market still grappling with lackluster demand and being significantly outpaced by supply.
09/13/2023 | Lea Maurel, ICAPE Group
In today's interconnected and rapidly evolving business landscape, sourcing diversification has emerged as a crucial strategy for organizations aiming to stay competitive and thrive in a dynamic marketplace. The traditional approach of relying on a single source for procurement is being replaced by a more sophisticated and strategic mindset that emphasizes the advantages of exploring multiple procurement channels. This approach not only opens doors to a whole different network of suppliers, but also offers numerous benefits, such as navigating sales increases, ensuring smoother deliveries, and promoting innovation within the organization.