Books

Featured Books

design007 Magazine

Latest Issues

Current Issue

Rigid-flex: Designing in 3D

In this month's issue, our expert contributors share their best tips, tricks and techniques for designing rigid-flex circuits. If you're a rigid board designer considering moving into the 3D world of rigid-flex, this issue is just what the doctor ordered!

Simulation, Analysis, and AI

Getting today's designs "right the first time" is critical, especially with costly advanced PCBs. Simulation and analysis software tools can help you in the fight to eliminate respins. They're not magical, but they can predict the future of your design.

Advanced, Complex & Emerging Designs

This month, our contributors focus on designing PCBs with advanced, complex and emerging technologies. We investigate design strategies for boards that are on the cutting edge of technology, or crazily complex, or so new that designers are still writing the rules as they go.

Columns

Latest Columns

||| MENU
I-Connect007 Editor's Choice: Five Must-Reads for the Week
February 10, 2023 | Nolan Johnson, I-Connect007
Estimated reading time: 3 minutes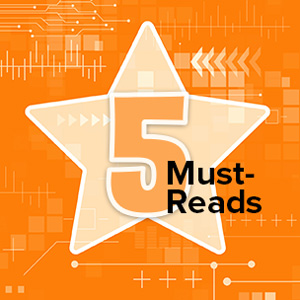 Pull back the rubber band of a slingshot and hold it there. As you do so, you'll feel the tension, the gathered potential energy. It almost makes your hand quiver just to hold it. Release the rubber band and the object in the slingshot's pocket launches, hurtling forward as if impatient from waiting so long.
This week, the news feels just like a slingshot. The 2020-21 craziness caused us to pull back and hold there, even while research and development work continued. Tension built as we held; we learned new areas of opportunity while we waited. Then when we finally returned to something closer to historical normal, the research and development work has come flying out at a tremendous pace. 
It shows in this week's news. We have new projects in the U.S. Army space programs, research on gold thickness and solderability, a call for papers throughout 2023 from SMTA, an investment in Korean facilities by ASM, and an adjustment in TTM's assignation with the U.S. DoD. All together, these five must-reads represent the hurtling trajectory that R&D seems to be following in 2023. 
TTM Adopts Special Board Resolution with DCSA Replacing SSA 
Published February 6
"Since the SSA was established in 2010, there has been a significant reduction in the foreign ownership of TTM's public shares and our one non-U.S. citizen board member has retired," said Rex Geveden, chairman of the Board of TTM. "As a result, the DCSA has agreed to replace the SSA with the SBR. The company plans to maintain much of the robust infrastructure developed during the adoption of and compliance with the SSA to continue to serve our customers and to maintain our focus on the national security of the United States in our Aerospace and Defense Sector, as one of the top 40 U.S. based defense companies."
CACI Enters Agreement with U.S. Army to Develop, Test Advanced Capabilities on Demonstration Satellite 
Published February 6
If you're not familiar with CACI, according to their website, the company provides "expertise and technology to enterprise and mission customers in support of national security missions and government transformation for defense, intelligence, and civilian customers." 
To that end, CACI International announced that it had "signed a five-year cooperative research & development agreement (CRADA) with the U.S. Army Space and Missile Defense Technical Center (USASMDC-TC) to further the development of advanced payload technologies, space sensor applications, and resilient Positioning, Navigation & Timing (PNT)."
It's hard not to conclude that we are entering into the true golden age of space presence, The 1960s NASA and Soviet space programs may have proven that space travel was possible, but the privatization of space access, and the presence now of multiple countries capable of achieving orbit, speaks to the steady growth of practical space access. Government and DoD work to make space access more accessible continues the momentum. Read about it here.
SMTA: Call for Participation at 2023 Conferences 
Published February 8
SMTA has announced the schedule of events in 2023 for which they are accepting papers. With what seems to be a noticeable uptick in research and development across the industry, perhaps you have recent work to share? Check here to find the conferences that best fit your work … then submit it!
ASM Set to Invest Around $100M in Korean R&D, Manufacturing Operation 
Published February 3
R&D isn't the only part of our industry benefitting from investment and increased activity. Manufacturing buildouts continue apace. Seems it's not just the U.S. and EU standing up manufacturing, either. Korea and Japan have recently announced new strategic investment as well. This week it was ASM standing up Korean development and production. Get the details here. 
Why Gold Layer Thickness in ENIG Matters for Soldering 
Published February February 7
Dr. Britta Schafstellar and team published a report on their work with gold final finish. Opening their paper is this, "The main task of the final finish is to protect the copper pad from tarnishing or oxidation while simultaneously keeping the surface active for the assembly. Electroless nickel/immersion gold (ENIG) is a widely accepted finish in the market that provides a good solderability and capability for Al-wire bonding. A main function of the gold layer is to prevent the oxidation of the nickel layer." The Schafstellar team go on to deliver a detailed look at the relationship between soldering and gold layer thickness; readers found this informative based on the number of reads.
---
Suggested Items
09/28/2023 | Anaya Vardya, American Standard Circuits
There has always been pressure to reduce line and space as we have seen the bleeding edge technology go from 8 mils to 5 mils and then to 3 mils. The difference between "then" and "now" is that the prior advancements, for the most part, used the same processes, chemistry and equipment going from 8 mils to 3 mils. But going from 3 mil to sub 1 mil trace and space is a quantum leap in printed circuit board (PCB) technology that requires a whole new set of processes and materials.
09/28/2023 | Michael Carano -- Column: Trouble in Your Tank
In a previous column, the critical process of desmear and its necessity to ensure a clean copper surface connection was presented. Now, my discussion will focus on obtaining a void-free and tightly adherent copper plating deposit on these surfaces. After the desmear process, the task is to insure a continuous, conductive, and void-free deposit on the via walls and capture pad. Today, there are several processes that can be utilized to render vias conductive.
09/20/2023 | I-Connect007 Editorial Team
Panasonic's Darren Hitchcock spoke with the I-Connect007 Editorial Team on the complexities of moving toward ultra HDI manufacturing. As we learn in this conversation, the number of shifting constraints relative to traditional PCB fabrication is quite large and can sometimes conflict with each other.
09/14/2023 | MKS' Atotech
MKS' Atotech, a leading surface finishing brand of MKS Instruments, will participate in the upcoming IPCA Expo at Bangalore International Exhibition Centre (BIEC) and showcase its latest PCB manufacturing solutions from September 13 – 15.
09/14/2023 | Vern Solberg -- Column: Designer's Notebook
Flexible circuit applications can be as basic as furnishing electrical interconnect between two conventional circuit board assemblies, or to prove a platform for placing and interconnecting electronic components. During the planning and pre-design phase of the flexible circuit, there will be several material and process related questions that need to be addressed. Most flexible circuit fabricators welcome the opportunity to discuss their customers' flexible circuit objectives prior to beginning the actual design process.