Books

Featured Books

design007 Magazine

Latest Issues

Current Issue

Rigid-flex: Designing in 3D

In this month's issue, our expert contributors share their best tips, tricks and techniques for designing rigid-flex circuits. If you're a rigid board designer considering moving into the 3D world of rigid-flex, this issue is just what the doctor ordered!

Simulation, Analysis, and AI

Getting today's designs "right the first time" is critical, especially with costly advanced PCBs. Simulation and analysis software tools can help you in the fight to eliminate respins. They're not magical, but they can predict the future of your design.

Advanced, Complex & Emerging Designs

This month, our contributors focus on designing PCBs with advanced, complex and emerging technologies. We investigate design strategies for boards that are on the cutting edge of technology, or crazily complex, or so new that designers are still writing the rules as they go.

Columns

Latest Columns

||| MENU
Sarah Czaplewski-Campbell: Ready to Take Flight
March 17, 2023 | Patty Goldman, I-Connect007
Estimated reading time: 1 minute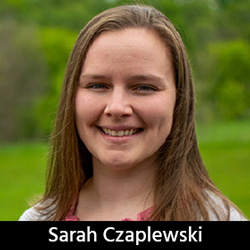 Sarah Czaplewski-Campbell, a materials/product development engineer at IBM, shares her experiences as a young professional who has benefited from the guidance of seasoned mentors alongside her own unflagging drive to expand her industry knowledge. She offers poignant advice for prospective professionals, urging them to assertively seek out advice and experiences that will help them progress in their careers.
Patty Goldman: Sarah, congratulations on your Rising Star Award. How long have you been involved with IPC?
Sarah Czaplewski-Campbell: Thank you. I've been involved with IPC for about four years. I initially got involved through the Emerging Engineers program.
Goldman: Great! How has IPC helped you in your career?
Czaplewski-Campbell: IPC has helped to build my electronics industry knowledge and network. As part of the Emerging Engineers program, I was exposed to Professional Development Courses and technical presentations that not only helped grow my knowledge but sparked interest in new technologies, which I found very beneficial. The program connected me with industry experts whom I could learn from and collaborate with. Since then, I've become involved in the IPC APEX EXPO Technical Program Committee; I'm helping to review the technical content of the papers for the conference. That work has helped further progress my knowledge and engage with the industry.
Goldman: What technologies in electronics have you most excited?
Czaplewski-Campbell: I am excited about quantum computing and the impact that it can have across multiple industries, such as the impact on drug discovery and personalized medicine. There are also many interesting engineering and reliability challenges when working with hardware at the ultra-low temperatures required for quantum computing.
To read this entire conversation, which appeared in the 2023 edition of Show & Tell Magazine, click here.
---
Suggested Items
09/29/2023 | Dixon
Dixon wholly owned subsidiary- Padget Electronics Private Limited enters into an Agreement with Xiaomi to carry out manufacturing of smart phones and other related products for Xiaomi.
09/29/2023 | USPAE
In a major initiative to innovate how the Department of Defense (DoD) spurs commercial technology development, the U.S. Partnership for Assured Electronics (USPAE) and DoD launched a Defense Business Accelerator (DBX) to open doors for industrial base growth and stimulate private investment.
09/28/2023 | KYZEN'
KYZEN, the global leader in innovative environmentally friendly cleaning chemistries, is proud to announce that it is sponsoring the Women's Leadership Program Connection Reception to be held at SMTA International.
09/28/2023 | Nolan Johnson, I-Connect007
The practical question around CHIPS Act development and electronics assembly is, "Will this change how we do business?" Indium Corporation's Dr. Andy Mackie sat down with Nolan Johnson to share what he sees as emerging answers to that question from his perspective as an expert in electronics assembly and packaging, and as a participant in standards development through IPC, JEDEC, and SEMI.
09/28/2023 | ZESTRON
ZESTRON is happy to announce that Senior Application Engineer, Ravi Parthasarathy, will be presenting "Revolutionizing PCB Assembly Cleaning: