Books

Featured Books

design007 Magazine

Latest Issues

Current Issue

Rigid-flex: Designing in 3D

In this month's issue, our expert contributors share their best tips, tricks and techniques for designing rigid-flex circuits. If you're a rigid board designer considering moving into the 3D world of rigid-flex, this issue is just what the doctor ordered!

Simulation, Analysis, and AI

Getting today's designs "right the first time" is critical, especially with costly advanced PCBs. Simulation and analysis software tools can help you in the fight to eliminate respins. They're not magical, but they can predict the future of your design.

Advanced, Complex & Emerging Designs

This month, our contributors focus on designing PCBs with advanced, complex and emerging technologies. We investigate design strategies for boards that are on the cutting edge of technology, or crazily complex, or so new that designers are still writing the rules as they go.

Columns

Latest Columns

||| MENU
Guru & Geezer: A Celebration of the Life of Martin Cotton
May 17, 2023 | Philip Stoten
Estimated reading time: 3 minutes
Editor's Note: The industry lost one of the good ones last weekend when Martin Cotton passed away. Martin not only spent 50 years on the cutting edge of PCB design, he was also, as the axiom goes, "a real character." Everyone who knew Martin has a favorite story about him. At a trade show, Martin once called a group of us younger folks "party poopers" for leaving the bar at 1:30 a.m.; he stayed until 4:30 and still did his presentation at 9 a.m. What else can we say? He was just a hell of a guy. So in honor of Martin and all of the people who loved him, we're publishing this eulogy by EMSNow Publisher Phil Stoten, who knew Martin for over 50 years. Until next time, Martin! 
This last weekend industry guru and dear friend to many Martin Cotton passed away. He was one of the first people I worked with in the electronics industry when I joined Toptec Design to learn to layout PCBs. He was a bit of a rockstar to many PCB designers, myself included. He was known to be among the best in his field, if not the best, and went on to be one of the most influential and innovative people in the industry over a long and distinguished career. He will be hugely missed by his family and by his numerous friends in and out of the electronics industry.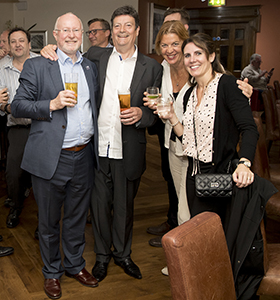 Over five decades Martin performed his magic at companies including Nortel Networks, Viasystems, Sanmina and Ventec International Group, racking up numerous patents along the way and sharing his intellect and his energy and passion for the industry with trade associations like the ICT (??Institute of Circuit Technology) and EIPC (European Institute of Printed Circuits), for whom he spoke on numerous occasions. Less than six months ago, Steve Driver of the ICT presented him with an Honorary Fellowship. Steve Driver said at the time, "Martin has been a huge contributor to the Institute of Circuit Technology for many years. He is a recognised industry expert and is very worthy of this accolade."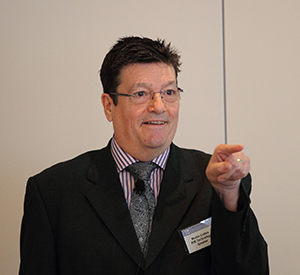 Those that knew Martin as I did, will remember him primarily as the exuberant fun-loving friend that always had your back, and was always up for a big night out, especially if you were lucky enough to spend an evening with him in Munich, after a long day at electronica or productronica. As someone I consider a lifelong friend, that's how I remember him, but Martin was so much more than just a wonderful friend. I don't think many would disagree if I said he was a genius and an innovator in his field. When we talked about technology I was always trying to keep up and it seems the entire industry was too. Martin proved it was possible to be too far ahead of the field, and perhaps a little too smart for the rest of the room!
I spent more than forty years of my career sharing thoughts, ideas and more than a few beers with Martin. He was a mentor, a dear friend and someone I could always count on. I loved working with him and just being in his orbit, where he was the star of the show. I interviewed him on numerous occasions on camera (take a look at those interviews if you find time), and I spent many many great evenings with him just talking and laughing. He always made me think and he always made me smile.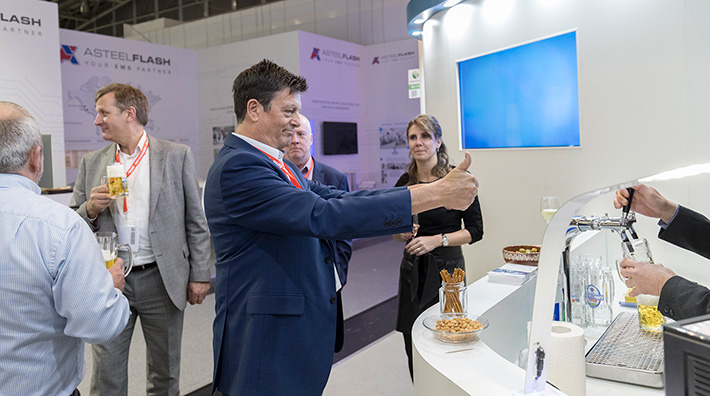 This has also been posted to LinkedIn to encourage his numerous friends and colleagues to comment, then perhaps we can round out a tribute to this guru, this genius and this diamond geezer!
Martin, we love you and we miss you!
Thank you to Alun Morgan for permission to publish his photos in this article and the slideshow below.
---
Suggested Items
09/20/2023 | I-Connect007 Editorial Team
Panasonic's Darren Hitchcock spoke with the I-Connect007 Editorial Team on the complexities of moving toward ultra HDI manufacturing. As we learn in this conversation, the number of shifting constraints relative to traditional PCB fabrication is quite large and can sometimes conflict with each other.
09/19/2023 | Anaya Vardya -- Column: Standard of Excellence
In my last column, I discussed cutting-edge innovations in printed circuit board technology, focusing on innovative trends in ultra HDI, embedded passives and components, green PCBs, and advanced substrate materials. This month, I'm following up with the products these new PCB technologies are destined for. Why do we need all these new technologies?
09/18/2023 | ViTrox
ViTrox, which aims to be the world's most trusted technology company, is excited to announce that our trusted Sales Channel Partner (SCP) in Mexico, SMTo Engineering, S.A. de C.V., will be participating in SMTA Guadalajara Expo & Tech Forum. They will be exhibiting in Booth #911 from the 25th  to the 26th of October 2023,  at the Expo Guadalajara in Jalisco, Mexico.
09/18/2023 | Intel
Intel announced one of the industry's first glass substrates for next-generation advanced packaging, planned for the latter part of this decade.
09/18/2023 | Aidan Salvi -- Column: Facing the Future
I have been in and around circuit boards most of my life. I started 20 years ago in my family's PCB shop, leaving after a couple of years to start my own software company. About a year ago, I returned to the family business, and the first thing I noticed was that nothing had really changed. We were doing the same things in the same way as the day I left. After talking to several experts in the industry, I realized it was worse than that: The manufacturing of PCBs had not changed in 70 years.