Books

Featured Books

design007 Magazine

Latest Issues

Current Issue

Rigid-flex: Designing in 3D

In this month's issue, our expert contributors share their best tips, tricks and techniques for designing rigid-flex circuits. If you're a rigid board designer considering moving into the 3D world of rigid-flex, this issue is just what the doctor ordered!

Simulation, Analysis, and AI

Getting today's designs "right the first time" is critical, especially with costly advanced PCBs. Simulation and analysis software tools can help you in the fight to eliminate respins. They're not magical, but they can predict the future of your design.

Advanced, Complex & Emerging Designs

This month, our contributors focus on designing PCBs with advanced, complex and emerging technologies. We investigate design strategies for boards that are on the cutting edge of technology, or crazily complex, or so new that designers are still writing the rules as they go.

Columns

Latest Columns

||| MENU
The September 2023 Issue of Design007 Magazine Available Now
September 11, 2023 | I-Connect007 Editorial Team
Estimated reading time: Less than a minute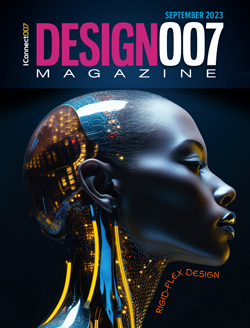 Rigid-flex: Designing in 3D
Not long ago, rigid-flex was considered a niche market. Now, analysts predict that the rigid-flex market will top $5 billion by 2026, lead in part by the adoption of IoT and the need to connect a variety of smart devices. Rigid-flex circuits are everywhere: servers, cameras and pacemakers all use rigid-flex, just to name a few.
In this month's issue of Design007 Magazine, our expert contributors share their best tips, tricks and techniques for designing rigid-flex circuits. If you're a rigid board designer considering moving into the 3D world of rigid-flex, this issue is just what the doctor ordered! And, as Kris Moyer says in his featured interview, An Overview of Rigid-flex Design, "Don't fear rigid-flex."
Quick review link: Design007 Magazine

Add this month's PDF to your library for future reference.

Sign up for monthly publication notifications of this magazine to your inbox.
---
Suggested Items
10/03/2023 | Foxconn
Blue Solutions has signed a memorandum of understanding with Hon Hai Technology Group (Foxconn) and its subsidiary, SolidEdge Solution Inc., to jointly develop a solid-state battery ecosystem for the electric two-wheeler market.
10/02/2023 | Spirit AeroSystems, Inc.
Spirit AeroSystems, Inc., announced the signing of a Maintenance, Repair and Overhaul service agreement through its subsidiaries with Vietnam Airlines Engineering Limited Company (VAECO) at the MRO Asia-Pacific Exhibition in Singapore.
10/02/2023 | Dan Beaulieu -- Column: It's Only Common Sense
A few weeks ago, I wrote about a column about how to manage a slowdown in sales. Since then, many of you have called me and said that things are still not getting better, so I'm happy to talk about this issue again. In my previous column, I listed some things you could do to improve your situation. Please go back and read it. But with so many still in a quagmire, I have gone back to the proverbial drawing board to come up with some new ideas and suggestions.
10/02/2023 | Technica USA
Technica USA announced it has reached a Master Distribution Agreement with SAA to promote and support automation systems & technology offered by SAA.
09/28/2023 | TrendForce
TrendForce projects that shipments of smartphone display panels (smartphone panels) will reach approximately 1.85 billion pieces in 2023, reflecting a YoY increase of 8.7%.