Books

Featured Books

design007 Magazine

Latest Issues

Current Issue

Odd Geometries

In this issue, we discuss some of the challenges, pitfalls and mitigations to consider when designing non-standard board geometries. We share strategies for designing odd-shaped PCBs, including manufacturing trade-offs and considerations required for different segments and perspectives.

Simplification

On the subject of simplification, our expert contributors explain how to design PCBs without making them complex and over-constrained—whatever the level of technology. In addition, we discuss the effect your decisions and tradeoffs have on design complexity.

The Standards of Design

Our expert contributors discuss how PCB designers can utilize standards to save time and money, not to mention frustration. We also spotlight the newly updated version of the IPC Checklist, a handy guide that illustrates which standards cover which topics, from front-end design through assembly.

Columns

Latest Columns

||| MENU
The September 2023 Issue of Design007 Magazine Available Now
September 11, 2023 | I-Connect007 Editorial Team
Estimated reading time: Less than a minute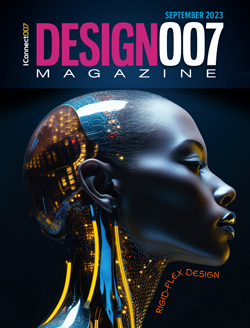 Rigid-flex: Designing in 3D
Not long ago, rigid-flex was considered a niche market. Now, analysts predict that the rigid-flex market will top $5 billion by 2026, lead in part by the adoption of IoT and the need to connect a variety of smart devices. Rigid-flex circuits are everywhere: servers, cameras and pacemakers all use rigid-flex, just to name a few.
In this month's issue of Design007 Magazine, our expert contributors share their best tips, tricks and techniques for designing rigid-flex circuits. If you're a rigid board designer considering moving into the 3D world of rigid-flex, this issue is just what the doctor ordered! And, as Kris Moyer says in his featured interview, An Overview of Rigid-flex Design, "Don't fear rigid-flex."
Quick review link: Design007 Magazine

Add this month's PDF to your library for future reference.

Sign up for monthly publication notifications of this magazine to your inbox.
---
Suggested Items
12/08/2023 | Andy Shaughnessy, Design007 Magazine
Every year, companies in the consumer electronics segment look forward to the Christmas season. Some of these companies make almost half of their revenue in November and December. What are the hottest electronics gadgets this year? According to the Consumer Reviews Guide, these are the top sellers in the electronic gadget market this holiday season. Do any of these gadgets strike your fancy, as my grandmother used to say? Check them out.
12/07/2023 | TrendForce
TrendForce reports that smartphone production—fueled by reduced channel inventories and spikes in seasonal demand—saw a significant uptick in 3Q23.
12/06/2023 | IDC
Worldwide shipments of wearable devices grew 2.6% year over year during the third quarter of 2023 (3Q23) and reached an all-time high for the third quarter of 148.4 million units, according to new data from the International Data Corporation (IDC) Worldwide Quarterly Wearable Device Tracker.
12/05/2023 | TrendForce
TrendForce reports a pivotal shift in the NAND Flash market for 3Q23, primarily driven by Samsung's strategic decision to reduce production.
12/04/2023 | Cicor
The Cicor Group is publishing its financial mid-term targets for the next three to four years today and hosts its Capital Markets Event 2023 this evening in Zurich.