Reading time ( words)
In a previous column, Material Selection for SERDES Design, I pointed out that materials used for the fabrication of the multilayer PCB absorb high frequencies and reduce edge rates and that loss, in the transmission lines, is a major cause of signal integrity issues. But we are not all designing cutting-edge boards, and sometimes we tend to over-specify requirements that can lead to inflated production costs.
In this column, I will look at what types of materials are commonly used for digital design, and how to select an adequate material to minimize costs. Of course, selecting the best possible material will not hurt, but it may blow out the costs.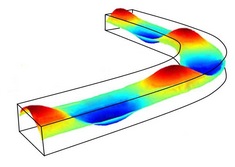 Figure 1: Simulated signal propagating through a curved waveguide.
Signals propagate in a vacuum or air at approximately the speed of light. But, as the electromagnetic energy is enveloped in a dielectric material, sandwiched between planes in the PCB medium, it slows down. Figure 1 illustrates a signal propagating through a curved waveguide. This is representative of a typical stripline configuration of a PCB. What needs to be understood is that the signal traces on a PCB simply guide the signal wave, as the electromagnetic energy propagates in the surrounding dielectric material. It is the dielectric material that determines the velocity (v) of propagation of the electromagnetic energy:

Keep in mind that c is the speed of light (in free space) and Er is the dielectric constant of the material (FR-4 is ~4.0). By contrast, the Er of air is 1. Therefore, the velocity of propagation in FR-4 is about half the speed of light or 6 inches per ns. The important concept is that it is the electromagnetic energy that propagates down the transmission line--not electron flow. Electrons flow at about 0.4 inches per second, a snail's pace by comparison.

Read the full column here.


Editor's Note: This column originally appeared in the August 2014 issue of The PCB Design Magazine.
Share
Suggested Items
11/14/2022 | Andy Shaughnessy, Design007 Magazine
During PCB West, I caught up with DownStream Technologies co-founder Joe Clark and Senior Product Marketing Manager Mark Gallant. We discussed some of their latest tool updates, including a greater focus on bringing post-processing functionality, such as inter-layer analysis capability, to rigid-flex circuits. Joe also offered a look at global design trends going into 2023, as more engineers take on PCB designer roles while senior designers are retiring.
10/27/2022 | Nolan Johnson, I-Connect007
There's designing the "perfect" circuit board and then there's designing a board that is "perfect for manufacturing." While seasoned designers and design engineers understand many of the nuances, PCB fabricator Sunstone Circuits has just published a new book specifically for new designers who have the knowledge of design but are still learning what it means to get the board manufactured. Sunstone's Matt Stevenson takes the reader through a series of situations that should help clarify what's happening in the fabrication process and how to adjust a board design to be better suited for manufacturing.
10/25/2022 | Andy Shaughnessy, Design007 Magazine
To get the latest news about ultra high-density interconnections (UHDI), we checked in with Jan Pedersen, NCAB Group's director of technology. Jan is co-chair of IPC D-33AP, and a great source of overall DFM expertise as well. We asked him to give us a snapshot of UHDI in the industry, where we're headed, and what this means to PCB designers.