Books

Featured Books

design007 Magazine

Latest Issues

Current Issue

Simplification

On the subject of simplification, our expert contributors explain how to design PCBs without making them complex and over-constrained—whatever the level of technology. In addition, we discuss the effect your decisions and tradeoffs have on design complexity.

The Standards of Design

Our expert contributors discuss how PCB designers can utilize standards to save time and money, not to mention frustration. We also spotlight the newly updated version of the IPC Checklist, a handy guide that illustrates which standards cover which topics, from front-end design through assembly.

Rigid-flex: Designing in 3D

In this month's issue, our expert contributors share their best tips, tricks and techniques for designing rigid-flex circuits. If you're a rigid board designer considering moving into the 3D world of rigid-flex, this issue is just what the doctor ordered!

Columns

Latest Columns

||| MENU
PADS Paper, Part 4: QFN Components
June 3, 2015 | Mentor Graphics
Estimated reading time: Less than a minute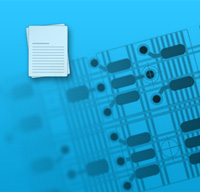 This paper, the fourth and final in a series downloaded by thousands of PCB designers, is dedicated to CAD library quality. It describes every aspect you need to consider when creating quad flat no-lead (QFN) component library parts.
It also describes the impact each feature has in the PCB process. To read this paper, click here. 
---
Suggested Items
11/29/2023 | ESCATEC
The Board of Directors are delighted to announce a significant development in the leadership of the company, underscoring their commitment to its long-term stability.
11/27/2023 | GOEPEL Electronics
The US branch of GÖPEL electronic is proud to announce the addition of David Kalaidjian as the new National Sales Development Manager.
11/21/2023 | Calumet Electronics
Calumet Electronics is proud to announce the appointment of Trey Adams to their team as Vice President, General Manager. Adams, a veteran professional, brings a wealth of experience in PCB manufacturing to Calumet Electronics during a transitional period of growth and advancements. 
11/17/2023 | SHENMAO
SHENMAO Technology is proud to commemorate its 50th anniversary. Founded in 1973, SHENMAO has witnessed the evolution of Taiwan's electronics industry, playing a pivotal role in shaping the landscape of solder materials and setting new industry stanards.
11/16/2023 | USI
Universal Scientific Industrial (Shanghai) Co., Ltd., is pleased to announce the successful completion of its acquisition of the TE Automotive Wireless business from TE Connectivity Ltd.