Books

Featured Books

design007 Magazine

Latest Issues

Current Issue

Rigid-flex: Designing in 3D

In this month's issue, our expert contributors share their best tips, tricks and techniques for designing rigid-flex circuits. If you're a rigid board designer considering moving into the 3D world of rigid-flex, this issue is just what the doctor ordered!

Simulation, Analysis, and AI

Getting today's designs "right the first time" is critical, especially with costly advanced PCBs. Simulation and analysis software tools can help you in the fight to eliminate respins. They're not magical, but they can predict the future of your design.

Advanced, Complex & Emerging Designs

This month, our contributors focus on designing PCBs with advanced, complex and emerging technologies. We investigate design strategies for boards that are on the cutting edge of technology, or crazily complex, or so new that designers are still writing the rules as they go.

Columns

Latest Columns

||| MENU
American Standard Circuits: Leading the Way in Medical Electronics
February 15, 2016 | Dan Beaulieu, D.B. Management Group
Estimated reading time: 2 minutes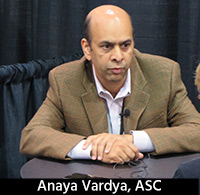 When it comes to innovative fabricators, American Standard Circuits is always at the front of the pack. Naturally, when Editor Andy Shaughnessy asked me to talk to a fabricator about PCBs for the medical market, ASC was the one company that immediately came to mind. I spoke with CEO Anaya Vardya about fabricating medical PCBs, the medical electronics market, and the future of this fast-growing segment.
Dan Beaulieu: Anaya, it's good talking to you again.
Anaya Vardya: Thanks, Dan. It's great to catch up again.
Beaulieu: Please give us a little background on American Standard Circuits.
Vardya: ASC has been in business for more than 27 years. Throughout, we have migrated from a simple double-sided shop to a company that builds a wide variety of products. Today, we build flex, rigid-flex, RF/microwave, metal-backed PCBs and IMPCBs. We are able to build prototypes, quick-turn, high-mix/low-volume and low-mix/high-volume products. We are continuously reinvesting in our business in terms of people and equipment. This year, we have invested over $1.5 million. We are also investing in improving our quality systems.
Beaulieu: When did you get involved with medical PCBs?
Vardya: We first started building parts for medical products in 2009. Often, these products start out as prototypes and take quite a few years to ramp up. We have built flex, rigid-flex, RF/microwave and metal-backed product for the medical industry 
Beaulieu: Without getting into specific customers, what sort of medical products do you build PCBs for? What do your boards go into?
Vardya: That's a good question, because we cover a very wide variety of applications including medical. For example, we build flex boards that are used in a digital inflation device for heart stents. We also build boards, both flex and rigid-flex, that are used in blood analyzers. Then we have boards that go into a wide array of markets, such as small boards used as RFID tags in operating rooms. We build metal-backed boards that are used for LED lights for chairs in dentists' offices. One of our most challenging projects was building small rigid-flex boards for a pill camera. These boards are all built from a variety of materials, from Rogers ceramic materials to simple FR-4.
Beaulieu: So you pretty much cover the gamut of medical electronic needs. Are there special or unique technologies that apply to this market?
Vardya: While medical electronics use a wide variety of printed circuit board technologies, there appears to be increasing application of flex and rigid-flex PCBs in this market place. 
To read this entire article, which appeared in the January issue of The PCB Design Magazine, click here.
---
Suggested Items
09/19/2023 | Zuken
Zuken Inc., an industry-leading provider of electronic design automation solutions, is pleased to introduce an innovative three-stage approach to AI-powered PCB design within its flagship CR-8000 platform.
09/19/2023 | Anaya Vardya -- Column: Standard of Excellence
In my last column, I discussed cutting-edge innovations in printed circuit board technology, focusing on innovative trends in ultra HDI, embedded passives and components, green PCBs, and advanced substrate materials. This month, I'm following up with the products these new PCB technologies are destined for. Why do we need all these new technologies?
09/08/2023 | IPC
IPC's Validation Services Program has awarded an IPC/WHMA-A-620 Qualified Manufacturers Listing (QML) to Manufactured Assemblies Corp, LLC (MAC), in Vandalia, Ohio. A full-service contract manufacturer specializing in wire and cable assemblies, and electromechanical sub-assemblies, MAC provides products used in aerospace, defense, medical, industrial, and commercial applications worldwide.
09/05/2023 | Insulectro
Insulectro, the largest distributor of materials for use in the manufacture of PCBs and printed electronics, ushers in its New Era of Laminates and Prepregs as it begins selling EMC copper clad laminates and Arlon polyimides beginning today.
09/01/2023 | TrendForce
Recently, the spot market for NAND Flash chips has seen a rise in active price inquiries for certain products, a movement driven by successful increases in wafer contract prices.