Books

Featured Books

smt007 Magazine

Latest Issues

Current Issue

Test and Inspection

Test and inspection methods are undergoing rapid change. In this issue, we consider the influence of AOI, AI, and human eyes. How exactly are these pieces of the puzzle changing the role of test and inspection?

Chips Don't Float

In Europe and the U.S., legislation is under way to revitalize PCB fabrication and packaging. What is the status of this work, and how specifically does this change the industry landscape for EMS companies? What will help keep us afloat?

Flying High With Digital Twin

The opportunity to use manufacturing simulation as a test bed for job planning and process optimization brings continuous improvement into the modern age. This may be an all-or-nothing type of project, but it's worth the investment.

Columns

Latest Columns

||| MENU
Strategies to Reduce Handling Errors
May 6, 2016 | Stephen Las Marias, I-Connect007
Estimated reading time: 1 minute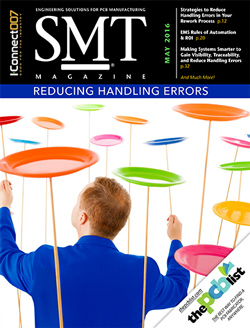 Despite the advancement in manufacturing technologies, processes in assembly lines continue to involve multiple opportunities for errors or defects to happen. Sometimes, these processes involve factory workers doing repetitive, dull tasks that do not add much value into the overall productivity of the company. More often than not, such causes of errors also involve out-of-date or legacy equipment that electronics manufacturers are hesitant to replace, as doing so entails a significant investment.
Nowadays, the electronics assembly industry is looking more and more into automating their production lines as automation offers several benefits, including a return on investment in the long run; reduced variation; and higher reliability. In our recent survey, the majority of respondents said automation helps them reduce handling errors—or operator errors—in their processes. It also enables faster throughput, as well as reduces the number of processing steps.
However, many companies cannot afford to acquire new and more advanced equipment just to say they are automated. There are many alternative strategies to help assemblers improve their process and reduce errors along the way.
This month's issue of SMT Magazine features other aspects of the assembly line where improvements can be made to increase the efficiency of the process.
---
Suggested Items
01/05/2018 | Stephen Las Marias, I-Connect007
It seems like it wasn't too long ago when I was writing about the optimism of the electronics manufacturing and assembly industry going into 2017. Now, here we are again at the beginning of the new year, looking at new trends, disruptive technologies, and emerging markets for 2018. I am also proud to announce our new branding as well as our fresh, new look.
05/01/2017 | I-Connect007
The May 2017 issue of SMT Magazine is available now. This month, our contributors including Indium, MC Assembly, Saline Lectronics, TeligentEMS, Tramonto Circuits, and Blackfox Training Institute discuss the challenge of finding the right talent in the electronics manufacturing industry, and strategies in training them to further the growth of their companies. Learn how they are closely collaborating with educational institutions to make sure there are students who are pursuing careers in manufacturing, and that graduates entering the workforce are capable and qualified for their manufacturing jobs.
04/04/2017 | I-Connect007
The soldering process should be perfect. But soldering is just too complex a process, and further complicating the situation, the requirements and technologies vary between our industry's market segments. The April 2017 issue of SMT Magazine looks into some of the different factors and challenges impacting yield when it comes to soldering, and provides strategies on addressing them.
03/01/2017 | I-Connect007
The March 2017 issue of SMT Magazine features strategies and best practices to address the myriad challenges in flex circuit assembly.
12/02/2016 | I-Connect007
The December 2016 issue of SMT Magazine examines the myriad challenges facing sales and marketing execs in the PCB assembly industry.