Books

Featured Books

design007 Magazine

Latest Issues

Current Issue

Rigid-flex: Designing in 3D

In this month's issue, our expert contributors share their best tips, tricks and techniques for designing rigid-flex circuits. If you're a rigid board designer considering moving into the 3D world of rigid-flex, this issue is just what the doctor ordered!

Simulation, Analysis, and AI

Getting today's designs "right the first time" is critical, especially with costly advanced PCBs. Simulation and analysis software tools can help you in the fight to eliminate respins. They're not magical, but they can predict the future of your design.

Advanced, Complex & Emerging Designs

This month, our contributors focus on designing PCBs with advanced, complex and emerging technologies. We investigate design strategies for boards that are on the cutting edge of technology, or crazily complex, or so new that designers are still writing the rules as they go.

Columns

Latest Columns

||| MENU
Zuken Unveils CR-8000 2023 with Enhanced Design Efficiency, Analysis for High-Density, High-Speed PCB Designs
August 30, 2023 | Zuken
Estimated reading time: 3 minutes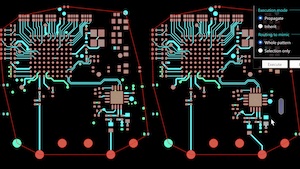 Zuken, a global leader in electronic design automation solutions, announces the availability of CR-8000 2023. The 2023 release is packed with new enhancements covering the entire design process and will empower users and enable them to tackle the challenges of high-density, high-speed PCB designs.
Notably, the CR-8000 2023 release places special emphasis on revitalizing and expanding the spectrum of signal integrity, power integrity, and electromagnetic compatibility (EMC) analysis tools. These advancements are seamlessly integrated into the CR-8000 Design Force Analysis Advance bundle, offering an unparalleled avenue for enhanced design insights.
"We are excited to unveil CR-8000 Release 2023, which empowers designers to address the ever-increasing demands of high-density, high-speed PCB designs," said Kazuhiro Kariya, Sr. Managing Executive Officer and CTO of Zuken Inc. "Through the strategic enhancements made to our flagship CR-8000 tool suite, we are providing our customers with a comprehensive solution that boosts design efficiency and supports accurate analysis, ultimately enabling them to stay ahead in today's competitive market."
Empowering Engineers with Advanced Design Creation
Streamlined Design Sheet Integration
With the CR-8000 2023 release, the process of generating new designs becomes a seamless journey. Users can effortlessly merge sheets from diverse designs, enabling the incorporation of various elements or the utilization of template designs as a solid foundation. This innovative feature fosters creativity and accelerates the design timeline.
Enhanced Information Security
Privacy takes center stage with the introduction of a resourceful feature that allows sensitive information exclusion before external sharing. Tailoring resource files to distinct collaboration needs fosters a secure and collaborative design environment.
Efficiency through Design Reuse
The 2023 release introduces a groundbreaking feature that streamlines documentation by enabling the copying, editing, and seamless integration of circuits and text elements. This innovation enhances efficiency by eliminating redundant tasks and allows engineers to focus on design evolution.
Expanded Design Efficiencies in Layout
Reuse Template Routing
Identical areas of components and routing that are common in multi-channel designs can now be placed and routed based on one instance. This function recognizes component and topology similarities and propagates the master instance to the subsequent channels.
Expanded Contour Routing
An interactive contour routing feature aligns seamlessly with existing patterns and board shapes, ensuring design harmony and consistency.
Analyze Track Configurations
Users can examine the routing of a trace path by visualizing a cross-sectional view that showcases the trajectory across various layers. This capability allows for comprehensive inspection and evaluation of track arrangements, aiding in identifying potential issues and optimizing the design.
Powerful Analysis Capabilities
Enhanced Bundle and Functionality
The CR-8000 2023 Release consolidates signal integrity, power integrity, and EMI analysis tools into new bundles, with enhanced user interaction, MultiCore CPU support, and compatibility with extensive datasets. AI/ML-assisted modeling and new Power Integrity checks elevate design and analysis prowess.
Comprehensive Signal Integrity Analysis
Dive into Signal Integrity with the Design Force SI Advance bundle, encompassing features from Characteristic Impedance to IBIS AMI SerDes channel analysis. Comprehensive system-level analysis is ensured through the inclusion of IBIS, SPICE, and S-Parameter models in both domains.
Full-spectrum PCB-level EMI and Power Analysis
The Design Force PI/EMI Advance bundle focuses on EMI and Power Supply System Analysis. Critical functions include rapid estimations, integrity features, and an array of analysis tools designed to optimize designs. Capabilities include IC power pin impedance computation, Decap location and parasitic values determination, DC analysis, incorporation of Lossy Transmission Line models considering copper surface roughness, and integration of IBIS, SPICE, and S-Parameter models. Time Domain Reflectometry (TDR) and Eye Pattern analysis enhance design evaluation. A comprehensive HSPICE export and capability to calculate and export S-Parameter Touchstone data add versatility to the toolset.
With the CR-8000 2023 release, users will be able to explore innovations that redefine design excellence. The release underscores Zuken's commitment to empowering users with tools that simplify the challenges of intricate electronic design.
For more information about CR-8000 Release 2023 and other Zuken solutions, please visit the CR-8000 section on Zuken.com.
---
Suggested Items
09/20/2023 | I-Connect007 Editorial Team
Panasonic's Darren Hitchcock spoke with the I-Connect007 Editorial Team on the complexities of moving toward ultra HDI manufacturing. As we learn in this conversation, the number of shifting constraints relative to traditional PCB fabrication is quite large and can sometimes conflict with each other.
09/14/2023 | MKS' Atotech
MKS' Atotech, a leading surface finishing brand of MKS Instruments, will participate in the upcoming IPCA Expo at Bangalore International Exhibition Centre (BIEC) and showcase its latest PCB manufacturing solutions from September 13 – 15.
09/14/2023 | Vern Solberg -- Column: Designer's Notebook
Flexible circuit applications can be as basic as furnishing electrical interconnect between two conventional circuit board assemblies, or to prove a platform for placing and interconnecting electronic components. During the planning and pre-design phase of the flexible circuit, there will be several material and process related questions that need to be addressed. Most flexible circuit fabricators welcome the opportunity to discuss their customers' flexible circuit objectives prior to beginning the actual design process.
09/14/2023 | John Watson -- Column: Elementary, Mr. Watson
Electronics are continually evolving, driven by innovations in printed circuit board technology. Flexible PCBs have emerged as a revolutionary force, reshaping the PCB industry and influencing the design and functionality of countless electronic devices. Some believe that flexible PCBs are a relatively newer technology, but as we will see, that is not true. Since I'm an instructor, here's a short history lesson on how we got here and what we can expect.
09/11/2023 | PRNewswire
Can digital and/or high throughput manufacturing be applied to circuit boards? Can stretchable electronics be produced without sacrificing processing capabilities?