Books

Featured Books

design007 Magazine

Latest Issues

Current Issue

Simplification

On the subject of simplification, our expert contributors explain how to design PCBs without making them complex and over-constrained—whatever the level of technology. In addition, we discuss the effect your decisions and tradeoffs have on design complexity.

The Standards of Design

Our expert contributors discuss how PCB designers can utilize standards to save time and money, not to mention frustration. We also spotlight the newly updated version of the IPC Checklist, a handy guide that illustrates which standards cover which topics, from front-end design through assembly.

Rigid-flex: Designing in 3D

In this month's issue, our expert contributors share their best tips, tricks and techniques for designing rigid-flex circuits. If you're a rigid board designer considering moving into the 3D world of rigid-flex, this issue is just what the doctor ordered!

Columns

Latest Columns

||| MENU
Intraratio to Feature Industry-Leading Smart Manufacturing Solutions at SMTA Guadalajara Expo and Tech Forum 2023
September 21, 2023 | Intraratio
Estimated reading time: 1 minute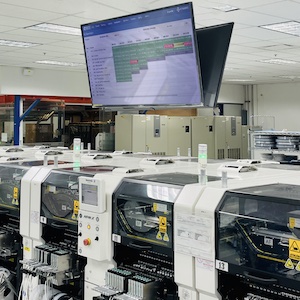 Intraratio, a provider of enterprise software solutions, is pleased to announce its participation in the SMTA Guadalajara Expo and Tech Forum 2023. The premier event is scheduled to be held on Oct. 25-26, 2023 at the Expo Guadalajara in Guadalajara, Jalisco, Mexico. Intraratio invites all attendees to explore their transformative solutions.
Intraratio has established itself as a global leader in providing advanced manufacturing software solutions that offer real-time visibility and control for semiconductor and Surface Mount Technology (SMT) electronics manufacturing operations. Their comprehensive suite of smart manufacturing and Industry 4.0 solutions encompasses:
Seamless Factory and Equipment Integration (Data Automation/IoT): Intraratio ensures that your factory and equipment are interconnected, with no 3rd party software or middleware required, providing a cost effective and robust foundation for data-driven decision-making.
Full-Featured Manufacturing Execution System (MES / RunCard): Intraratio's MES solution, RunCard, optimizes manufacturing processes, streamlining operations, and enhancing efficiency.
Serialized Product Traceability: Intraratio empowers manufacturers with end-to-end product traceability, ensuring quality and compliance throughout the production lifecycle.
Real-Time Yield and Quality (DataCard): With DataCard, Intraratio offers real-time visibility into yield and quality, enabling proactive measures to enhance product quality and reduce waste.
Global Supplier Data Management (ServiceCard): ServiceCard simplifies global supplier data management, fostering collaboration and efficiency in the supply chain.
These solutions are enriched by cutting-edge Artificial Intelligence (AI) and Machine Learning (ML) based analytics, which facilitate outlier detection and predictive maintenance. INTRARATIO's offerings are designed to accelerate the digital transformation journey of customers in the electronics manufacturing industry.
"We are excited to be a part of the SMTA Guadalajara Expo and Tech Forum 2023, and we look forward to showcasing our innovative smart manufacturing solutions," stated Ryan Gamble, CEO & Founder at Intraratio. "Mexico is an important hub for electronics manufacturing, where we have significant customers that we work closely with in partnership, to drive innovation, growth, and continued industry success. We invite all attendees to visit our booth and discover how Intraratio can empower their manufacturing operations."
Join Intraratio at the SMTA Guadalajara Expo and Tech Forum 2023 to experience the future of smart manufacturing and Industry 4.0.
---
Suggested Items
11/29/2023 | TT Electronics
TT Electronics, a global provider of custom power solutions and engineered technologies, has announced that its Power and Control business has officially opened its new state-of-the-art research, development and manufacturing facility.
11/29/2023 | Dana Korf -- Column: Dana on Data
November's issue of Design007 Magazine had an excellent theme that evolved around design simplification. There were exceptionally good articles about how to reduce over-constrained or needlessly complex designs. One significant time-consuming category is the creation of many design files and drawings which lead to lengthy creation and interpretation time along with the considerable time to resolve conflicting or erroneous information.
11/29/2023 | Anaya Vardya -- Column: Standard of Excellence
To sustain a standard of excellence, it's equally important to look at both what we're doing today as well as what we'll do in the future. In other words, plan ahead. In that spirit, I thought it would be prudent to peek into the future and talk about what a printed circuit board fabrication facility with a "standard of excellence" will look like five years from now.
11/27/2023 | IPC
IPC welcomes the actions outlined today by the U.S. Government "to strengthen supply chains critical to America's economic and national security."
11/28/2023 | Preeya Kuray -- Column: Material Insight
On May 11, 2023, Reps. Blake Moore (R-UT) and Anna Eshoo (D-CA) introduced the Protecting Circuit Boards and Substrates (PCB) Act to Congress. In October, I had the great pleasure of discussing the bipartisan Protecting Circuit Boards and Substrates Act with Congressman Moore, who represents Utah's First Congressional District. He shared his thoughts on how supporting and investing in the domestic PCB industry can help bolster American security.