Books

Featured Books

design007 Magazine

Latest Issues

Current Issue

Rigid-flex: Designing in 3D

In this month's issue, our expert contributors share their best tips, tricks and techniques for designing rigid-flex circuits. If you're a rigid board designer considering moving into the 3D world of rigid-flex, this issue is just what the doctor ordered!

Simulation, Analysis, and AI

Getting today's designs "right the first time" is critical, especially with costly advanced PCBs. Simulation and analysis software tools can help you in the fight to eliminate respins. They're not magical, but they can predict the future of your design.

Advanced, Complex & Emerging Designs

This month, our contributors focus on designing PCBs with advanced, complex and emerging technologies. We investigate design strategies for boards that are on the cutting edge of technology, or crazily complex, or so new that designers are still writing the rules as they go.

Columns

Latest Columns

||| MENU
This Month in Design007 Magazine: Mentor—Managing Small Problems for Profitability
March 26, 2020 | Andy Shaughnessy, I-Connect007
Estimated reading time: 2 minutes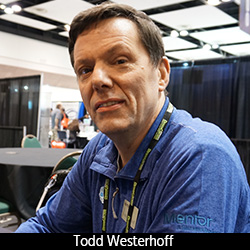 At DesignCon, I met up with Todd Westerhoff, product marketing manager for highspeed design at Mentor, a Siemens Business, to discuss common design profitability issues and cost-aware PCB design. He explains how simple problems can "slip through the cracks" and cause delays, what you can do, and how first-order analysis can make simulation accessible to designers who wouldn't simulate otherwise.
Andy Shaughnessy: Tell us about how the "small stuff" can get you in trouble. You say that we, as designers, take care of the big challenges pretty well, but projects get held up anyway.
Todd Westerhoff: Lifecycle Insights ran a study about a year ago that I find to be quite telling. They asked companies questions, such as, "How much simulation do you use in your process? Do you hit the mark in terms of your time, budget, or release date?" The two most interesting findings had to do with schedule and budget. They found that only one in four projects gets delivered on time and on budget (in other words, according to plan).
Shaughnessy: Even that may be optimistic.
Westerhoff: You're right. Digging deeper, 30% of projects were delivered on time, but only by pulling in additional staff, 28% were delivered late, and 17% of projects were canceled entirely (quite possibly as a result of resources pulled to bail out other projects). The bottom line is that design projects had a 25% success rate, and that's a problem.
Why does this happen? Consider all the different requirements designers are trying to accommodate: SI, PI, EMC, mechanical clearances, vibration, reliability, and so on. Designers live in a world where all of these things have all become specialties or have expert domains. Designers have a network of specialists around them, whose time and input they need to move their design forward. The problem is that each specialist looks at a different slice of the design, but how does all that input get integrated and turned into a holistic view that guides design trade-offs? How do those decisions get made? Does the designer understand enough of each of the specialist's inputs to make the right trade-offs in the design of the board? The answer, based on the success rate, is perhaps not.
Another fascinating thing was when we asked our customers about the challenges they have faced, they said, "It isn't the hard stuff, like 112 Gb/s serial links or DDR5 interfaces, that we need help with. Those are big challenges, but we know to focus on those, and we solve them. It's the simple stuff that we're not focused on that often nails us."
To read this entire interview, which appeared in the March 2020 issue of Design007 Magazine, click here.
Don't forget to check out the latest book from Mentor, A Siemen's Business The Printed Circuit Assembler's Guide to… Advanced Manufacturing in the Digital Age. Visit I-007eBooks.com to download this and other free, educational titles.
---
Suggested Items
09/22/2023 | Nolan Johnson, I-Connect007
This week has been chock full of news about upcoming trade shows and conferences. Clearly, the season is upon us. This week, I-Connect007 reported on PCB West in Santa Clara (often referred to as the show which kicks off trade show season) and the topic of artificial intelligence was everywhere. By the looks of it, not just at the conference, either. For months now, the mainstream media has been gobbling up all sorts of news about generative AI engines, painting the picture that we'll all lose our jobs to these tools, while also reporting on situations where the results from AI have gotten progressively worse over time.
09/21/2023 | TrendForce
Fueled by an AI-driven inventory stocking frenzy across the supply chain, TrendForce reveals that Q2 revenue for the top 10 global IC design powerhouses soared to US $38.1 billion, marking a 12.5% quarterly increase.
09/21/2023 | Cadence Design Systems, Inc.
Cadence Design Systems, Inc. announced it has expanded its design IP portfolio on TSMC's 3nm (N3E) process—most notably with the addition of the flagship Cadence® 224G Long-Reach (224G-LR) SerDes PHY IP, which has achieved first-pass silicon success.
09/21/2023 | Matt Stevenson -- Column: Connect the Dots
PCB prototyping is a critical juncture during an electronic device's journey from concept to reality. Regardless of a project's complexity, the process of transforming a design into a working board is often enlightening in terms of how a design can be improved before a PCB is ready for full production.
09/20/2023 | Cadence Design Systems, Inc.
Cadence Design Systems, Inc. and CEVA, Inc. announced that they have entered into a definitive agreement for Cadence to acquire Intrinsix Corporation, a wholly owned subsidiary of CEVA and a provider of design engineering solutions focused on the U.S. aerospace and defense industry.